Taoiseach Enda Kenny and Tánaiste Eamon Gilmore
Image: Eamonn Farrell/Photocall Ireland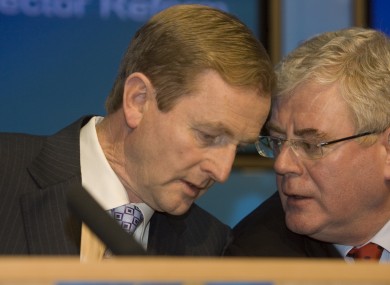 Taoiseach Enda Kenny and Tánaiste Eamon Gilmore
Image: Eamonn Farrell/Photocall Ireland
A POLL PUBLISHED today indicates that a majority of the Irish public do not trust the coalition government to manage the public finances.
In a Red C poll for the Sunday Business Post, 62 per cent of respondents said they disagreed with the statement that they trusted the Fine Gael-Labour coalition government to manage the public finances.
Thirty-seven per cent agreed with the statement while 1 per cent said they did not know.
The poll of 1,005 people was carried out over three days last week and comes as the government prepares to deliver its first budget tomorrow and on Tuesday with €3.8 billion of spending cuts and tax rises expected.
The Taoiseach Enda Kenny will go on national television tonight to give a state of the nation address, the first of its kind in 25 years.
The Sunday Business Post also reports that the poll found that two-thirds of those surveyed believe the government should review the Croke Park Agreement on public sector pay and reform.
The government pledged to honour the agreement – which runs until 2014 – in the programme for government.
As reported yesterday, the poll also found that support for the junior coalition partner, Labour, has fallen while support for Fine Gael remains steady. Fianna Fáil made the biggest gains and is now the second most popular party in the country, according to the poll.