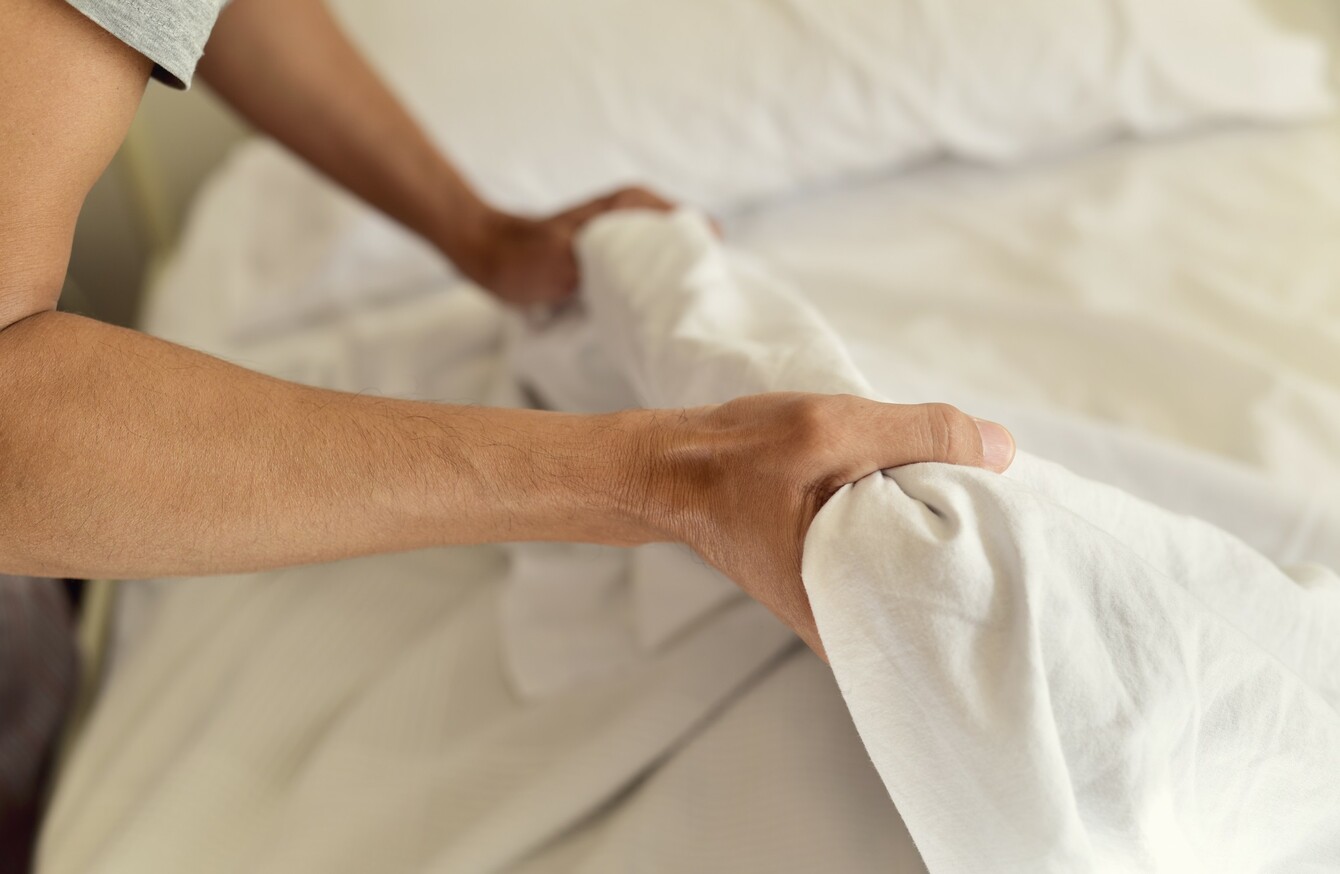 Image: Shutterstock/nito
Image: Shutterstock/nito
LAURA DE BARRA regularly brings her lifestyle and home maintenance masterclasses to the Glenveagh Home Magazine on TheJournal.ie. This week: how to make your bed – yes, there is a right way to do it.
Making a bed or changing the sheets may seem like the most simple of tasks, but there are some steps that will not only help prolong the life of your linen, they will also ensure a more restful sleep. Here are my top tips for a bed that always feels crisp and fresh…
1. Air the bed each day
I probably don't need to tell you how to make your bed, but there is some other everyday advice I can share. Many people will mistakenly make their bed right after they have gotten out of it. But while you sleep, your body releases skin particles, natural odours and more. If you whip the covers straight back into place and pile pillows on top, you'll trap those odours and particles and end up with musty-smelling sheets, fast.
The key here is to wait – a few hours if you can, or at least until you've showered, dressed and had breakfast. To truly rid your bed of all she has gathered in the night, you can do as the central Europeans do and hang your duvet out the window to freshen. If this is a step too far for you, do this:
Take your pillows and duvet off your bed. Standing to one side (never the end) unhook two corners of the sheet and shake it out. You'll air the mattress and shake off skin particles and so on.
Now, plump all pillows to give them a good airing and pop them into place. Not only does it reshape the pillow which makes the pillows life longer by eliminating lumps, it will shake off any nasties and release odours gathered in the night.
Shake out your duvet before placing her back on the bed.
Fold the duvet over at the end of the bed. This will leave the patch you slept on more airing time and ensure you're resting on a fresher sheet that night.
#Open journalism No news is bad news Support The Journal

Your contributions will help us continue to deliver the stories that are important to you

Support us now
2. Change the sheets regularly
Making your bed from scratch is one household job most people hate but doing it well and frequently can enhance your night's sleep.
Strip off the old linen. This will have sweat, body odour and skin particles so make sure it goes in a hot wash with a detergent that is suitable for removing protein stains.
Start by putting the mattress protector on. If you're not using one of these, get on it. They are the number one way to keep a mattress fresh and stain free for longer. I would always advise having a minimum of two so you can wash them regularly.
Make sure sheets are tucked evenly. If you find your sheets move out of place and disturb your sleep, invest in some sheet clips.
There's a quick way to put a new duvet cover on. Lay your bare duvet on the bed. Make sure your duvet cover is inside out and place your hands into the top corners. Grab two corners of the duvet with your covered hands and pull the duvet into the cover. Shake. This will ensure the duvet cover starts to slip down over the duvet, right side out. Once she's covered, shake the corners in to place and do up the fastenings.
Pop on your pillow protectors, and then pillowcases. Pillow protectors are another savvy purchase to avoid trapped odours and help your pillows keep their shape. Once the protectors and covers are on, plump and place your pillows.
3. Some final everyday tips…
Think carefully about the number of throws or decorative pillows you have. Often these will help to trap body odours, and not give the duvet and pillow the airing they need throughout the day. It's fine for hotels who are changing the linen after each sleep, but this added weight will prevent the bed keeping as fresh as it can in homes that change it at most, weekly.
Avoid spraying your bedlinen with 'deodorising' products. Their mist makes the fabric damp. Damp fabric attracts anything airborne, so your bedding will become a magnet for pet hair, dust, mould spores and so on. Grim.
Want more tips and hacks? Laura de Barra's debut book, Gaff Goddess: Simple Tips And Tricks To Help You Run Your Home is on shelves now, published by Transworld Ireland. Buy it here or in all good bookshops, and follow Laura on Instagram for even more cleaning and lifestyle tips.