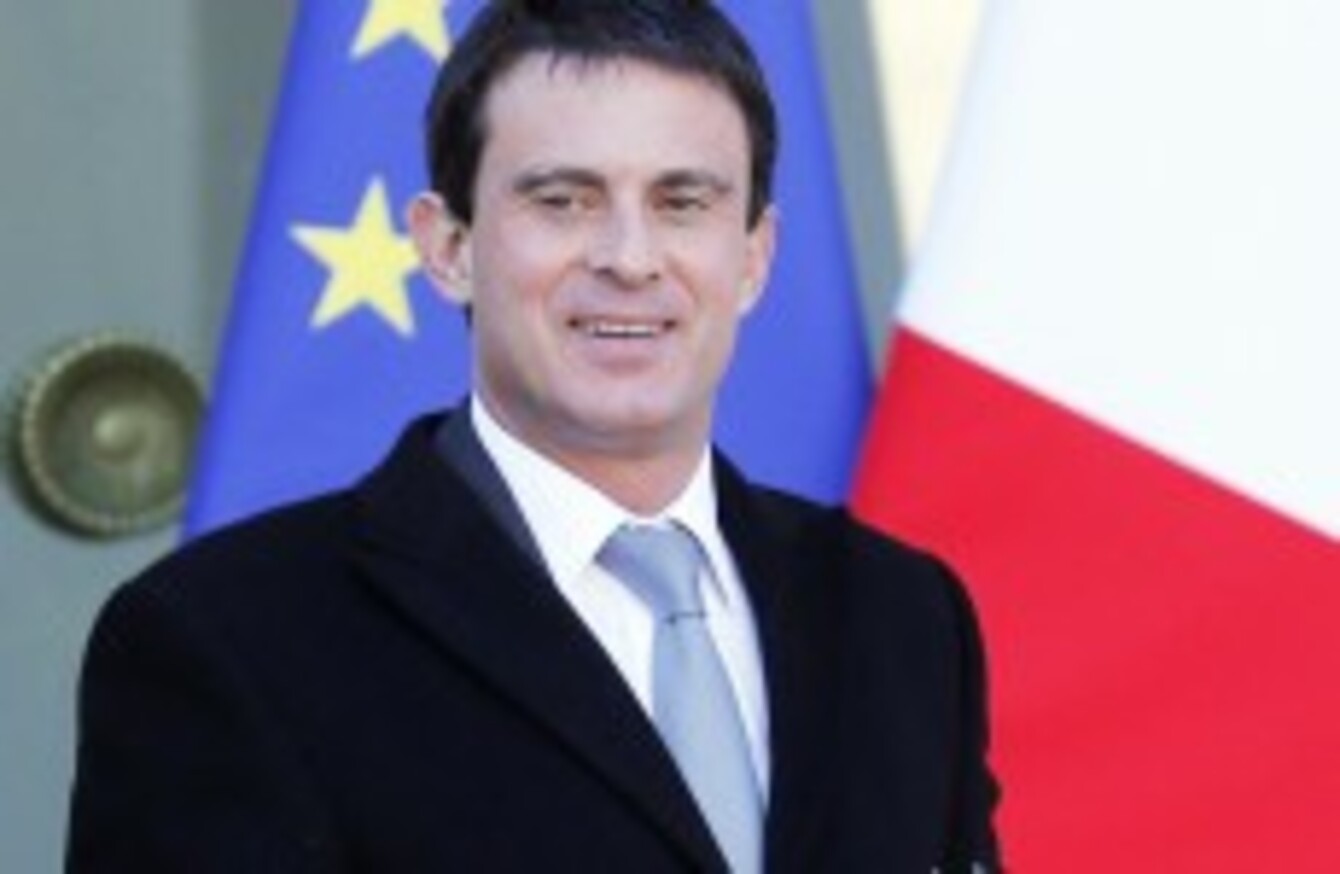 Image: Christophe Ena/AP/Press Association Images
Image: Christophe Ena/AP/Press Association Images
FRANCE'S NEW PRIME Minister Manuel Valls is the most popular Socialist politician in the country, or at least he is with almost everyone except a sizeable chunk of his own party.
As approval ratings plummeted for the rest of France's Socialist government over the course of its first two years in office, the good-looking interior minister was almost alone in defying the trend.
At ease with journalists and a natural in front of the television cameras, the Barcelona-born 51-year-old won respect from voters across the political spectrum with his dynamic approach to a job often described as being "France's top cop."
His tough-talking on crime and insecurity made him every right-wing voter's favourite leftist.
That style and his politics have drawn comparisons with former British premier Tony Blair, which is far from being a compliment for many on the French left.
"He only hears with his right ear," quipped Pierre Laurent, the National Secretary of the French Communist Party on hearing of Valls' promotion.
Valls came under heavy fire last October following the deportation of a 15-year-old Roma girl and her family to Kosovo, after she was taken off a bus in the middle of a school trip.
Accusing police of violating her rights, critics rounded on the minister, demanding his resignation.
But polls showed that the overwhelming majority of voters backed him and he retained the confidence of Hollande, with whom he is personally close.
An abrasive character
Friends and colleagues alike describe Valls as an abrasive character.
Cecile Duflot, the Green minister who has announced she will not be part of his new government, famously could not stand him and nicknamed him Pepe after a particularly stubborn Spanish boy who features in one of the Asterix stories.
But there also appears to be a warmer and charismatic side to his personality.
"He says things with a certain honesty, a certain clearness, and yes, sometimes a certain roughness," Alain Bauer, a prominent French criminologist and friend of Valls since their student days, told AFP.
"He has vitality, dynamism, energy and that rallies people around him.
When I hear people saying the president should be worried, I think it is stupid. There is no one more loyal than Manuel.
Valls has consistently topped opinion polls as France's favourite politician, although the approval ratings of up to 70 percent he enjoyed last year have slipped recently as a result of the tough stance he took in trying to ban anti-Semitic comedian Dieudonne M'bala M'bala.
That hit his standing with Dieudonne supporters and France's influential free-speech campaigners, but he remains much admired by most voters, including some women impressed by his intense Iberian looks and sharp-fitting suits.
A survey for Elle magazine last year revealed one in five French ladies liked the idea of a "torrid affair" with the twice-married minister, a finding that delighted his glamorous second wife, the professional violinist Anne Gravoin.
"Manuel absolutely deserves it and a lot more besides," she said at the time. "He's a very loveable man."
Although he does not encourage the comparison, Valls shares some of Blair's political instincts, frequently defining himself in opposition to dearly held positions of his own party.
Neither does the father of four fit the mould of the typical French politician in terms of background and education.
The son of a Catalan artist who left Spain during the dictatorship of General Franco, Valls only obtained French nationality at the age of 20.
He did not attend the elite ENA university that produced Hollande and many other members of the French political elite.
Thanks to his background he speaks three foreign languages fluently; Catalan, Italian and Spanish.
#Open journalism No news is bad news Support The Journal

Your contributions will help us continue to deliver the stories that are important to you

Support us now
After joining the Socialist Party as a student, Valls made a name for himself as a moderniser, at one point even suggesting the word "Socialist" be dropped from its name.
He angered many in the party by attacking some of its sacred cows, including the 35-hour work week.
On economic policy, his thinking is influenced by the pro-business, flexible approach of the most recent generation of Scandinavian Social Democrats, a world away from the radical neo-Keynesianism of the left of the Socialist Party.
After a series of parliamentary and party posts, Valls was elected mayor of the tough multicultural Paris suburb of Evry in 2001 and to the National Assembly a year later.
He remained a party outsider, derided by many as a closet right-winger with a reputation for being difficult to work with.
Undeterred, Valls ran in the 2011 Socialist presidential primary but scored a lowly six percent, eventually throwing his support behind Hollande and running the future president's campaign communications.
When Hollande took office last year, Valls was rewarded with the interior minister's post.
He immediately made waves by continuing the previous government's contentious policy of dismantling camps belonging to Roma migrants from eastern Europe.
He clashed with Justice Minister Christiane Taubira over penal reforms he regards as soft on crime and triggered an outcry by saying Roma migrants living rough should be "delivered back to the borders" because they would never assimilate.
Even some of his cabinet colleagues suggested that comment was racist, but, bolstered by surging poll ratings, Valls refused to apologise and Hollande stood by him. Perhaps the president knew he would one day have need of him.
- © AFP 2014.