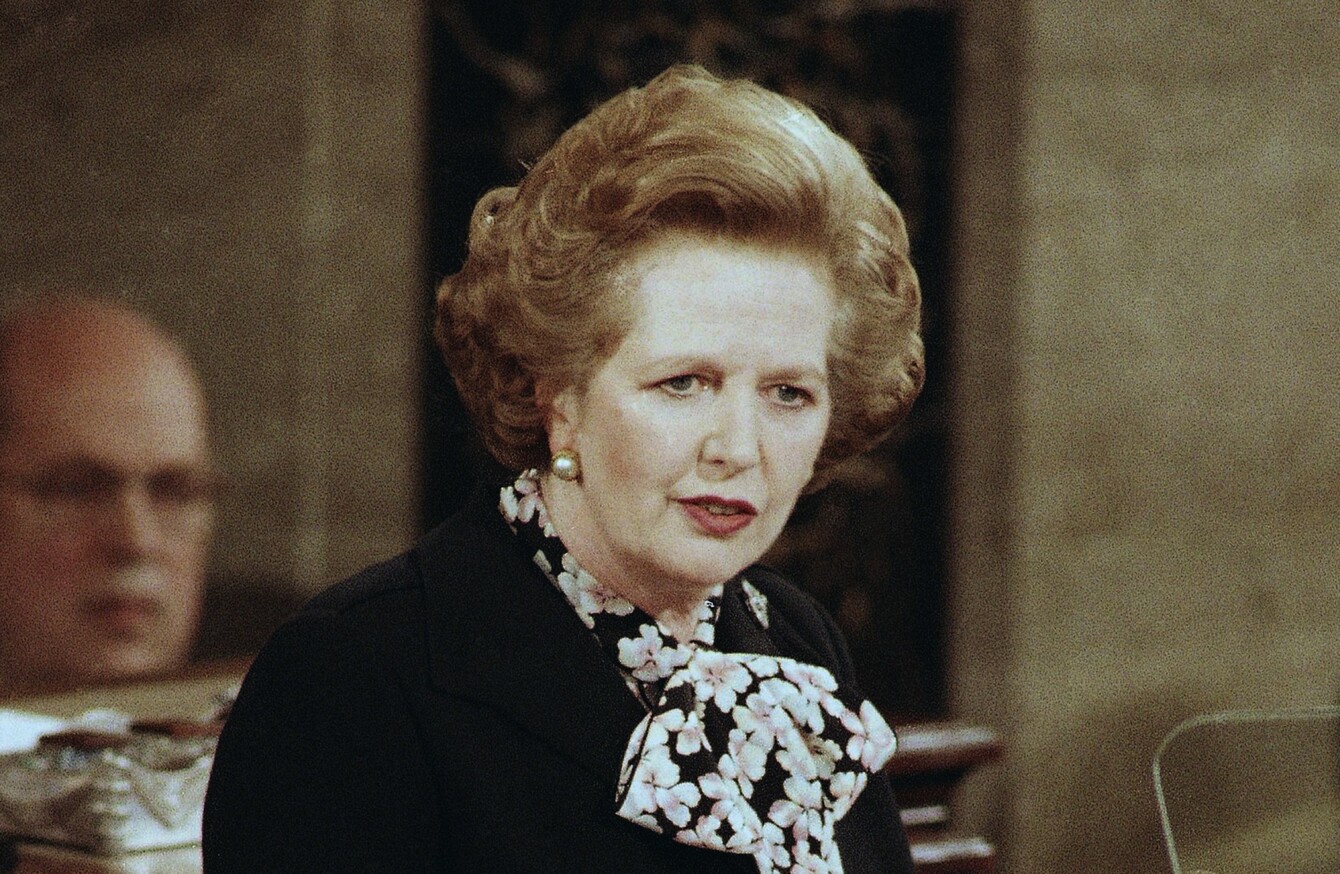 Image: AP/Press Association Images
Image: AP/Press Association Images
MARGARET THATCHER WAS determined to 'put down Loyalists as efficiently as the miners' if they went on strike following the Anglo-Irish Agreement.
That's according to a leading Northern Ireland trade unionist who advised the Irish government about the possible backlash to the signing of the 1985 deal.
Details of their meeting have now been released by the National Archives.
The deal gave the Republic the right to be consulted on Northern Irish affairs by the UK and also made a united Ireland impossible without a vote on both sides of the border.
The agreement was universally opposed by unionists and there were concerns that unionist parties and Loyalist factions would organise a widespread strike that would cripple Northern Ireland.
The 1974 Ulster Workers' Council (UWC) general strike and accompanying Loyalist violence were instrumental in bringing down the Sunningdale Agreement a decade earlier. There were fears their actions would be repeated in early 1986.
But a number of advisers who met with officials from the Department of Foreign Affairs advised that this was unlikely for a number or reasons.
Notes on a meeting with trade unionist Terry Carlin show that support for a strike was low, particularly because jobs for working class people were so scarce in 1980s Northern Ireland.
In shipyard Harland and Wolff for example, the CEO had made it clear that any striking workers would be treated "very differently" to 1974 and that "contracts would be lost and their jobs put in jeopardy".
Adherence to the 1974 UWC strike was also enforced by armed paramilitaries with Carlin advising that,
a very large number of the 'hard men' in the power stations and Harland and Wolff, who had been central to the 1974 strike, have either retired or have taken redundancy.
Unionists attempted to repeat the UWC strike in 1977 but it was not as successful. Carlin explained that part of the reason for this was the determination of the Northern Ireland secretary to stand up to it.
In this case, he advised that after signing the Anglo-Irish Agreement, Thatcher would not allow workers' unions to bring it down in the year after she had also faced down UK miners:
Employers are digging their heels in and the determination of of Mrs. Thatcher to put down Loyalists as efficiently as the miners is unquestioned.