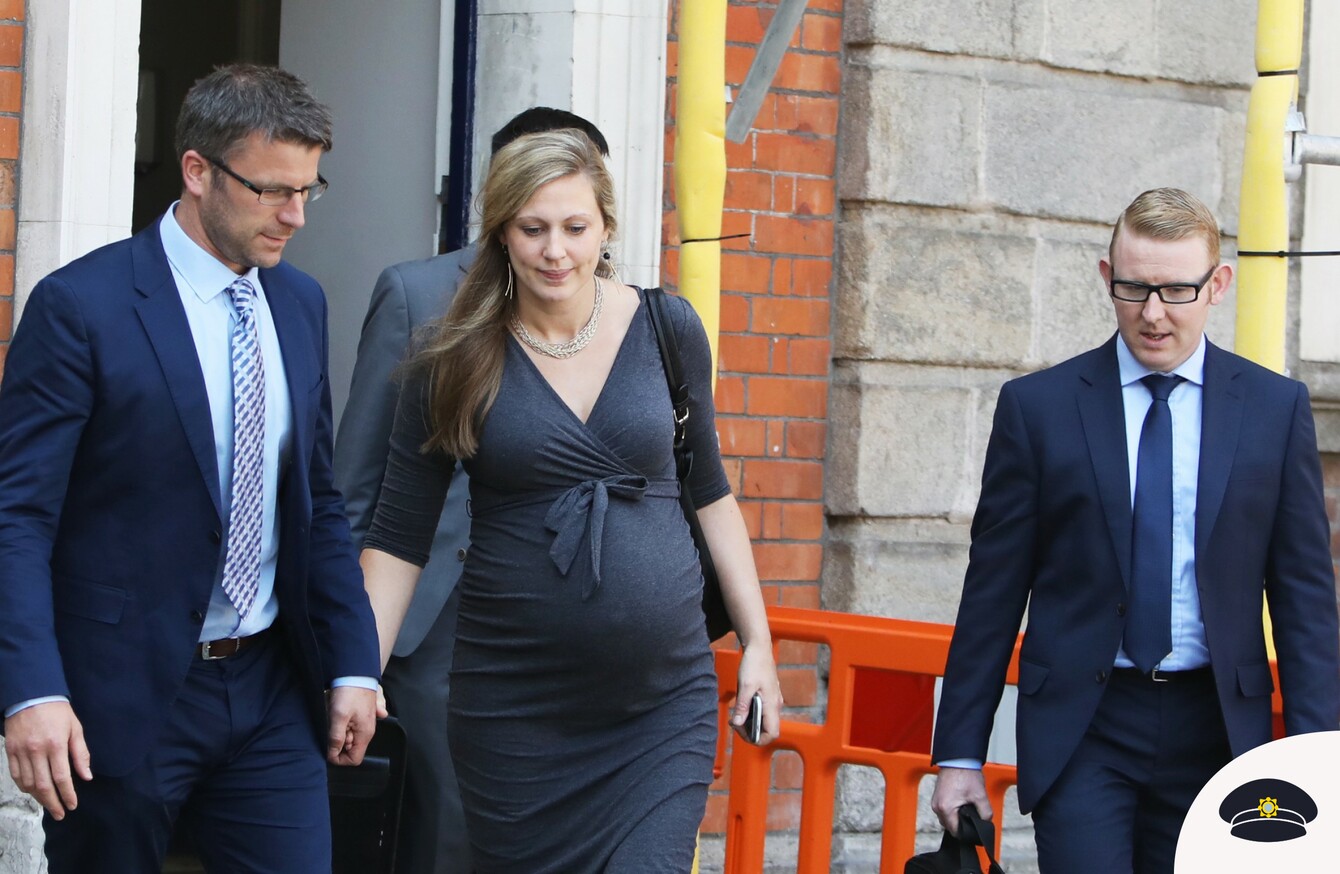 Psychologist Laura Brophy after giving evidence on the second day of public hearing at the Disclosures Tribunal in Dublin Castle.
Image: Leah Farrell/RollingNews.ie
Psychologist Laura Brophy after giving evidence on the second day of public hearing at the Disclosures Tribunal in Dublin Castle.
Image: Leah Farrell/RollingNews.ie
A PSYCHOLOGIST WITH the HSE has said she would never consider taking part in a deliberate action to defame garda whistle-blower Sergeant Maurice McCabe, the Charleton Tribunal heard.
The tribunal is examining claims that allegations of sexual abuse were used as part of a campaign to smear and undermine the reputation of Sergeant McCabe.
HSE psychologist Laura Brophy has previously told the tribunal that in 2013 she incorrectly described abuse allegations in a report she wrote, increasing the severity of allegations against McCabe.
The report of the alleged abuse of another garda's daughter, identified as Ms D, mistakenly contained details of historical abuse from another unrelated report from a woman identified as Ms Y.
Instead of the original allegation that Sergeant McCabe was "dry humping" or "gyrating" during a game of hide and seek at a birthday party, a more serious set of allegations of "digital penetration, both anal and vaginal" from an unrelated investigation were mistakenly included in the report due to a word processing error.
Tribunal chairman Supreme Court Justice Peter Charleton said that at the time that Ms D first consulted with Ms Brophy, Sergeant McCabe was under investigation because of a missing computer linked to a sexual abuse case
He put to the HSE counsellor that "a further allegation at the same time could create more problems for the sergeant". He asked her if she would countenance being party to such a thing deliberately.
Ms Brophy replied: "Oh my, there's just no way I would consider doing that. It's defamation of character.
"I can see how it would be catastrophic. I would never do something like that."
Ms Brophy said she "specifically checked" and changed her work practices after the error was discovered to ensure a similar mistake did not occur again.
Michael O'Higgins SC, on behalf of the garda commissioner, said that Ms D's father, a garda colleague of Sergeant McCabe, "got a fierce shock" and "felt sick to his stomach" when he was shown the inaccurate report in 2014.
The barrister was quoting from a statement the father had made to tribunal investigators. After he spoke to his daughter about the report, Ms D contacted Ms Brophy to correct the mistaken report.
Ms Brophy then made efforts to correct wrong information.
The tribunal resumes tomorrow afternoon.
News
Earlier, Brophy said she did not read newspapers, but got her news listening to the radio while driving, or online, and that Sergeant McCabe's name meant nothing to her when she first heard it in 2013.
Questioned by Michael McDowell SC. on behalf of Sgt McCabe, she said she did not know that some of the incorrect information remained on garda records even after she made efforts to rectify the mistake.
"I knew immediately that I'd made an error when I saw it in black and white," Ms Brophy said.
She said she was "extremely anxious" to fix the error. As a result she contacted her superior Fiona Ward, other social work teams, and gardaí.
Mr McDowell said that although the abuse allegation was amended, a sentence alleging that Sgt McCabe threatened to kill the father of Ms D if she spoke to anyone remained on garda records. Ms Brophy said this was the first time she had heard this.
#Open journalism No news is bad news Support The Journal

Your contributions will help us continue to deliver the stories that are important to you

Support us now
Mr McDowell said the errors "set in train an appalling injustice as far as Sgt McCabe was concerned."
Tribunal barrister Diarmaid McGuinness SC said that this error was made by Tusla in amending the files, and did not have anything to do with Ms Brophy.
The tribunal also heard that standard forms and procedures for reporting historical child abuse have been changed since the error was made in 2013.
Fiona Ward, a director of counselling with RIAN, a free counselling service under the remit of the HSE, said that new procedures had also been put in place so that clients of the service could review the reports for accuracy before they were sent.
Ms Ward said that in May 2014, she was contacted by Ms Brophy, after she had just discovered her error.
She said that incorrect details were included in a report of historical abuse, including the name of another client of the counselling service, Ms Y.
"Given the gravity, it had to be corrected," Ms Ward said.
Ms Ward said that because the only information about Ms Y included in the report was her surname, she was advised that it did not constitute a data protection breach, but an administrative error, as the data was not sufficient to identify her.
Ms Ward was advised to retrieve copies of the erroneous report which had been sent to Social Worker services, the National Counselling Service and the gardai and ensure the reports were shredded.
She said when she reported that, the gardai said they needed to keep the original report on file. She was advised there was no reason for this and it should be retrieved.