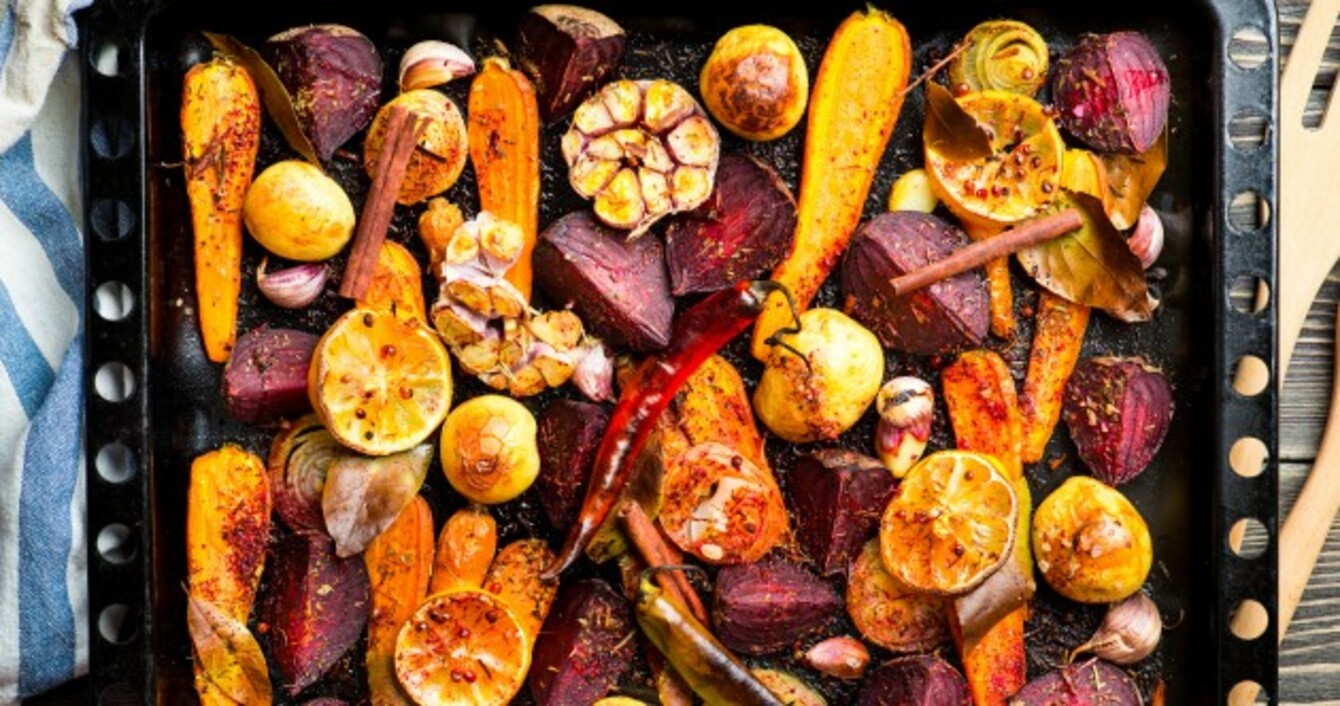 Image: Shutterstock/Dragon_Fly
Image: Shutterstock/Dragon_Fly
THERE'S SOMETHING MAGICAL about roasting vegetables. Take the most unpromising looking piece of root veg, give it enough time in a hot oven and – presto! – transformation.
The classic roast dinner generally involves chicken, beef or a variation on that theme, but taking meat out of the equation doesn't mean compromising on depth of flavour. Squash, cauliflower, aubergines and more can become the star of your Sunday dinner.
You can add interest to a meatless roast by mixing in colours and textures, using spices, or finishing with fresh herbs or toasted nuts, a squeeze of citrus juice or a dollop of something on the side.
With all of the below recipes, the oven does the work, leaving you to sit back and relax on a cosy Sunday. All recipes serve four people for a generous meal.
1. Stuffed squash with lentils and goat cheese
At this time of the year, sweet butternut squash are piled high in the grocery stores, just begging to be made into soups and stews. Or roasted, stuffed and devoured.
Preheat oven to 200C / 180C fan. Cut two small butternut squash in half lengthways. Scoop out the seeds and score the flesh without cutting into the skin. Drizzle with olive oil, sprinkle two sliced garlic cloves into the cavity. Season and roast the squash for 40 minutes, or until tender. Roughly chop two roasted red peppers from a jar, two spring onions and 75g toasted walnuts, then mix them in a bowl with 150g cooked lentils and a half tin of chopped tomatoes. Scoop the garlicky flesh out of the squash, leaving a 1cm thick shell, and add that to the bowl. Mix everything together well. Cut a 180g log of goat cheese into 4 thick slices. Spoon lentil filling into the squash shells, top with a slice of cheese, drizzle with a little honey and bake for 15 minutes, until heated through and the cheese is melted.
2. Pot roast cauliflower with spiced butter
When shopping for cauliflower, it's worth following English cookery writer Jane Grigson's advice: "If the cauliflower looks back at you with a vigorous air, buy it; if it looks in need of a good night's sleep…leave it where it is."
Preheat oven to 220C / 200C fan. Level the base and trim the leaves of a large cauliflower to expose the white head. Lower it into a large saucepan of boiling salted water and simmer for 10 minutes. Drain and leave to steam dry for a few minutes. Mix a teaspoon garam masala, half a teaspoon mustard seeds, a quarter teaspoon turmeric and a quarter teaspoon chilli powder with 50g melted butter and a tablespoon sunflower oil. Rub the mixture into the cauliflower and season well with salt and pepper. Place the cauliflower on a baking tray and roast for 45-50 minutes, basting occasionally, until it is tender and well browned. Squeeze lime juice all over, sprinkle with a handful of toasted flaked almonds and eat with a simple tomato sauce and coconut rice.
3. Smoky roast aubergines and tomatoes
Aubergines really need to be cooked thoroughly, so roasting brings out the best of their meaty richness.  
Preheat your oven to 200C / 180C fan. Cut two large aubergines in half, score the flesh with a criss-cross pattern and put them in a roasting tin. Mix half a teaspoon of smoked paprika and a good pinch of salt with three tablespoons olive oil and brush liberally over the flesh. Toss 250g cherry tomatoes, halved, with a tablespoon olive oil, plus a handful of fresh basil and season well. Divide the mixture between the aubergine halves and roast for 40-45 minutes until tender. Serve with lemon couscous and garlic yoghurt, made by mixing a crushed garlic clove into 150ml natural yogurt with a little salt.
4. Shallot tart tatin with blue cheese 
A tart tatin always looks spectacular and, when it tastes this good, you've got a savoury centerpiece that's a real winner. 
In a shallow 22cm ovenproof pan or skillet, melt 25g butter with a tablespoon of olive oil over medium heat. Add 500g peeled, halved shallots and cook gently until browned and softened, about 15 minutes. Drizzle four tablespoons balsamic vinegar over the halved shallots, sprinkle them with a tablespoon brown sugar, stir and cook until the sugar is melted. Season with salt and pepper to taste, then sprinkle with one teaspoon fresh thyme leaves, arrange shallots in a pleasant pattern and let the whole thing cool. Now, preheat oven to 200C / 180C fan. Roll 320g puff pastry and cut a circle about 4cm bigger than the pan. Lay pastry on top of shallots and tuck overlap down the sides of pan. Bake for 25-30 minutes until the pastry is crisp and golden. Out of the oven, cool the tarte for five minutes then – carefully – turn out of tin. Crumble 100g blue cheese on top and serve while still warm and melty.
5. Salt-baked celeriac with brown hazelnut butter
Celeriac, or celery root, looks similar to a turnip and it's nutty taste makes it an excellently satisfying option for a Sunday dinner. For full dramatic presentation, crack the crust open at your table before carving the celeriac into slices, as you would do with a rib roast.
Preheat oven to 200C / 180C fan. Scrub and trim a medium celeriac so that it sits flat. Stir 300g sea salt and 400g flour together. Add 250ml cold water and mix until a soft dough is formed. Flatten a quarter of the dough on a roasting tin, place the celeriac on top, then mould the rest of the dough to completely cover it with an even layer. Bake for three hours, checking if the celeriac is cooked by inserting a skewer into its centre. Melt 75g butter in a pan, stirring regularly, until the milk solids start to brown. Remove the butter from the heat, whisk in the juice of half a lemon and 50g chopped roasted hazelnuts. Crack crust off the celeriac, carve it table side, and serve drizzled with hazelnut butter.
6. Baked cheesy potatoes with eggs 
Baking food within other food makes for a gorgeous presentation and no one can resist this combination of potatoes, cheese and eggs. This is especially popular with kids.
Preheat oven to 220C / 200C fan. Scrub two large baking potatoes, prick all over with a fork, rub with sea salt and bake in the oven for 60 minutes, or until cooked through. Lower the oven temperature to 180C / 160 fan. Cut the hot potatoes in half lengthwise and scoop out about half the potato. I mash this with butter and serve on the side for some extra carb loveliness. Place the scooped-out potatoes on an oven tray, season the insides with salt and pepper, and divide 100g grated mature cheddar between the four halves before carefully cracking an egg into each one. Top each with a sprig of fresh thyme or marjoram, a grind of black pepper and return them to the oven for 18-20 minutes or until egg is cooked to your liking. Serve with a dollop of Greek yoghurt, some chilli sauce and a crunchy green salad.