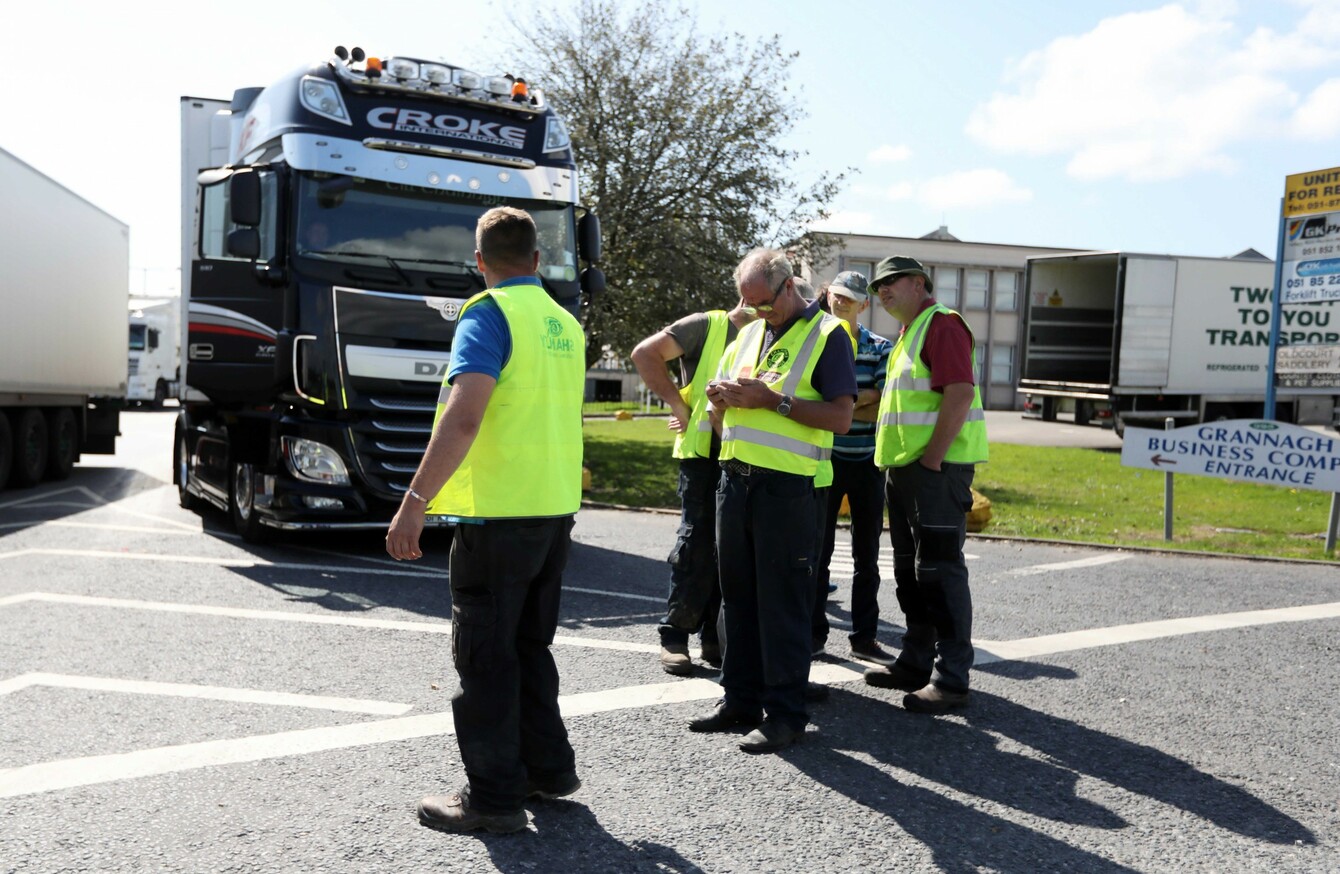 Three hundred workers at the Dawn Meats plant in Grannagh have been temporarily laid off due to the ongoing dispute.
Image: Eamonn Farrell/RollingNews.ie
Three hundred workers at the Dawn Meats plant in Grannagh have been temporarily laid off due to the ongoing dispute.
Image: Eamonn Farrell/RollingNews.ie
Updated Sep 10th 2019, 7:22 PM
MEAT INDUSTRY IRELAND (MII) has said that 3,000 employees at meat processing plants around the country have been "temporarily laid off" as a result of the ongoing beef dispute.
The dispute has seen unofficial pickets by farmers at processing facilities around the country and MII has said this evening that staff working in the factories are being intimidated.
"Meat Industry Ireland said today that 3,000 employees of its members have been temporarily laid off due to the continuing illegal blockades of factories and intimidation of staff and suppliers by protestors," a spokesperson for the group said this evening.
Some 80% of overall processing capacity has now closed, and further closures and layoffs are likely in coming days.It is not just the direct employees that will be affected by the ongoing crisis, as hundreds of indirect jobs will be impacted as ancillary businesses including hauliers will be heavily impacted by these closures.
Meat Industry Ireland had said yesterday that layoffs were possible and announced it was pulling out of talks due to the ongoing protests. 
The group said that the blockades at factory gates "intensified" as initial talks began.
SIPTU had earlier today warned that jobs were being put at risk but blamed Meat Industry Ireland for not meeting with the union. 
"This is a situation which is impacting on hundreds of our members who are now facing the loss of their jobs due to a dispute over which they have no control," said Siptu organiser Teresa Hannick.
Talks involving all the parties directly involved in this dispute is the only way in which a solution will be found. Our members are calling on all sides in this dispute to begin serious negotiations to find a swift and just conclusion to this situation.
Injunction
In the High Court today, C&D Pet Foods argued that the blockade of its Edgeworthstown facility could result in more than 500 workers in the locality being laid off in the coming days. 
The company said that protesters have been physically obstructing the plant's entrance since the weekend. C&D is owned by the ABP Food Group, which is one of Ireland's largest beef processors.
It claims that despite the fact it plays no part in determining prices paid for beef, as it mainly uses pork and chicken in its products, it has been "tactically targeted by protesters purely on the basis that it is part of the ABP group."
At the High Court this afternoon, Mr Justice Garrett Simons granted C&D Foods a temporary injunction preventing protesters from trespassing, unlawfully blockading the plant, and from intimidating individuals going to and from the plant.
The action is against two named defendants, Fine Gael councillor Paraic Brady of The Meadows, Drumlish, Co Longford, and Colm Leonard of Aughanoran Dring Co Longford.
Seeking the order Brian O'Moore SC for C&D said his client does not wish to halt any peaceful or lawful protest outside the plant but said that since Saturday evening the defendants and others have gone beyond a legitimate peaceful protest.
Since the blockade commented, trucks trying to make deliveries from the plant have been prevented from freely entering or leaving the plant, counsel said.
#Open journalism No news is bad news Support The Journal

Your contributions will help us continue to deliver the stories that are important to you

Support us now
Counsel said that protesters have maintained the blockade by walking in continuous circles around trucks trying to leave or enter the plant and have trespassed on C&D's premises.
Deliveries have had to be cancelled, counsel said, adding that the firm's staff have been subjected to threatening and abusive language from the protesters.
Mr O'Moore said councillor Brady told senior staff members of C&D that no product would be allowed in or out of the site until the dispute over beef prices was resolved.
The protests centre on the prices farmers are receiving for their cattle with prices down considerably from this time last year.
- With reporting by Aodhan O Faolain and Ray Managh