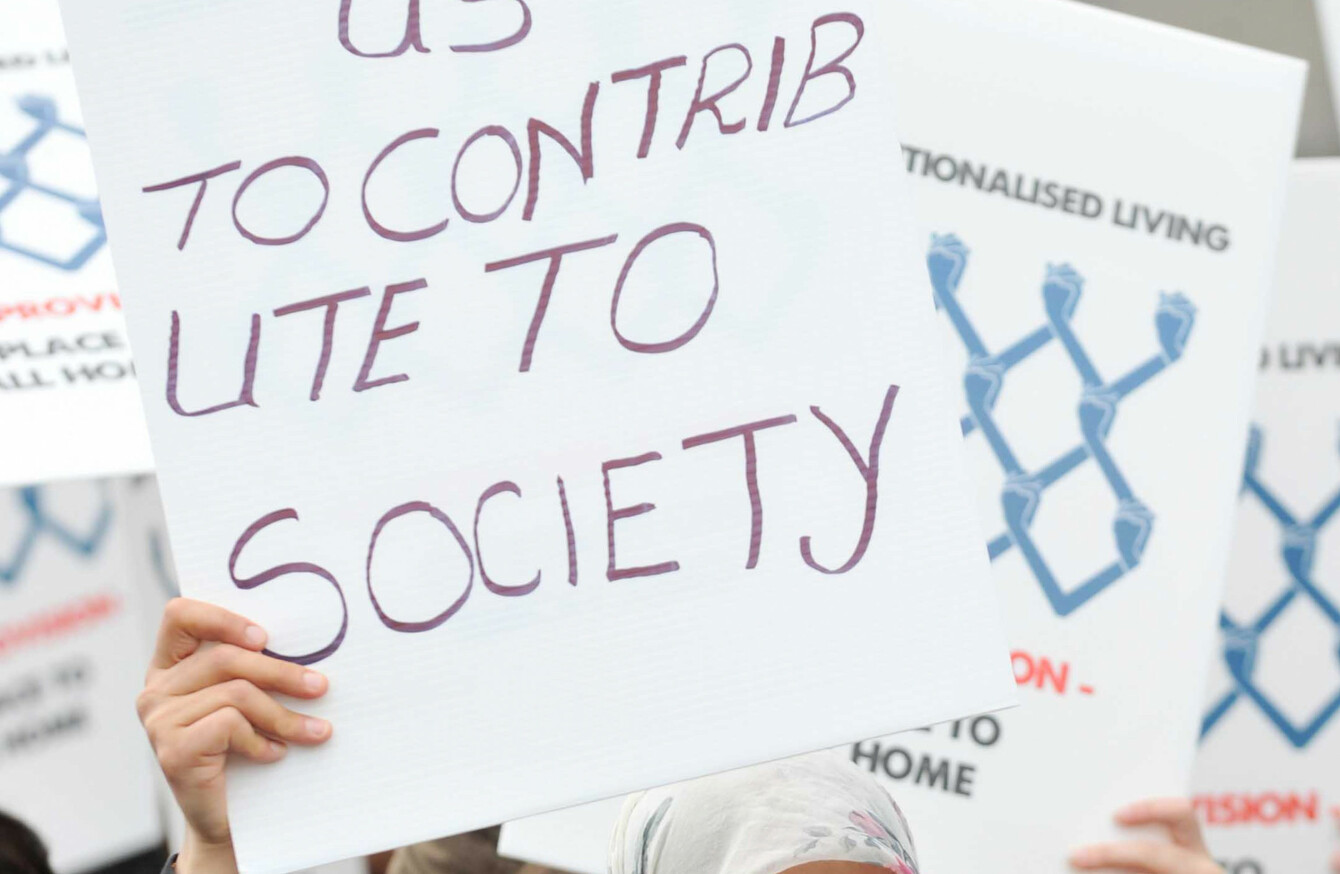 A woman protesting the ban on asylum seekers accessing jobs.
Image: Laura Hutton/RollingNews.ie
A woman protesting the ban on asylum seekers accessing jobs.
Image: Laura Hutton/RollingNews.ie
ADULTS LIVING IN Direct Provision will soon be able to access employment, Justice Minister Charlie Flanagan has said this afternoon.
Speaking in the Seanad this afternoon, Flanagan said he wished to address what he described as the "misunderstandings" people have about the centres and said that those who wish to work will soon have the opportunity to do so.
In a speech to the upper house, Flanagan said: "Adults who will soon have access to the labour market will also see their capacity for economic independence enhanced in line with the finding of the Supreme Court. Residents have been given access to the services of the Ombudsman and the Ombudsman for Children, which is an important step forward."
Earlier this year, the Supreme Court ruled that the ban on those in Direct Provision from working was unconstitutional.
Direct provision centres house asylum applicants and their families while applications are being processed but the conditions in which the people are held and the length of time they are required to stay there has been frequently criticised.
Taoiseach Leo Varadkar had indicated during the summer that he was not opposed to allowing those in direct provision work. Flanagan this afternoon confirmed this position.
Flanagan said that over 50 new applicants arrive in Ireland every week. He said these people are offered "immediate shelter, full board accommodation and a range of services, such as health and education, while their applications for international protection are in the course of being processed".
"Such people will not be forced to spend the night on the streets or be left to their own devices to look for emergency housing as in the early years under previous governments. They will not be vulnerable to ruthless criminals stealing any welfare payment that would replace direct provision and leaving them in abject poverty. In almost two decades, I have yet to hear a credible alternative being proposed to the current system," he added.
There are over 4,000 people in Direct Provision right now. An adult in the system receives €21 a week. Children get the same rate.