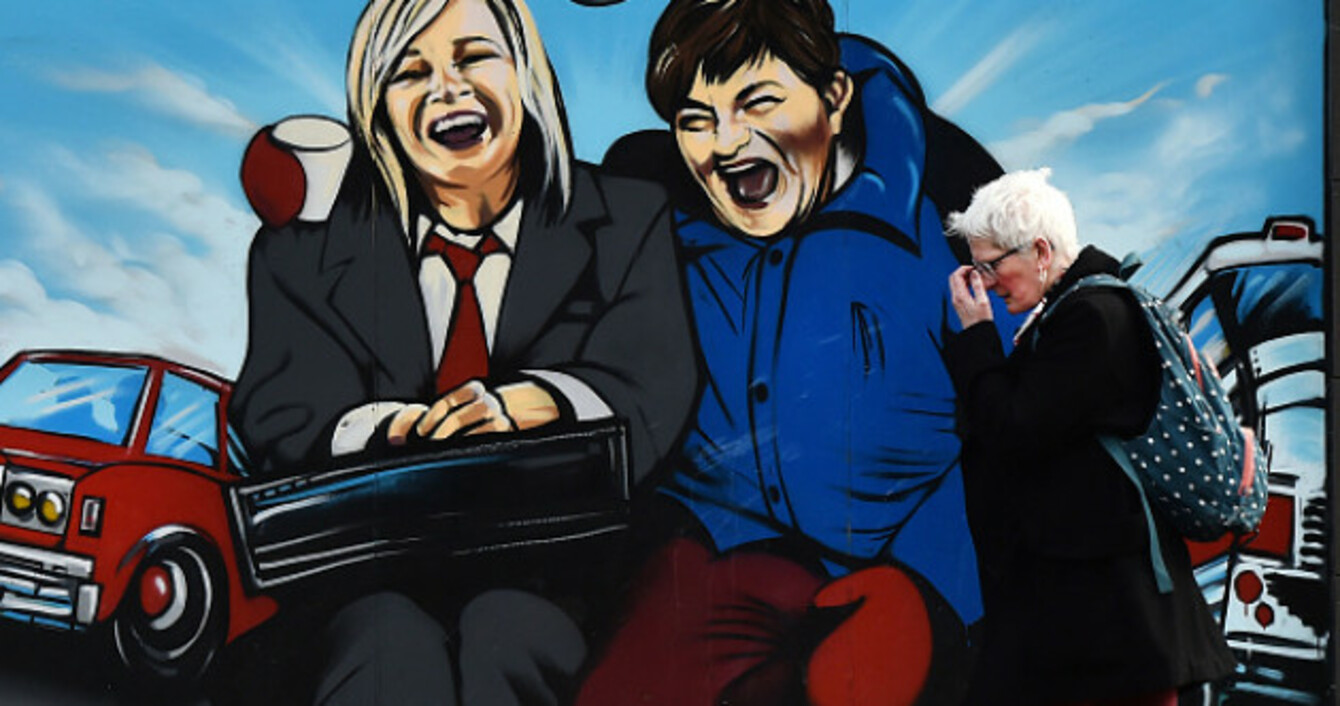 A mural in Belfast of Michelle O'Neill and Arlene Foster.
Image: Charles McQuillan/Gerry Images
A mural in Belfast of Michelle O'Neill and Arlene Foster.
Image: Charles McQuillan/Gerry Images
THE UK'S SECRETARY of State for Northern Ireland has said that she "is minded" to reduce the pay of MLA's while Stormont continues to not function.
Karen Bradley has the power to vary wages and BBC News reports that she told the House of Commons yesterday that the "time is right" to address "concern about MLA pay in the absence of a functioning assembly".
Talks aimed at bringing back a working assembly to the North, which has been without a government for more 14 months, fell at the last hurdle when the DUP pulled the plug.
In December, a report by former assembly chief executive Trevor Reaney made a number of recommendations including that MLA pay be docked by 27.5% from £49,500 to £35,888.
Speaking yesterday, Bradley said that she is considering introducing pay reduction measures.
"These measures, which I take reluctantly, are necessary in the absence of a functioning executive and assembly," she said.
There have been arguments for and against reducing the pay of MLAs with some arguing that it will not make any change to the political differences between Sinn Féin and the DUP.
It's also argued that the pay reduction will proportionally affect smaller parties more than the larger parties.
Speaking on yesterday's The Nolan Show on BBC Radio Ulster, SDLP deputy leader Nichola Mallon MLA said she was in favour of a pay reduction.
It is not fair that you receive a salary for a job you're not doing and we are not doing the legislative function. We in the SDLP and the UUP and the other centre parties, we are actually being prevented from doing the job we were elected to do and that we want to do.
Mallon however said that expenses for maintaining MLA offices should be maintained because representatives are still working, even if it is not in the chamber.
She says that her office is getting through a "vast caseload" for "people who are really vulnerable, particularly given the huge welfare changes at the moment".
Yesterday, it was confirmed that DUP and Sinn Féin leaders Arlene Foster and Mary Lou McDonald have not yet been invited to the White House for traditional St Patrick's Day reception.
It's believed that the lack of an invite for the two leaders this year may be related to the ongoing failure to return to power-sharing.
Despite their absence, Gerry Adams TD and Ian Paisley Jr MP are both expected to attend the White House.
Taoiseach Leo Varadkar is continuing his trip to the United States and will have his first engagement in Washington DC at 4 pm local time (9pm Irish time) today when he addresses the Brookings Institution.