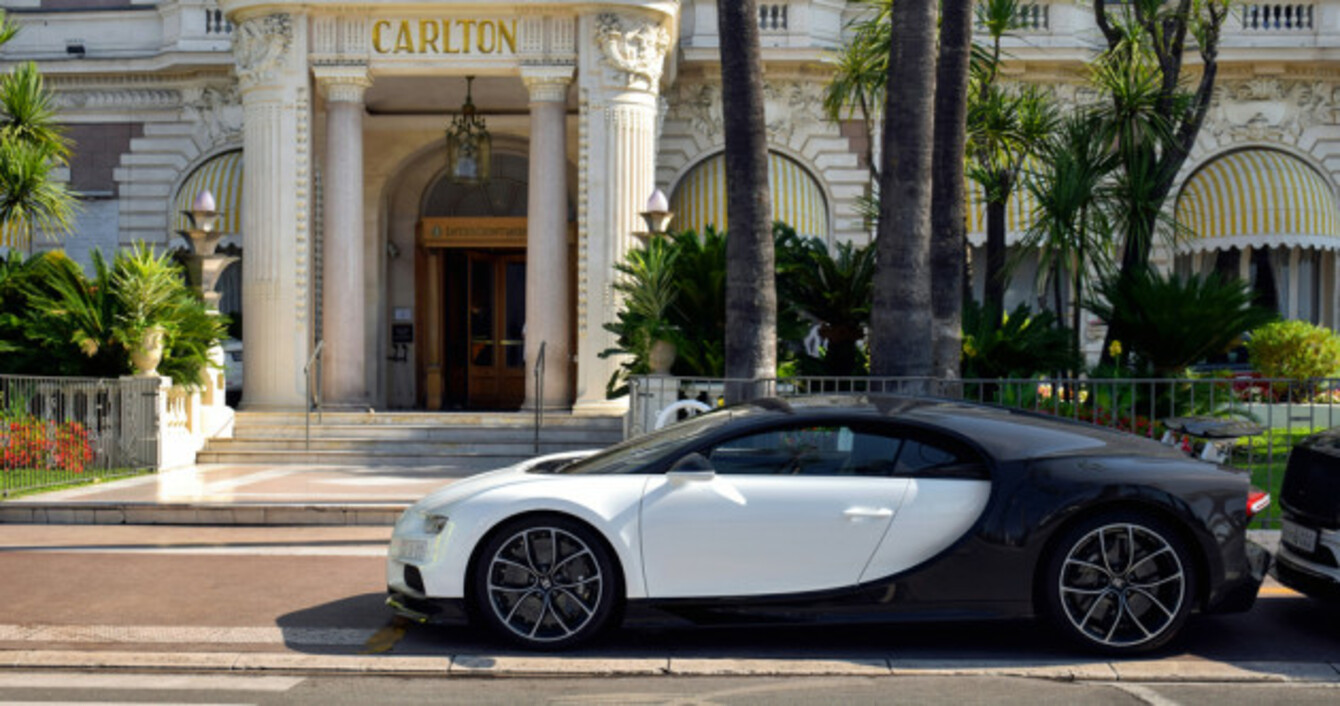 A Bugatti Chiron, casually parked outside a luxury hotel
Image: Shutterstock/dimcars
A Bugatti Chiron, casually parked outside a luxury hotel
Image: Shutterstock/dimcars
BIGGER ISN'T NECESSARILY better – but when it comes to car manufacturers trying to outdo each other in the horsepower wars, the larger that hp figure the more potent the motor.
Whilst us mere mortals may never own a car with this much oomph, it's still nice to look and drool over these high-powered machines.
The engines on this list are all combustion engines with no electrification so no hybrids or plug-in hybrids feature. Lastly, all these cars are still in production (that's why the Koenigsegg One:1 isn't on the list).
Therefore, when you win the Lotto you could technically buy one of these cars new. Money well spent in my opinion.
5. Lamborghini's 5.2-litre V10 in the Huracan Performante
Did you know that Lamborghini's 5.2-litre V10 engine in the Huracan Performante is the most powerful 10-cylinder engine? It has a potent 630hp and when fitted to the Huracan Performante can dispense with the 0-100km/m dash in just 2.7 seconds.
The Huracan Performante set a Nurburgring lap time of 6:52.01, snatching the lap record for production cars from the long-reigning Porsche 918 Spyder by a nearly five-second margin.
This lap time was hotly contested at the time and many sceptics doubted the record. Google this at your peril as you'll lose hours reading up on it. Although, these are not hours wasted by any means.
4. Ferrari's 6.3-liter V12 in the GTC4Lusso
The naturally-aspirated V12 unit here is capable of a tremendous 680hp and 697Nm of torque. This powerful engine translates into an equally impressive performance when fitted to the GTC4Lusso.
The Ferrari is able to reach a top speed of 335 km/h and accelerate from zero to 100km/h in a blistering 3.4 seconds.
3. Porsche's 3.2-litre V6 in the 911 GT2 RS
The latest Porsche 911 GT2 RS features the most powerful six-cylinder unit you can buy today. This 911 GT2 RS is the ultimate road-going 911, the most powerful version of the car Porsche has ever put on sale. The 3.8-litre biturbo features an impressive output of 690hp and has a massive output of 184.2 horsepower per litre.
The Porsche 911 GT2 RS lapped the Nürburgring in a record time of 6 minutes, 47.3 seconds, placing it ahead of the controversial time set by Lamborghini's Huracan Performante.
2. Ferrari's 6.5-litre V12 in the 812 Superfast
The 812 Superfast's engine is, as of 2018, the most powerful naturally aspirated production car engine ever made.
The 6.5-litre unit available in the 812 Superfast makes 789hp and it gets the grand tourer to 100km/h in 2.9 seconds making it the most powerful (and fastest) Ferrari in the marque's history.
1. Bugatti's 8.0-litre W16 in the Chiron
Four turbos help this car mill 1,479hp through its 8.0-litre quad-turbo W16 engine, producing a massive 187.5 horsepower per litre. It has an incredible 1,600Nm of torque starting from 2,000 to 6,000rpm.
The Chiron has a maximum speed of 420km/h, which is wisely limited for road travel. It can acceleration from zero to 100km/h in 2.4 seconds.
It is limited to a series of 500 units, but guess what? They aren't all sold yet so you can still buy one if you have a cool €2.4 million lying around.
And in the future:
Devel Sixteen's 12.3-litre V16 
Over in Dubai, Devel Motors are working on a V16 engine that could potentially produce 3,000hp in daily driving configuration and over 5,000hp in the maximum level of tune. Pie in the sky, maybe, but Devel Motors showed off its prototype at the 2017 Dubai Motor Show.
Want to make sure you don't miss out on anything going on in the world of motors? Like us on Facebook and and follow us on Twitter for the latest updates.