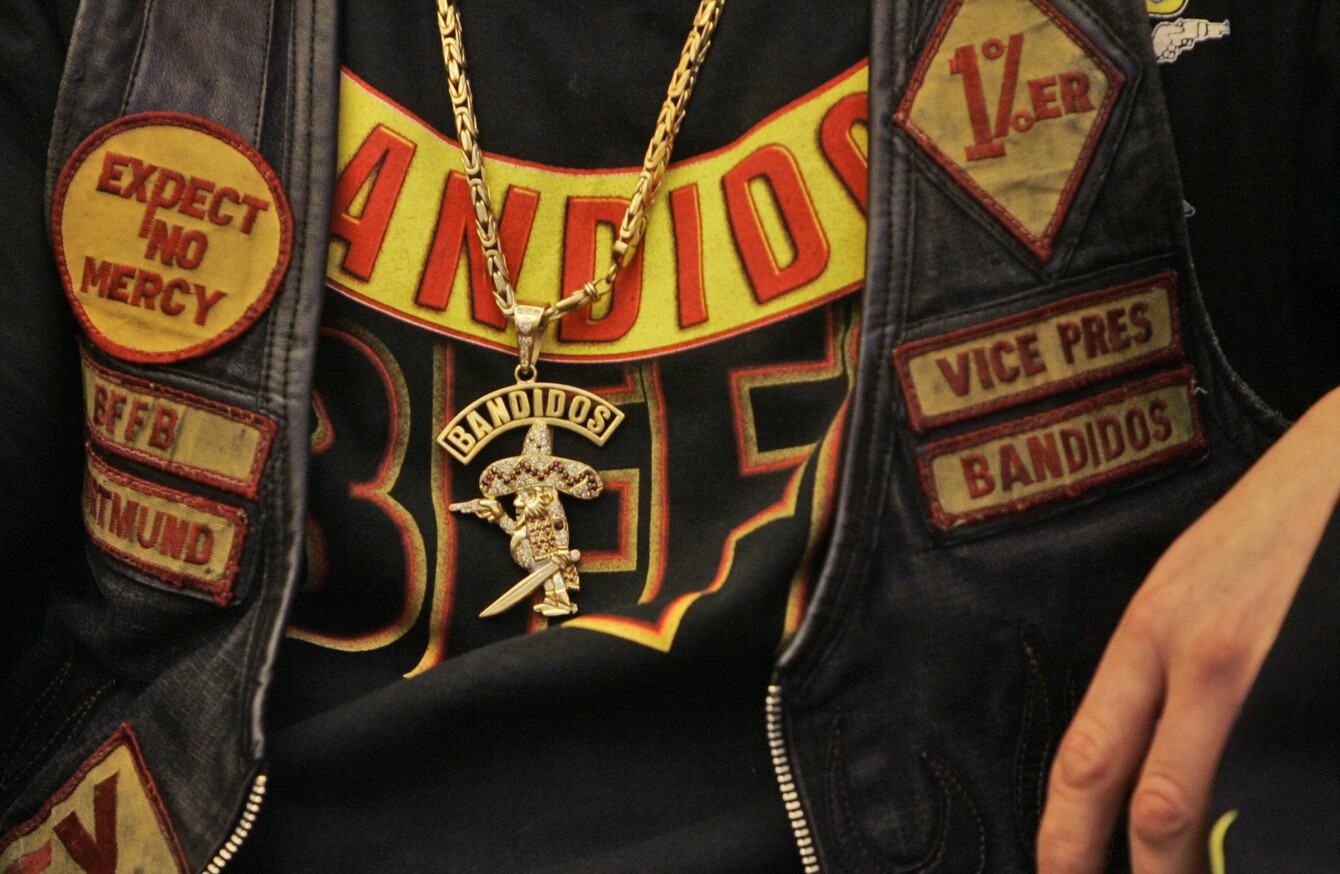 Image: AP/Press Association Images
Image: AP/Press Association Images
GARDAÍ ARE MONITORING the activities of an Irish chapter of the Bandidos motorcycle club, which formed last weekend in Limerick.
An initiation ceremony of a 'full patch chapter' took place at the Crossagalla Industrial Estate.
According to gardaí, the leaders of several Bandido chapters from across Europe attended the initiation ceremony last Saturday.
Some members of the gang were seen wearing t-shirts in support of an alleged Bandido member who is charged with shooting dead a fellow biker.
A garda source said: "They are a serious outfit.
There are growing fears about them coming across from Europe as they are involved in criminality and violence.
"The head honchos of the Bandidos came to this event in Limerick from across Europe.
"Some serious criminal elements showed up. What may be coming down the road is unknown."
International police
A number of Belgian police were also present at the Limerick gathering to "liaise" with their garda counterparts.
The garda source added: "They were liaising with gardaí as part of their policing operations. There has to be cross border co-operation on these type of gangs because they can suddenly spring up anywhere across the world.
"Senior members of the Bandidos travelled to this event in Limerick, not the low level guys. It's sending out a signal that this was an important event in their calendar.
"If they decided they wanted to open a chapter in Italy, for example, then the President of the Irish branch would pick members of the club to go there and represent Ireland."
Large crowds
Around 200 bikers gathered in Limerick for the event with around 100 travelling from outside of the country and staying in a number of Limerick city hotels.
According to gardaí, two senior members of the Irish chapter have been convicted of attempting to rob a bank in Munster.
The garda added: "The gang is well known for criminality. I would watch this space. Many of the smaller Irish motorcycle clubs are afraid of the Bandidos. Their overall aim is to take over the rest of the clubs and increase their own membership. The Bandidos see themselves as having status and power."
The Bandidos Motorcycle Club, also known as the Bandido Nation, was formed in the 1960s in Texas. It promotes itself as a "one-percenter" motorcycle club with members getting promoted through the the ranks and presented with badges. The "1%" patch is said to imply the gang's division from the 99% of all law abiding motorcyclists.
The Bandidos are said to have estimated 210 Chapters with approximately 5,000 members across 22 countries. The club's motto states: "We are the people your parents warned you about."