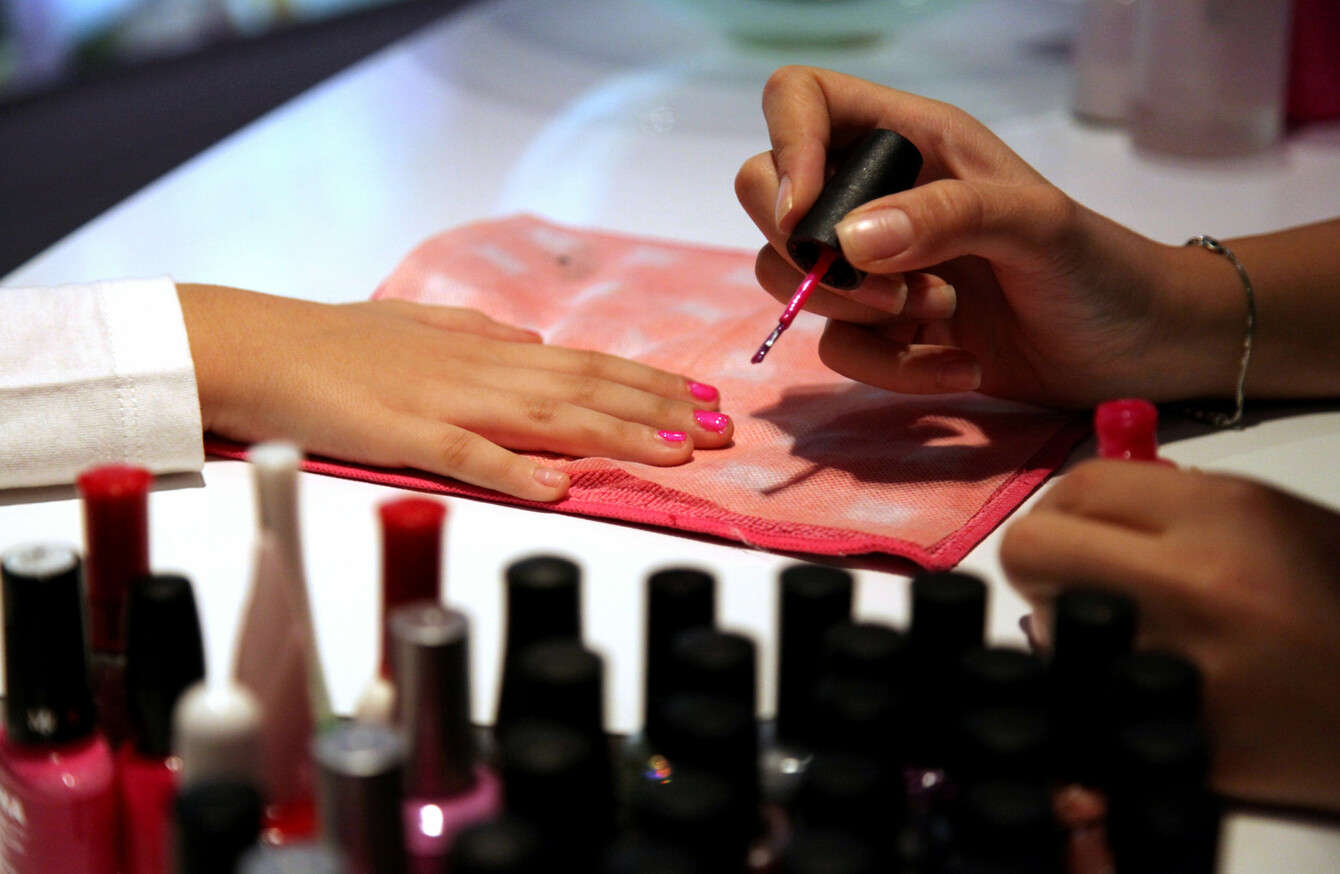 Image: Ratib Al Safadi//ABACA/PA Images
Image: Ratib Al Safadi//ABACA/PA Images
A COUNTRYWIDE SWEEP of the employment practices of nail bar operators has uncovered numerous employment law abuses.
According to data published by the Workplace Relations Commission (WRC), two in five nail bars inspected by the State last year were found to be in breach of employment laws.
A week-long sting conducted by the WRC revealed several instances of non-compliance for rules governing working hours, payment and employee permits.
Figures published by the commission – which advises the Minister for Jobs, Enterprise and Innovation – show that 81 inspections of nail salons were carried out across the country from 15 to 19 May. Eight were conducted in liaison with An Garda Síochána.
Inspectors identified employment law breaches at 35 premises, including 11 breaches of  legislation concerning worker permits for non-European Economic Area citizens.
In response to queries from Fora, the WRC said there were also five breaches of the National Minimum Wage Act and nine breaches of the Payment of Wages Act. It also uncovered 11 breaches of the Organisation of Working Time Act.
A spokesman for the State agency said it is "not the policy of the Workplace Relations Commission to provide details of identity, or location, in respect of individual inspections undertaken". However, he said the sweep was conducted on "a countrywide basis".
When the WRC finds evidence of non-compliance during an unannounced visit, it launches a more formal inspection and imposes compliance and fixed payment notices if necessary.
If an employer refuses or fails to rectify employment law breaches, or pay money owed to their employees, the cases are then referred for prosecution.
The WRC told Fora that four prosecution proceedings were initiated following the nail salon sting last year. It successfully prosecuted one firm – New Yorkie Nails located on Main Street, Bray, Co Wicklow – under the Employment Permits Acts 2003 and 2006.
Of the other cases, the WRC said: "It would not be appropriate to provide details of these cases pending the conclusion of the court process."
Exploitation
Nail salons were recently highlighted by the Minister for Justice as a potential "everyday" sector that might be targeted by human trafficking gangs.
At the April re-launch of 'Blue Blindfold', an information website maintained by the justice department's anti-human trafficking unit, Charlie Flanagan said gangs are increasingly forcing vulnerable people into "everyday employment sectors such as… nail salons".
"It is in these areas that the public may unwittingly encounter a victim of human trafficking," he said at the time.
A spokesman for the department told Fora no "specific instances" of trafficking victims working in nail bars had been identified in Ireland, however high-profile examples from the UK in recent times had led the minister to draw attention to the sector.
Andrea Horan, who operates the well-known Tropical Popical nail bar on Dublin's South William Street, said "it's outrageous" that numerous firms have breached employment laws.
"I've always been conscious of running an ethical business. It's important that everybody's treated well," she said.
When asked if she was familiar with alleged worker abuses in Ireland's nail salon sector, Horan said she is aware of instances where workers couldn't provide P45s when they changed jobs because they were off the books at their previous employer.
She said non-tax compliant workers have a negative knock-on effect for legitimate businesses that are "out-priced by tax-free workers".
Horan also she is familiar with instances where staff were overworked and not being given proper lunch breaks, which she said is exploitative.
I've never understood how anyone can exploit people and take advantage like that.
Sign up to our newsletter to receive a regular digest of Fora's top articles delivered to your inbox.
Written by Conor McMahon and posted on Fora.ie