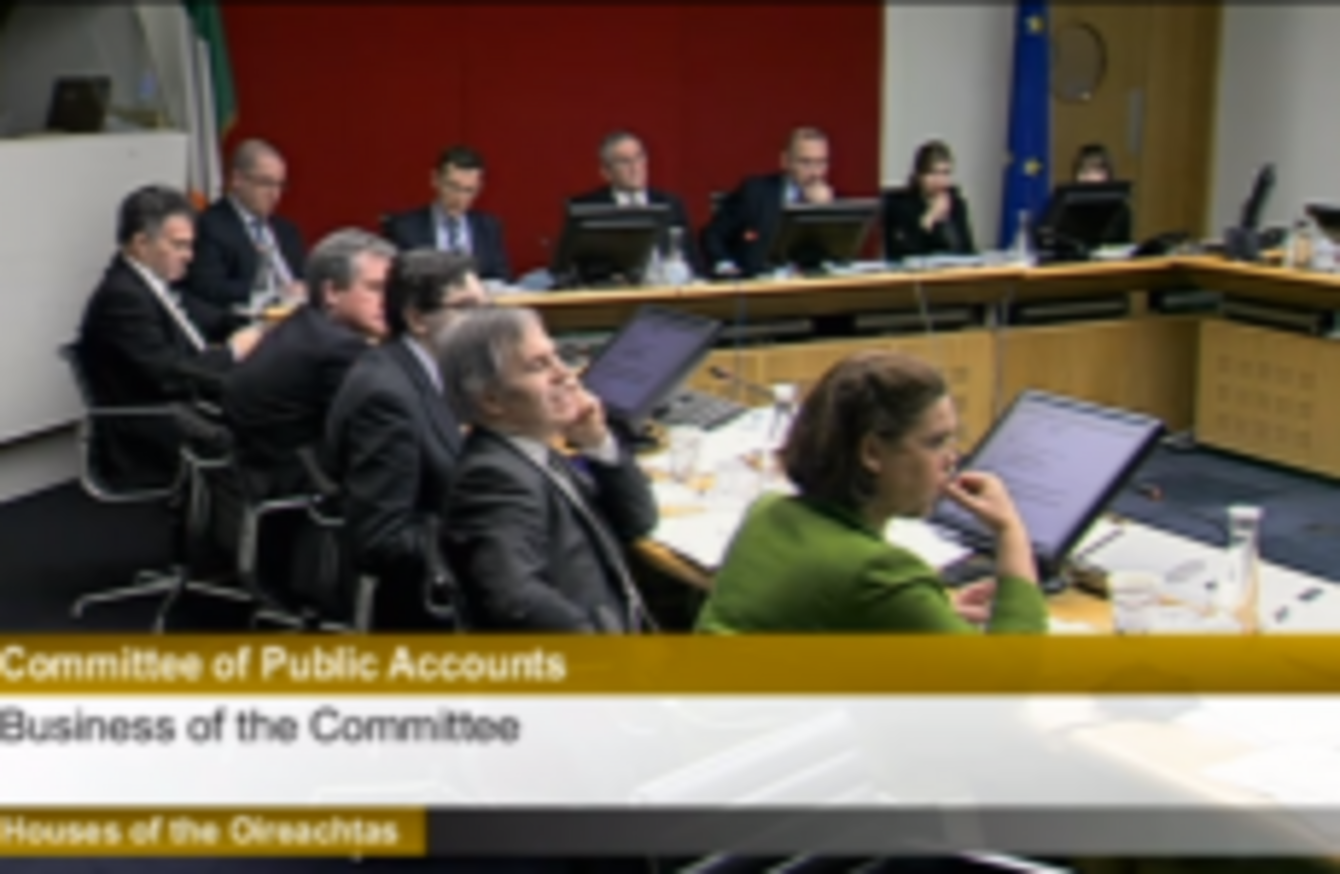 The Public Accounts Committee meeting this morning
Image: Screengrab via Oireachtas TV
The Public Accounts Committee meeting this morning
Image: Screengrab via Oireachtas TV
Updated 12.50pm
THE NATIONAL ASSET Management Agency (NAMA) is to meet with the Public Accounts Committee tomorrow morning to answer questions over allegations that have emerged in recent days about the handling of its loan book.
This morning committee members expressed concern about the possibility that the allegations that have been raised in recent days would not be dealt with before Christmas and New Year.
In a statement this afternoon, NAMA said that its chairman Frank Daly and chief executive Brendan McDonagh have agreed to attend a meeting of the PAC at 11am tomorrow in order to address the allegations in public.
A spokesman for NAMA said: "We are very grateful to the Chairman and to the members of the Committee for affording us this opportunity to meet with them at such short notice. We consider the PAC to be the most appropriate forum to address these matters."
Earlier, Fine Gael TD John Deasy said that a lot of people "would like to see NAMA damaged and leaking information to the media is one way of doing that", referring to allegations reported in recent days that former NAMA officials gave confidential information to individuals who should not have received it.
Two cases are currently the subject of garda investigations and a senior officer is liaising with the State's bad bank on the issue.
In the Dáil yesterday, Fianna Fáil's Micheál Martin said one of the claims being made is that an entire file in relation to a person whose loan book was with NAMA was sent to a partner in a "major global property company who was acting on behalf of that person's rival".
The Comptroller and Auditor General, Seamus McCarthy, told the committee this morning that it would be "difficult to see on a broad scale how there would have been any undervaluation" given the approach NAMA took to getting independent valuations.
He said that the whole process had been evaluated and approved by the European Commission.
Committee chairman John McGuinness said it is "hugely important" that NAMA clears up the matters that have arisen in recent days, saying "otherwise we go into Christmas and New Year with this information going out from whoever".
He said that NAMA are "anxious and wiling" to come before the committee given the concerns expressed and suggested that members could bring them in today or tomorrow.
The PAC is meeting today primarily to deal with the top-ups controversy at some health agencies with officials from the HSE and the Deopartment of Health due to give evidence.
Members have also been discussing the possibility of getting extra resources in light of its increased workload in recent weeks with Fine Gael's Eoghan Murphy expressing particular concerns.
McCarthy admitted there is a "very significant challenge" facing the committee in the months ahead.
- additional reporting Michelle Hennessy
First published 10.55am