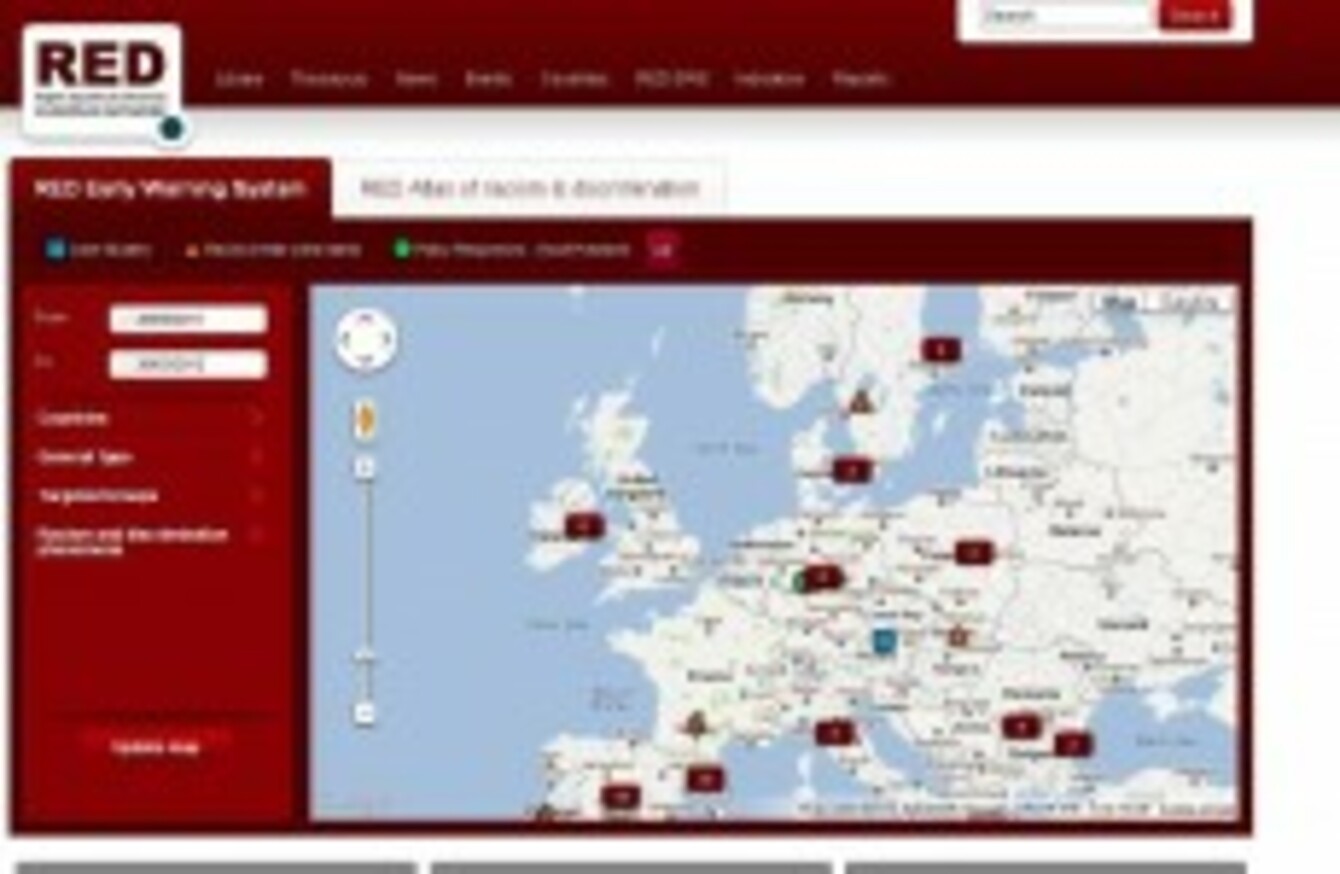 Screengrab of the RED Network website
Screengrab of the RED Network website
A NEW WEBSITE allows people to record and monitor instances of racism, xenophobia and discrimination in their country.
The website set up by the European RED Network of research and civil society organisations in 17 EU countries allows someone to see how migrants and minority communities are being treated in various EU states.
The map details media reporting instances of racism, xenophobia and discrimination as well as any news of positive initiatives and policy measures aimed at equality.
Statistics, reports, comparative data and a 'thesaurus' section where words and phrases associated with racism are broken down and explained are also carried on the website.
The entry for Ireland includes the high-profile resignation of Naas Mayor Darren Scully last year after he said he was no longer going to represent African people in the community, comments he later retracted and apologised for.
The Immigrant Council of Ireland (ICI) is backing the website and says that it will be useful at a time when "racist attitudes and hate crimes can constitute a major threat to social cohesion and equality."
Fidèle Mutwarasibo, Integration Manager with the ICI explained how the site works: "Anyone can log on to this site and assess – at a glance – how migrants and minority communities are treated in various EU states."
"In addition to providing up-to-date statistics and reports on incidents of racism, the site also contains information on positive initiatives and policy measures being adopted by governments in order to promote equality."
He added: "In order to combat racism, we must be able to identify and challenge it, and that's what this new website is about.
"By documenting incidents of racism – and reporting on effective anti-racism initiatives – we hope to inform and influence the work of national governments, and ensure countries throughout the EU become more tolerant and inclusive.
"Ireland still has a long way to go before it can boast of being a fully equal society, but – by participating in initiatives like the RED Network – we can share best practice and learn from the experiences of other EU states."
As well as Ireland, organisations from Austria, Bulgaria, Cyprus, Denmark, Finland, France, Germany, Hungary, Italy, Poland, Portugal, Romania, Spain, Slovenia and Sweden are involved in the RED Network. which is led by the Institute for Rights, Equality and Diversity (i-RED) in Greece.