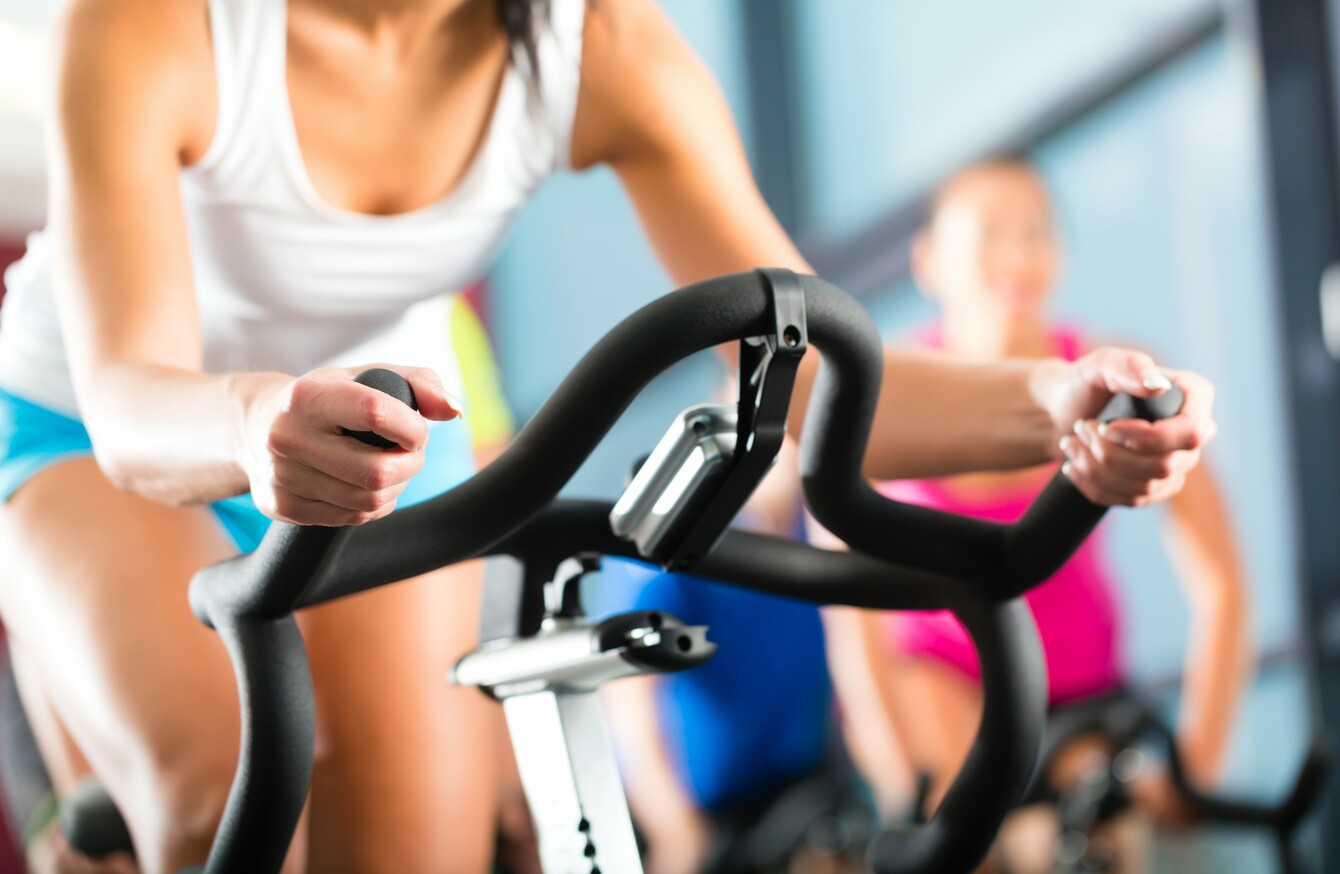 WE'RE OVER ONE week into the new year, so how are you getting on with your resolution to get fit this year?
Every night, do you say to yourself, "I don't feel like going". Is the three days a week promise to yourself dwindling downwards?

Here are some motivation tricks that might help you get off the couch and onto the spin bike.
Leave the gym bag in the office 
Bring your gym bag home, empty it, refill it, and bring it to work the next day, whether you're planning to go to the gym or not.
On the weekend, bring it home and then back on Monday morning. This way, you'll never  be caught without sneakers.
Ask your gym buddies if they're going… every day.
Because you can't ask and then go, "Oh, just wondering. I will not be joining you. I have some important Netflix to watch."
Go to classes
If someone isn't standing in front of me, barking out reps and making sure I do them, it's not going to get done. That's something I know about myself. As much as I admire those sneakered, self-motivated people jogging all hours of the day and night, I'm just never going to be one.
Stand in the front
Try slacking off when you're directly in the instructor's line of sight.
Make yourself known to the instructors 
When an instructor enters the classroom, I made eye contact, smile, and say "Hi." When I'm limping out the door, I make sure to thank them. This accomplishes two things: First, it makes me not a huge jerk, and second, it means they notice when I'm not there.
When an instructor waltzes into class and says, "Hi! Haven't seen you in a while!" it's …extremely motivating.
The brilliant thing about belonging to a gym is that since you've already paid, it gets cheaper every time you go. If you go to one class in a month, it costs you your full monthly membership fee. Go to two and it's half. Nine classes? At nine, which works out to fewer than three times a week, you're getting your money's worth.
Sign up in advance
A lot of gyms now have an online portal that allows you to sign up ahead of time for classes with explicitly limited space, like spinning, which has to be capped at the number of available bikes.
Make the commitment to go and book in.
Talk about going to the gym
If everyone in your office knows you plan to go, you have to keep your word.
Wrangle an escort
To make sure I'm shamed into actually arriving at the gym instead of being segued by an exit strategy, I do my best to press mates into an escort service. "We don't even have to work out together! Let's just walk over together!"
Don't expect to enjoy every minute 
I had a revelation while shuffling down the street to the gym on a dark, rainy night after nine hours at the office: "You don't have to like it," I muttered to myself as I dodged umbrellas. "You just have to do it."
That mantra has stuck with me through all the rainy nights, the cold nights, the nights where I just don't want to sweat through my shirt. There seems to be this idea in popular culture that you have to love your chosen form of exercise. You have to enjoy it. It's your hobby! It's the best! You're addicted!
But really, it's ok if sometimes it's the worst, and you hate it, and you consider battering your way out the window with ten kilo hand weights. As long as you get it done.
Mix up your workouts
I know I just said it's ok not to like your workout, but you have to like it sometimes. Or at least tolerate it.
If I had to spin four nights a week, I'd probably expire of boredom. Same goes for kickboxing. Or pilates. Or sculpting.
But if I do a different one each night, I can trick myself into thinking some are easier, just because they're different. "Oh, no big deal going to the gym today," I'll tell myself. "It's an easy night."