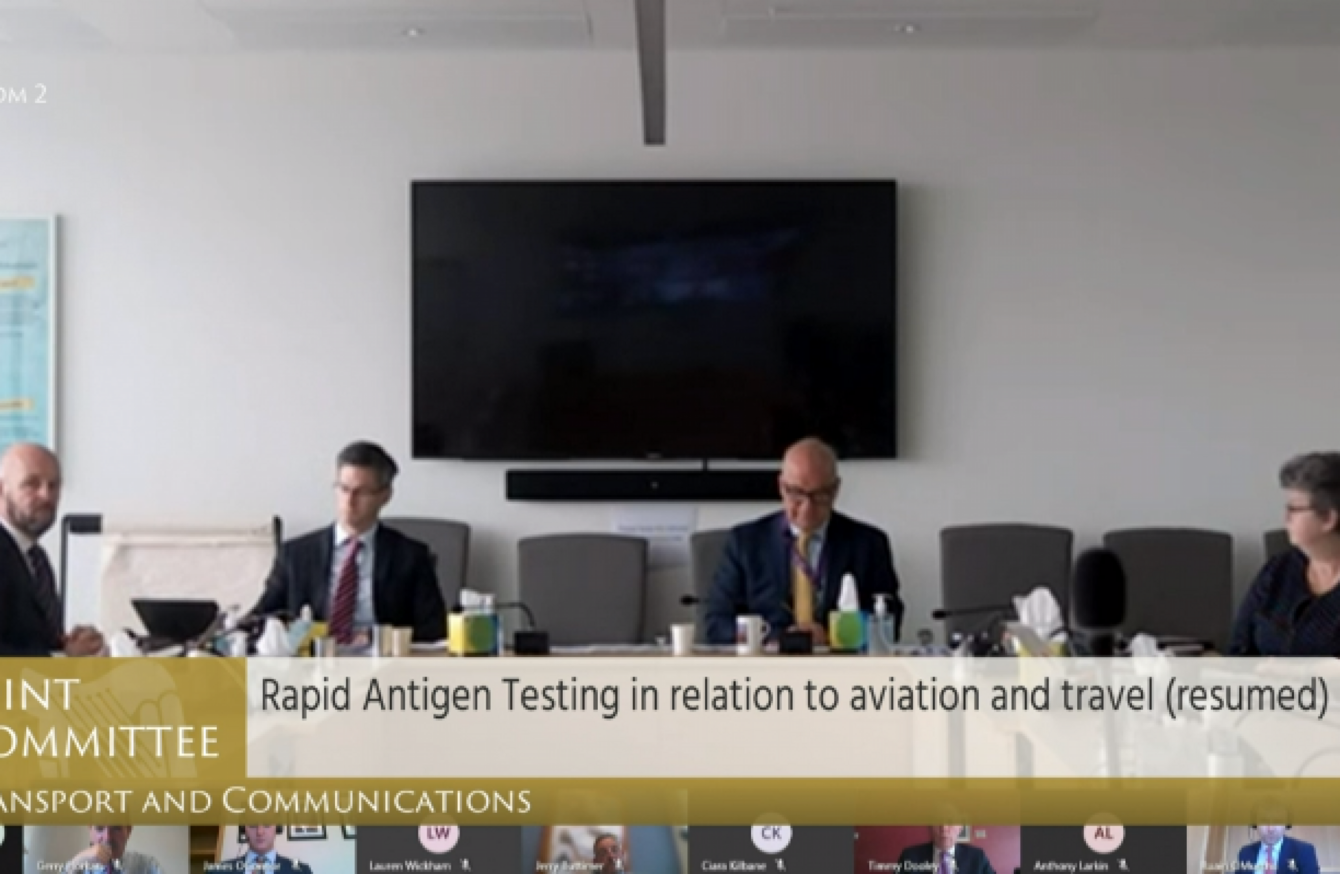 Image: Oireachtas
Image: Oireachtas
PUBLIC HEALTH OFFICIALS have said they would support a pilot study to assess the potential effectiveness of antigen tests in the aviation sector.
Speaking to the Oireachtas Transport Committee today, Chief Medical Officer Dr Tony Holohan said he is not aware of any well-conducted validation studies internationally to support the use of these tests in this sector. 
"There is still much we need to learn about these tests, and their actual, as opposed to hypothetical benefits and limitations," he said.
He said significant caution is urged in regard to any move towards employing rapid action testing for 'green lights', enabling activities that we would otherwise deemed to be unsafe in the current epidemiological situation. He said it would be a risk to the individuals engaging in the activities and to those around them, as well as to the wider public health response.
Dr Holohan said as evidence emerges, if it is in support of the use of rapid testing, NPHET is "more than willing" to support its further use, if an appropriate real-world evaluation indicates it can bring added benefits.
"Ultimately, however, based on knowledge to date, the safest way to reopen society, including to international travel, will be to continue to control disease incidence through a range of public health measures which are continuously reviewed, along with progressing the national vaccination programme to ensure as many people as possible within the population are protected through immunisation."
"What we can't do is start rolling out tests on the basis of people think they're a good idea," Holohan said.
Officials said it is the case in other countries that antigen tests are used because those countries do not have the capacity to carry out the same level of PCR testing as Ireland is doing. They also pointed out that antigen tests may miss half of infectious cases. 
At one point in the meeting Professor Mary Keogan Consultant Immunologist and National Clinical Lead for Pathology demonstrated, using a number of antigen tests, how antigen tests do not indicate whether there is any biological material in the sample. 
When she used butter as the sample, there was a negative result, but when she used tonic water as the sample she was able to get a position result on an antigen test. 
Had to post this as a video because words couldn't do it justice: Prof Mary Keogan shows the Oireachtas Transport Committee two antigen tests, one of which is 'positive'… in which the sample given was tonic water. pic.twitter.com/l7eHE2e86X

— Gavan Reilly (@gavreilly) June 16, 2021
Members of the committee clarified to health officials that their questions about the use of antigen tests for air travel related to a system that would be run by qualified professionals, rather than self-testing. 
Professor Philip Nolan, chair of the Irish Epidemiological Modelling Advisory Group, gave an example of 60,000 people gathered in Croke Park. He said at a prevalence of 150 cases per 100,000, with a test sensitivity of 70% – which he added was "generous to antigen testing – about 90 infections in that crowd would be expected.
"Maybe your test would pick up 40 of them, miss about 20 and it would also generate about 120 false positives," he said.
#Open journalism No news is bad news Support The Journal

Your contributions will help us continue to deliver the stories that are important to you

Support us now
He added: "Of those 90 people, perhaps 40 or 50 of them would be symptomatic. They shouldn't even be considering going to the event, they shouldn't be going for antigen testing, they should be phoning their GP and seeking a PCR test.
"So we're now down to 45 asymptomatic people in that 60,000 people and we're talking about deploying all of those staff to rapid antigen test."
Professor Nolan said that in designing a pilot to assess whether it would be a useful addition for safe air travel, it "might have to be a very large study".
He said it is "not particularly plausible" that antigen tests directly ahead of a flight would pick up case that were not picked up by pre-travel PCR tests done 48 hours beforehand.
"It would mean that you'd have to go from a position of having almost no virus or no virus detectable to having a very large viral load within 24 or 48 hours."