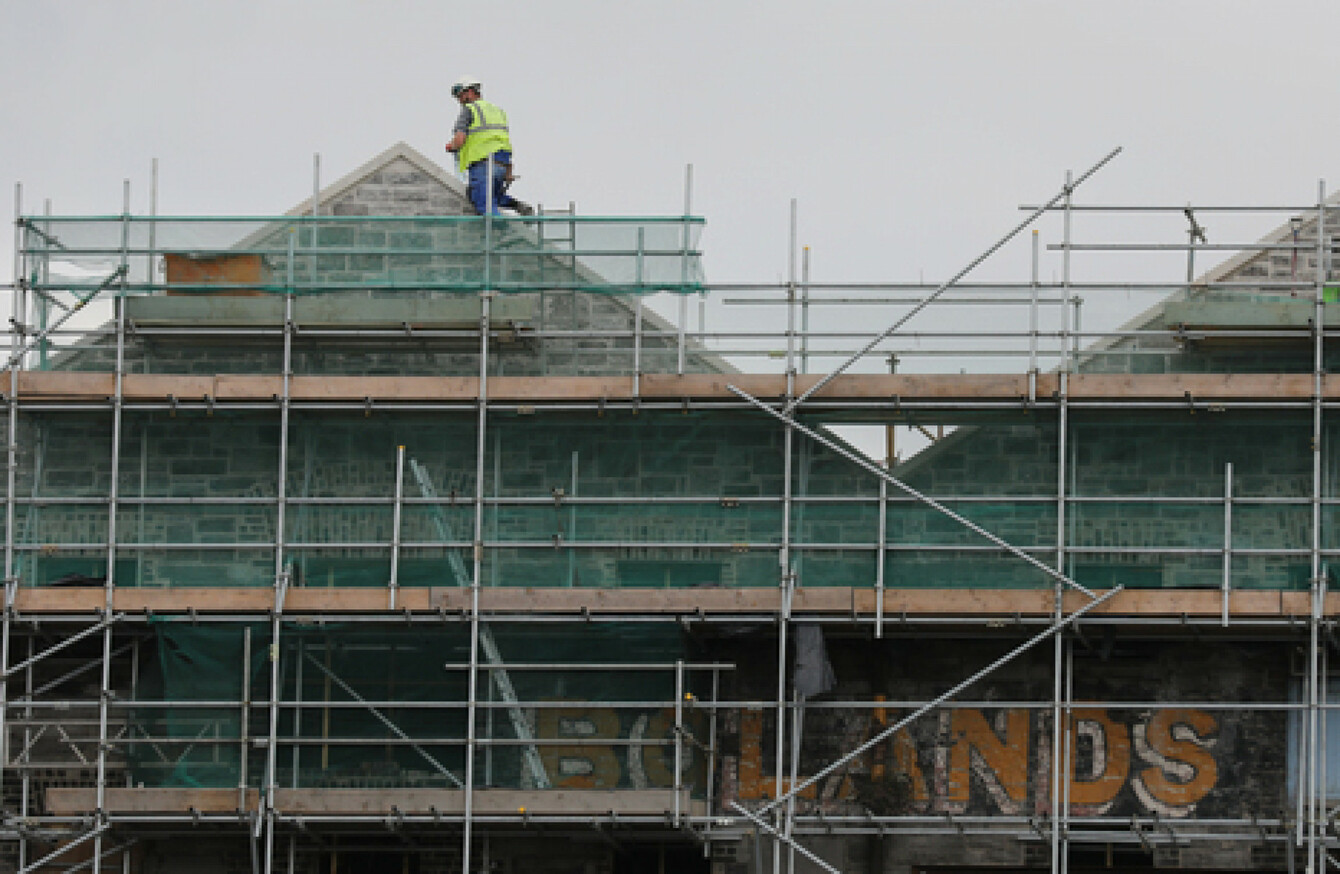 Construction in Grand Canal Dock in Dublin.
Construction in Grand Canal Dock in Dublin.
ALMOST EIGHT THOUSAND homes were built in the first half of this year according to the latest figures released by the Central Statistics Office.
The CSO statistics are part of a quarterly series detailing new dwellings built in Ireland since 2011 and in the second quarter of this year 4,419 new dwellings were built, a 34.1% increase over the same period in 2017.
 
60.5% of new dwellings completions were in Dublin and the mid-east while the Eircode with the most new builds was Dublin 15 with 308, followed by Dublin 24 with 178.
Commenting on the recent figures, leading homeless charity Peter McVerry Trust said it was heartening to see an increase in the number of homes being built year on year but hopes that more affordable housing can be delivered.
Pat Doyle, CEO of  Peter McVerry Trust said that the charity would be monitoring the number apartments being built because "the housing needs assessment tells us that the majority of people on waiting lists for social housing are single or two-person households".
"This means we need to see a greater delivery of apartment units to meet this need.
"To that end, it was disappointing to note that there was only a very minor increase in apartments completed and that overall, apartments account for just over 10% of housing output," Doyle said in a statement.
There were 323 new apartments completed in Dublin which accounted for 65% of all new apartments in quarter two of 2018.
Across the country, there was a total of 499 apartments built, an increase of 6.2% on the same period last year according to recent CSO figures.
Minister for Housing Eoghan Murphy welcomed the CSO's report which "confirms a strong upward trend across all housing construction activity datasets".
"While we still have some way to go, more homes have been completed in the first six months of this year than in any year between 2011 and 2016.
"So that is really welcome progress. Our fundamental task is to increase supply and these figures confirm that this is happening, and quickly," Murphy said in a statement.
The Housing Minister came under fire in June when the CSO published its figures for the completion of new builds over the past seven years, which showed that over 30,000 fewer homes have been built in recent years than was previously reported by his Department.
Figures from the Department from 2011 to 2017 had in the region of 85,000 new homes built. CSO figures show that the accurate amount is closer to 53,500.