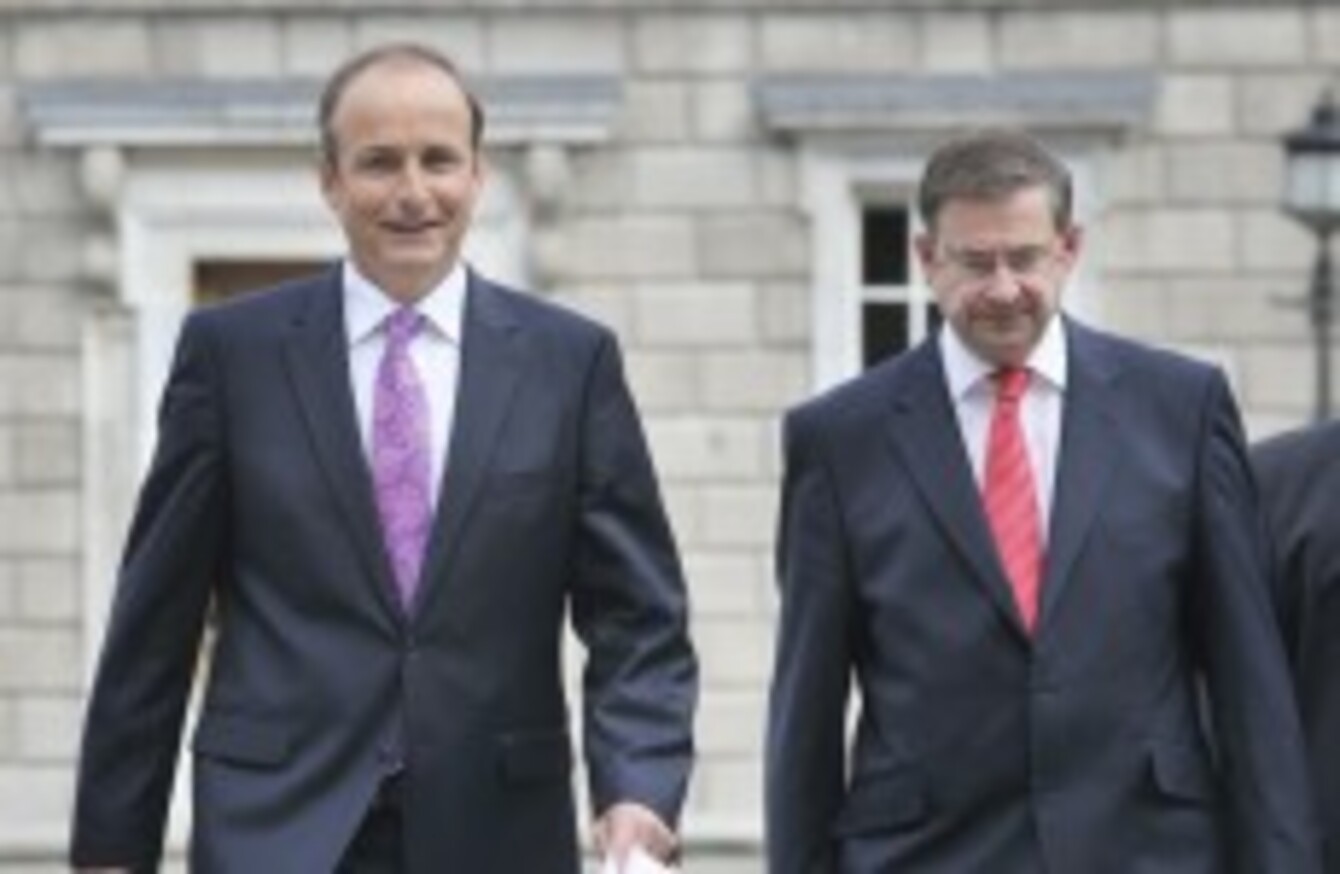 Micheál Martin and his deputy leader Éamon Ó Cuív may already be at odds over the Fiscal Treaty referendum.
Image: Sasko Lazarov/Photocall Ireland
Micheál Martin and his deputy leader Éamon Ó Cuív may already be at odds over the Fiscal Treaty referendum.
Image: Sasko Lazarov/Photocall Ireland
FIANNA FÁIL'S deputy leader Éamon Ó Cuív has admitted that he has not yet decided on how to vote on the forthcoming Fiscal Compact referendum – and acknowledged that he could go against the party, and lose its parliamentary whip, if he disagrees with its move.
Ó Cuív told RTÉ's Raidió na Gaeltachta that as far as he was aware, Fianna Fáil had not yet decided on supporting the referendum, saying discussions were still ongoing – even though Micheál Martin yesterday told the Dáil that FF would campaign for a Yes vote.
"Discussions on the matter have been going on in the party, and to the best of my knowledge, those discussions have not concluded as yet," Ó Cuív told Eibhlín Ní Chonghaile.
If the Fianna Fáil party has made a final decision to support the referendum unconditionally, each member of the Fianna Fáil party and the Parliamentary Party must seriously consider whether that is the correct decision.
Ó Cuív said that while a meeting of the parliamentary party had discussed the party's stance on the treaty, he had left before the end to attend to his mother, who was gravely ill at the time and who has since died.
The Galway West TD said he would give the matter serious consideration and would make a public disclosure when he had decided where he stood – and acknowledged that going against the party's decision could mean leaving the Fianna Fáil parliamentary party.
The interview came after Ó Cuív had appeared on TG4 last night and refused to disclose how he would vote.
Appearing on TG4′s 'Seacht Lá' programme last night, Ó Cuív said the treaty was a serious matter and that it was important to acknowledge the support that the Irish government and banks were receiving from their European counterparts.
Asked how he himself would vote, however, the Galway West TD refused to share his indications – saying he would "keep my vote to myself".
Pressed again by interviewer Páidí Ó Lionáird on his personal vote, he said:
I won't say anything about my personal vote.
He added that he had breached this principle on one occasion and had regretted it afterward.
Ó Cuív – who was described on the show as 'the head of the party in the West' – famously raised eyebrows when he revealed he had voted No in the first referendum on the Nice Treaty, despite being a junior minister at the time.
Speaking on RTÉ's Prime Time programme, party leader Micheál Martin repeated his Dáil assertions that Fianna Fáil would support the Yes campaign.
"I'm telling you what our position is, as annuciated by me," Martin said. "We've come from very pro-European Union tradition.
We will be, as a party, campaigning for the treaty and for the referendum… As far as I'm concerned, if the party takes a position, the party takes a position. It's not about personalities.
Ó Cuív and Martin have clashed before – the two ran against each other for the party leadership after Brian Cowen stepped down last year, and were notably at loggerheads over whether to run a candidate in last October's presidential election.
Ó Cuív was keen that Fianna Fáil run a formal candidate – and at one point had refused to rule himself out of the running for a personal tilt at the Áras – but Martin was opposed to running a candidate in an election that the party clearly could not win.