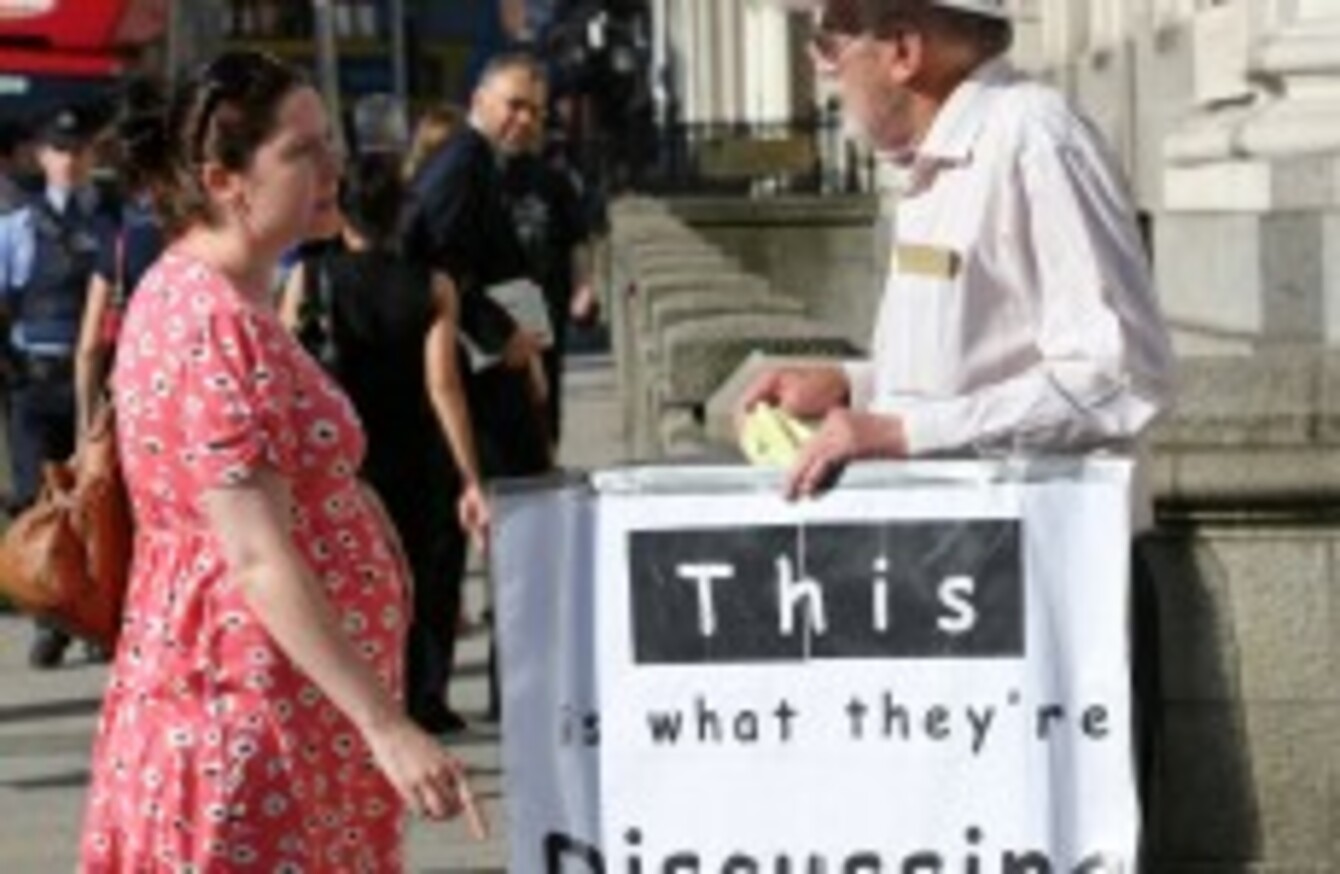 A passerby remonstrating with a protestor outside Leinster House on Merrion Row yesterday - the poster also carries a graphic image of a dead baby.
Image: Laura Hutton/Photocall Ireland
A passerby remonstrating with a protestor outside Leinster House on Merrion Row yesterday - the poster also carries a graphic image of a dead baby.
Image: Laura Hutton/Photocall Ireland
WHAT ARE OUR politicians doing in the halls of Leinster House?
TheJournal.ie lets you know with our guide to what's coming up in the Dáil, Seanad and various Oireachtas committees today.
DÁIL
Leaders' Questions at 10.30am is followed by order of business at 10.51am. Then begins the final stages of two bills…
One is a bill sponsored by Deputy Patrick Nulty – who you will remember resigned from the Labour Party last month, 18 months after losing the whip for voting against Budget 2012 – which amends a Residential Tenancies Act from 2004 to ensure rent supplements are paid only on properties that are properly registered with the Private Residential Tenancies Board.
The other, for those who have been on Mars for the past six months (and who could blame you), is the final Dáil stage of the Protection of Life During Pregnancy Bill 2013. This will be debated from the morning – there's a lunch break from 1.30-2.30pm – and again from late evening until 10pm.
Then, theoretically, the Dáil should carry out a final vote on whether the Bill as it was returned to them from the Health subcommittee (you can see what happened here) should be passed. (There will be other votes on individual amendments throughout the day – Hugh O'Connell's fuller article on today's events surrounding the Bill can be read here).
All eyes will be on the 'No' votes, particularly on whether Lucinda Creighton will go against the bill and lose the Fine Gael whip and her junior ministry. TheJournal.ie's Michelle Hennessy and Aoife Barry will be updating you until that vote is over, even if it takes until midnight, so check in this evening for the latest on that.
There is other Dáil business today too (after which the abortion legislation comes back in for final speeches) -
Minister for Jobs, Enterprise and Innovation, Richard Bruton, will be taking questions at 2.30pm.
He'll be followed at 3.45pm by the Ceann Comhairle's choice of four topical issues to be discussed from submissions by TDs on the day.
At 7.30pm, Fianna Fáil take Private Members' Business time, continuing yesterday's discussion of their proposal for an alternative to the Code of Conduct on Mortgage Arrears. They want financial institutions to be regulated even further in how they treat people experiencing home debt.
SEANAD
The Seanad, who is yet to get its chance to speak on the Protection of Life legislation, comes back in today at 11.45am (after order of business) on the proposal to allow a framework by which the Seanad might be abolished.
Fianna Fáil's Mary White will use time at 3pm to discuss a Parental Leave Bill - she wants changes to allow for paternity as well as maternity leave shared for parents of a newborn.
At 5pm, the legislation to provide for power of inquiry by the Oireachtas (yes, the thing the Irish people voted against in a referendum) comes to the Seanad before four senators get chosen to speak on anything they want for four minutes at 7pm.
COMMITTEES
As is usual on Wednesdays, the committee rooms are booked out for the day. We'll keep this as brief as we can…
At 9.30am in room 4 - the revised estimates for public services in the Comms, Energy and Natural Resources department – with Minister Pat Rabbitte attending. The Health sub-committee is voting on revised estimates for Health and the HSE at the same time in room 1. At noon in the same room, Frances Fitzgerald presents the revised estimates for the Children and Youth Affairs department staff for a vote.
At 10am in room 3 is scrutiny of a 'Youth Guarantee' proposal from the EU Council and, interestingly, a pre-Budget briefing from Social Protection Minister Joan Burton.
Transport and Communications is looking at some EU proposals at noon in room 4 – they range from matters relating to sea, to sky, to rail, to more sky, and to… er… Serbia.
The chairman of the Forum on Philanthropy and Fundraising, Frank Flannery, is presenting a proposal at 2pm in room 4 to the Finance committee for a 'job and social cohesion initiative' to be set up. Nice to see a bit of positive idea-stoking going on in Leinster House.
A rather darker issue is being discussed in the Foreign Affairs committee time in room 1 at 2.30pm. The committee will be hoping to pass a motion on unethical organ harvesting (that Ireland is against it, one presumes). It will hear from several people including a practitioner of Falun Gong – the followers of this peaceful spiritual discipline are persecuted in China and there have been allegations that incarcerated practitioners have had their organs harvested against by authorities – the UN has ordered an investigation into the claims.
In room 3 at 4pm, Public Service Oversight and Petitions committee has a private session, followed by a rundown at 5pm of petitions received from the public (have you something in there?)
The last committee to sit is Environment, Culture and the Gaeltacht in room 4 at 6.15pm, discussing a draft of the Climate Action and Low Carbon Development Bill 2013. Phil Hogan should pop up there.