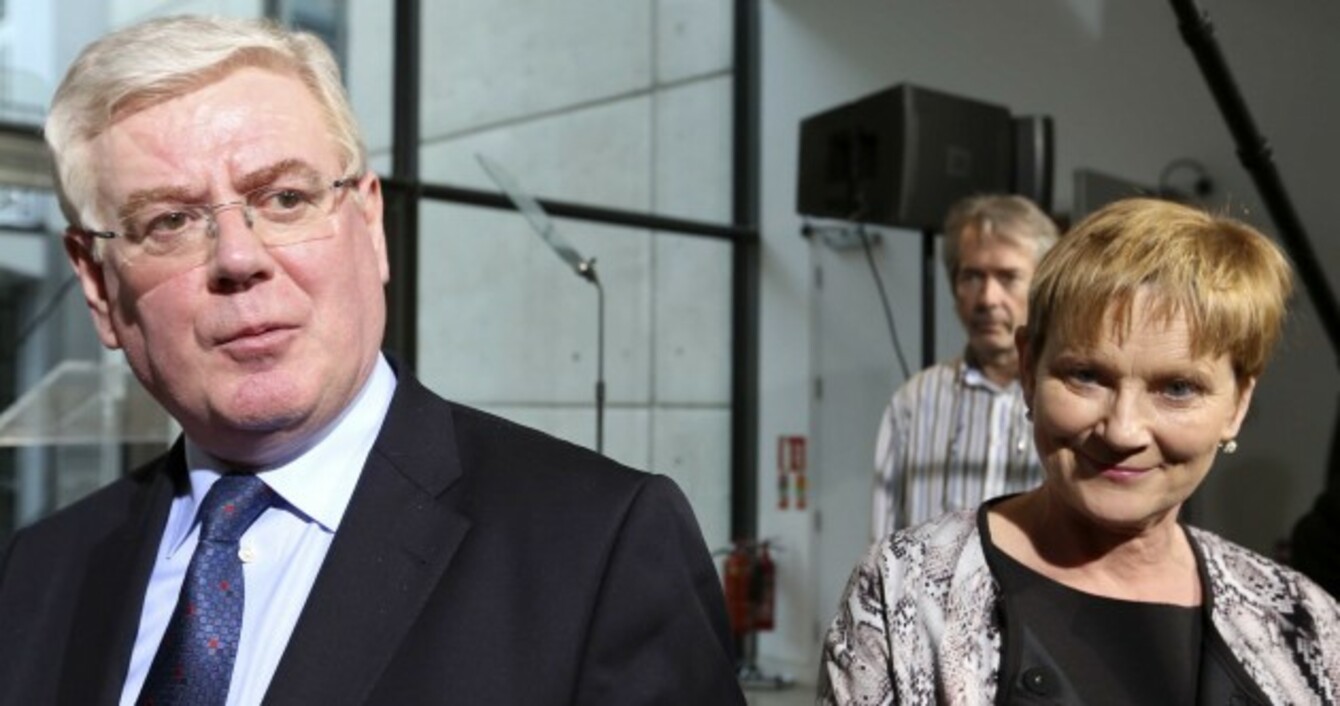 The relationship between Eamon Gilmore and Phil Prendergast was in the spotlight this week
Image: Sam Boal/Photocall Ireland
The relationship between Eamon Gilmore and Phil Prendergast was in the spotlight this week
Image: Sam Boal/Photocall Ireland
"THEY'RE NOT TALKING about Martin Schulz in Cabra," one Labour campaigner noted sagely this week.
They're of course absolutely right but that didn't dampen the enthusiastic welcome that Labour's candidate for the top job in Europe got from party members at the Royal Hibernian Academy on Tuesday night.
Schulz, who had a touch of the flu, enjoyed dinner with the Tánaiste, Joan Burton, Ruairí Quinn, Labour chair Loraine Mulligan, and the Labour Youth chair Ciarán Garrett before the rally where he said lots of nice, soothing things about Ireland.
http://vine.co/v/MvYMagaUKtg
Poor Eamon Gilmore had had a torrid start to the week when one of his MEP's said he was akin to an "elephant cantering around the room breaking things". In other words, Phil Prendergast wanted him to go having been shocked into the call – the "last throw of the dice", according to one campaign source – by an opinion poll which had her at just 4 per cent in Ireland South.
The obvious unease it created led to a showdown meeting with Gilmore at his office in Government Buildings on Tuesday evening where the discussions were, according to Prendergast, "frank" or as the Tánaiste noted with a menacing smile later that evening "very frank".
There was much laughter at that remark, though we're not sure if Phil was laughing because she hardly got a look in during the media scrum that greeted Gilmore and Schulz's arrival:
Next morning at an early breakfast briefing Schulz was still recovering from his flu and still saying really nice things about Ireland. Our bailout hadn't, at times, been very fair and had placed "an enormous burden on citizens" he told a small audience of advisors and journalists.
Gilmore claimed that the election of Schulz as president of the European Commission would be "a gamechanger" in Ireland"s long pursuit of a bank debt deal.
Among those to note it wasn't the first time Gilmore had said this was the Fianna Fáil MEP candidate Thomas Byrne who was no doubt very excited about own party's European campaign launch later in the morning:
Ironically the venue was the same as Labour's the night before, the Royal Hibernian Academy, where Micheál Martin was flanked by Byrne, Dublin candidate Mary Fitzpatrick, and Ireland South hopeful Kieran Hartley.
While the party's MEP Brian Crowley couldn't make it (he was away on the campaign trail) its other sitting MEP Pat 'The Cope' Gallagher managed to make it in his car equipped with what looked like fairly effective loudspeakers:
Micheál Martin was equipped with plenty of confidence, brushing away questions about his leadership or the suggestion that the polls aren't looking good for Fianna Fáil. "They're just polls," he insisted.
He was reluctant to quantify the amount of grief the party and its candidates are getting on the doorsteps instead insisting that people "are engaging with us". That's reassuring to those who might have worried that voters are just staring vacantly into the distance after answering the door. Nope, there is actual doorstep engagement with candidates.
It was what voters are saying that we were interested in, but Martin gave no hint of any grief other than towards the government.
http://vine.co/v/MraXHWTjlv3
Whatever Labour and Fianna Fáil had in terms of an election launches this week, Fine Gael were determined to put on a show on Thursday, hiring out the modestly titled 'Great Room' at the Shelbourne Hotel for their local election campaign launch on Thursday (They'd already done their European one earlier in the week)
All the big guns were there including Michael Noonan and Phil Hogan and of course Enda Kenny himself who had a lovely green glow:
There are hundreds of Fine Gael local election candidates and the handful in the 'Great Room' were giddy with excitement as Michael Noonan spoke about tax cuts and how well the economy is doing to the point of announcing elements of the exchequer returns a day early.
At the conclusion of the press conference the candidates were told to grab their campaign posters for a photo-op with the Taoiseach. Such was the frantic rush, this journalist nearly had his eye taken out by one poster, as they scrambled for a prime position with the dear leader:
http://vine.co/v/MrODWrd7T7l
Later on Thursday, Labour launched its local and European election campaign (a two-for-one, if you will) in the gorgeous Smock Alley Theatre where one sign advertised a bottle of beer for €5. It was just coffee or tea for the waiting journalists, advisors and candidates with banners around the room noting the achievements of Labour in government.
Some were fairly important, some not so much:
The Tánaiste arrived with a large possé including the European candidates, but not Phil Prendergast. Had she snubbed Eamon again? Nope, she was just running late, we were told and she did eventually arrive in the middle of the speeches.
Gilmore seemed in great form, giving out about corrupt developers and councillors and highlighting the fact Labour has never had a dodgy councillor in its ranks.
Afterwards there was a Q&A where he was asked if his leadership would be up for debate if Labour had a poor election. "No, Paraic, my leadership is not up for debate or not up for anything," he told Newstalk's political correspondent.
Later Gilmore admitted that the prospect of water charges has been "making life difficult" for Labour candidates on the doorsteps. That's doorstep engagement for you.