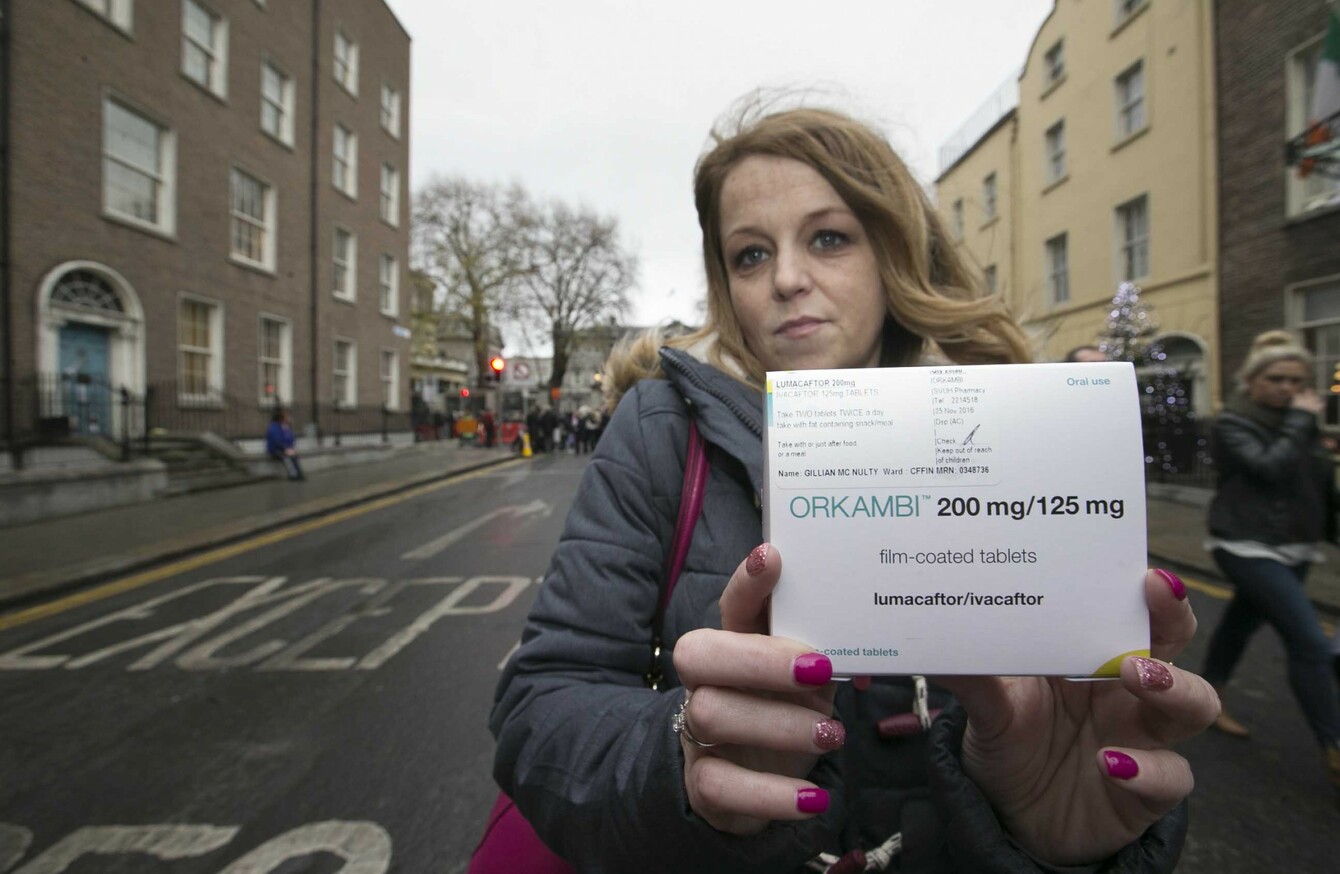 Gillian McNulty, who is on a trial of Orkambi.
Image: Sam Boal
Gillian McNulty, who is on a trial of Orkambi.
Image: Sam Boal
A DEAL TO make the expensive cystic fibrosis drug Orkambi available in Ireland is expected within a few weeks, according to Health Minister Simon Harris.
"We are going to try to bring certainty to this issue within weeks," Harris said today when speaking about the process of trying to get a good deal on the drug for taxpayers and patients.
On the same show, Harris ruled himself out of the Fine Gael leadership race.
With about 50 new cases of cystic fibrosis diagnosed in Ireland every year, campaigners are extremely eager for Orkambi – which has been heralded by them as a life-saving, 'miracle' drug – to be made available.
Cystic fibrosis greatly impacts the lifespan of those with the debilitating condition.
CF campaigner Jillian McNulty, who is on a trial of the drug, recently told TheJournal.ie that it has transformed her life.
Costly
But the huge cost of Orkambi – €158,000 per year per patient, at a cost to the State of €390 million over the course of five years – has led to protracted negotiations.
The National Centre for Pharmacoeconomics (NCPE), which is the country's medicines watchdog, has said that Orkambi was not cost-effective, and advised against buying it.
As Health Minister, Simon Harris has been heavily involved in the negotiations with Vertex, the maker of the drug, in an attempt to bring down the price of Orkambi. Vertex also makes the drug Kalydeco.
Speaking to Sean O'Rourke on RTÉ Radio One today, Harris said that he believes a deal is imminent. He also pointed to the need to be careful around such negotiations, saying that he did ask people to call off a protest over Orkambi recently, and "thought long and hard about it".
"I didn't do it out of any sort of disrespect for the people that I've gotten to know really well, like Gillian McNulty and CF Ireland, and people that I've really been working with," he said.
Harris said he has had a lot of private conversations with these people and he thinks they know his bona fides in relation to the issue.
He said that he made clear to campaigners at a meeting "that we are very close to a deal about Orkambi".
"I have to get the best deal possible," said Harris.
This will probably be the most expensive drug we've ever purchased. And what I don't want to happen is whoever the next Minister for Health is in five, six, or whenever years' time – I don't want them to have to be back, sitting at a table with CF patients stressed and worried again having to negotiate for the next iteration. I want to provide a programme of drugs for cystic fibrosis patients out for the next decade.
He said that, though he wasn't specially referring to the protest, he didn't want anything to happen that would in any way undermine the State's position in the negotiations.
He said that sometimes when people stand up in the Dáil to talk about a drug, sometimes that emboldens the drug company in their stance. But Harris went on to underline that he needs to get the best deal for taxpayers and most importantly, for CF patients.
"I believe we are very close to doing that and I expect this process to conclude within a matter of weeks," he said.
"We are going to try to bring certainty to this issue within weeks."