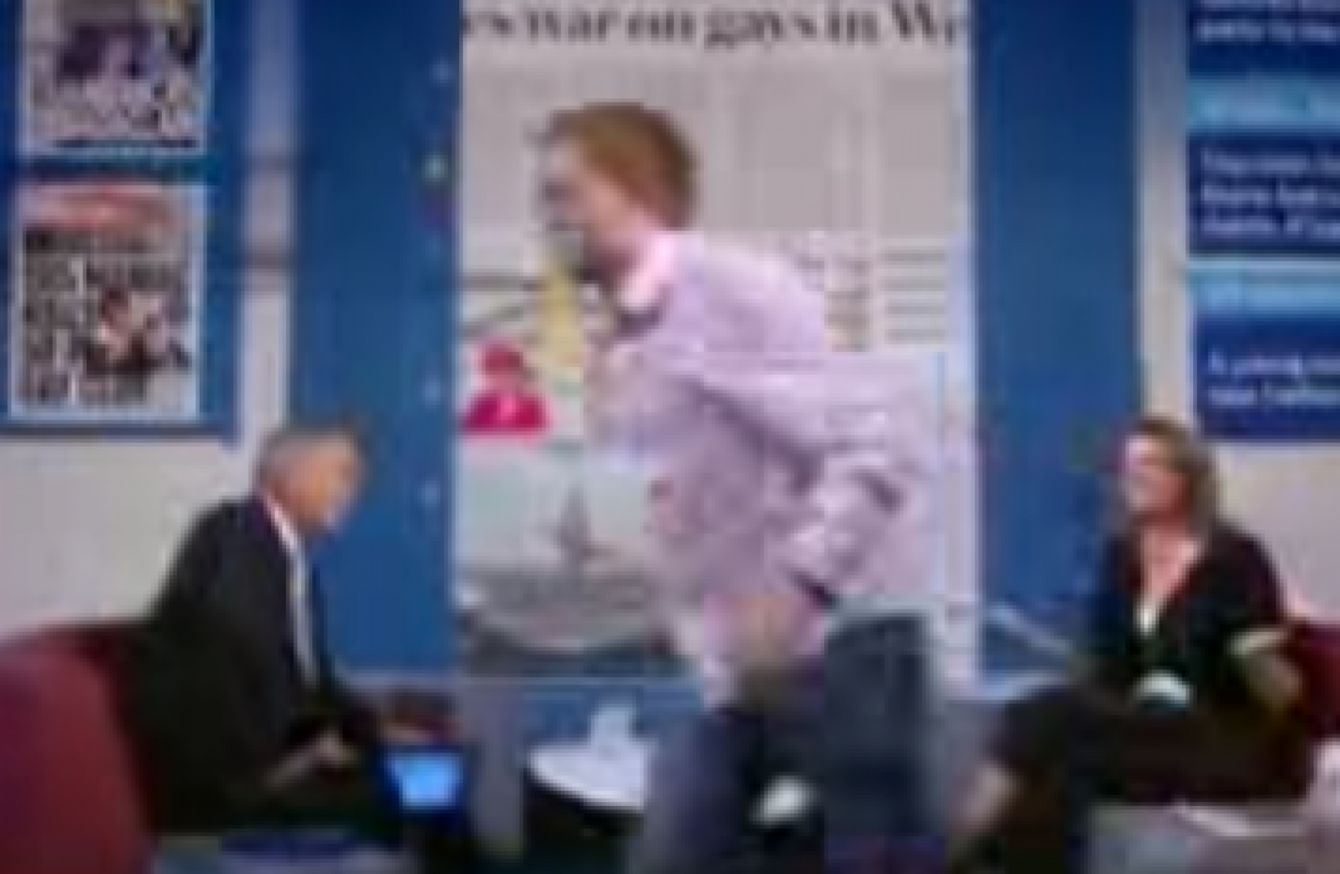 THE JOURNALIST WHO walked off a Sky News discussion about the mass shooting in a gay nightclub in Florida has accused the presenter and co-panelist of glossing over the homophobic element of the attacks.
After being accused of trying to 'take ownership' of the attack as a gay man, Owen Jones left the Sky studios in protest at the host's steadfast refusal to describe the shooting as an attack on LGBT people.
He said:
At the end of the day this was a homophobic hate crime, as well as terrorism and it has to be called out, as I have to say, on Sky News and lots of news channels, there's not been many LGBT voices that I've heard myself.
Writing in today in The Guardian about the incident, Jones said:
Orlando was both a terrorist attack and a homophobic attack on LGBT people. It was both the worst mass shooting in US history, and the worst targeted mass killing of LGBT people in the western world since the Holocaust. It is possible for an atrocity to be more than one thing at the same time. You are not compelled to select one option or the other.
(…)
I walked off in disgust during a discussion about the massacre: it was an instinctive reaction to an unpleasant and untenable situation. The presenter continually and repeatedly refused to accept that this was an attack on LGBT people…[The presenter] not only refused to accept it as an attack on LGBT people, but was increasingly agitated that I – as a gay man – would claim it as such.

During the Sky News paper review, Jones had described the shooting, in which Omar Mateen killed at least 50 people in the early hours of Sunday morning, as "one of the worst atrocities committed against LGBT people in the western world for generations".
The show's host Mark Longhurst interrupted to say the attack was aimed at "human beings" and "the freedom of all people to try to enjoy themselves", targeting people "whatever their sexuality".
Source: Richard Hall/YouTube
Journalist and broadcaster Julia Hartley-Brewer, his fellow panelist, said she suspected the man responsible for the shooting, Omar Marteens, might have held similar prejudices towards her as "a gobby woman".
Yet Jones insisted that if the attack had been on a synagogue it would have been correctly described as anti-semitic, adding: "This was a deliberate attack on LGBT people."
As Longhurst moved on to talk about comments from an LGBT activist group, Jones said "I've had enough of this", removed his mic and walked off the set.
Complaints
Ofcom received almost 60 complaints about the review, the vast majority in support of Jones.
Longhurst has said he "regrets" that Jones walked out on the show, a statement which Jones has derided as "the definition of a non-apology".
As the presenter responsible for chairing the conversation, I regret that the segment ended as it did. I absolutely accept the atrocity in Florida was, of course, an attack on LGBT people, but I was also trying to reflect what was on the newspaper front pages. It was never my intention to offend Owen Jones and I very much look forward to working with him again in future.
#Open journalism No news is bad news Support The Journal

Your contributions will help us continue to deliver the stories that are important to you

Support us now
Hartley-Brewer also faced heavy criticism online, prompting Jones to ask his Twitter followers not to target her.
Speaking on talkRADIO this morning, Hartley-Brewer was unrepentant.
She said:
I will continue to say whatever I darn well want to say and what I believe as long as I have breath in my body and I'm not going to be told by anybody that I'm not allowed to say what I want to say because I'm the wrong sexuality, the wrong sex, the wrong colour, whatever.
Gay rights campaigner Peter Tatchell said the line of questioning put to Owen Jones would never have been put to a black or Jewish person in the same circumstances.