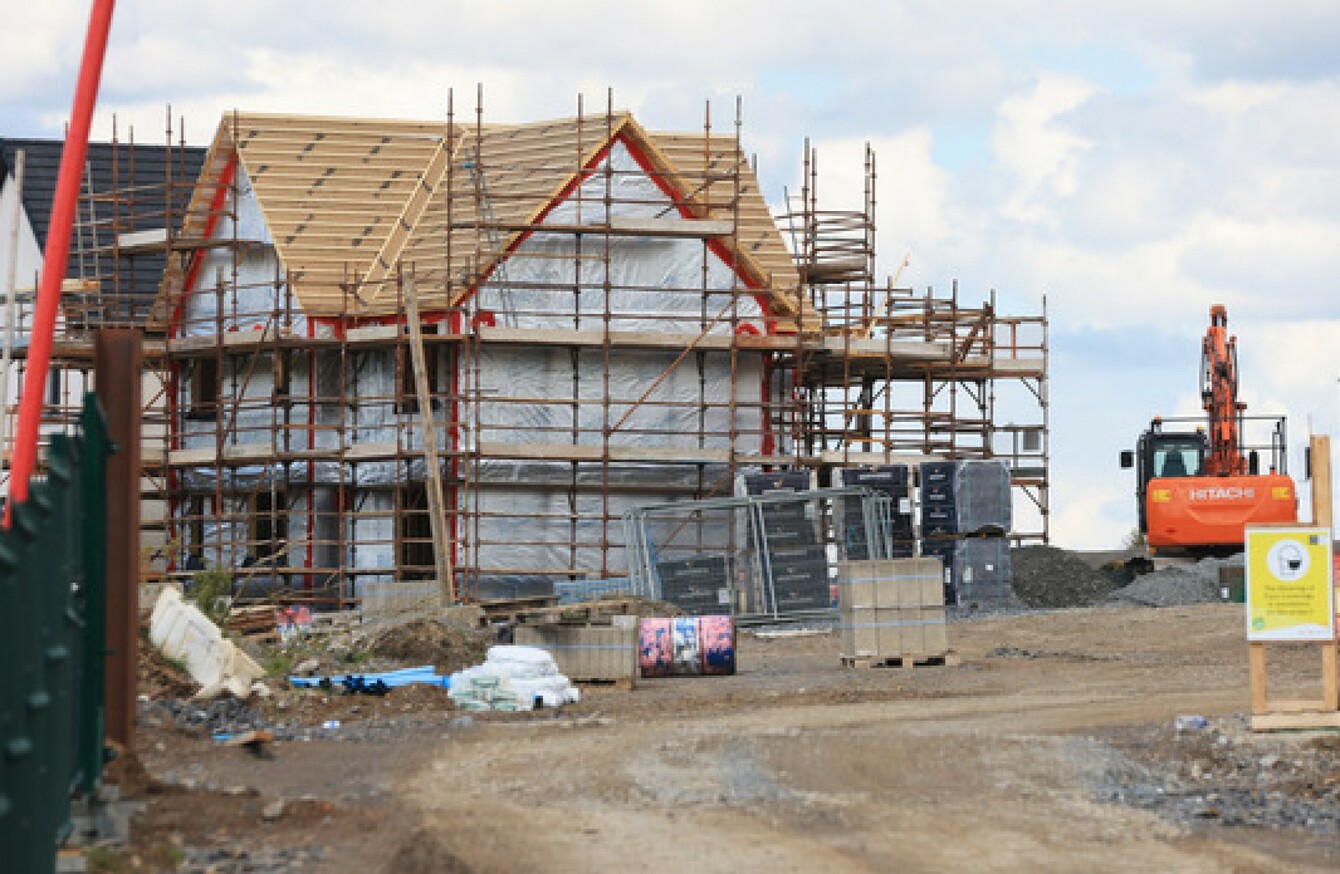 Image: Eamonn Farrell/RollingNews.ie
Image: Eamonn Farrell/RollingNews.ie
UP TO 50% of future housing estates are to be set aside for purchase by owner-occupiers, as the government seeks to curb the influence of so-called 'cuckoo funds' on the property market. 
Housing Minister Darragh O'Brien has announced new planning measures to mitigate against the bulk purchases of houses and duplexes and plans to earmark homes in certain developments for owner occupiers. 
An "owner occupier guarantee" will be introduced through legislative amendment which enable Local Authorities to designate a specified number of houses and duplexes with a predetermined range of at least 0-50% in a development for owner occupiers. 
Local authorities will determine the percentage, with the minister stating that each council has its own housing targets set down.
O'Brien said that from tomorrow, he will be issuing a circular under Section 28 of the Planning and Development Act that will "fundamentally ban bulk sales for houses and duplexes for all new applications received after 19 May".
The new measures will also see the purchase of more than 10 residential houses facing an increased stamp duty of 10%. 
This higher charge, as well as apply to bulk purchases, will also apply to a situation where a person acquires 10 or more units on a cumulative basis over a 12 month period
Once triggered, the 10% rate will apply to all houses acquired in that 12 month period, including the first nine purchases. 
An investment fund will be allowed to buy up to nine houses over a 12 month period without being hit with the higher rate.
Donohoe said that once passed by the Dáil tomorrow, the change would be effective from Thursday 20 May.
This 10% rate is intended to provide a significant disincentive to this practice of multiple purchase by institutional investors of large parts of, or indeed whole, housing estates before they reach the market, thus denying first-time buyers an opportunity to purchase a home.
Multiple purchases by Local Authorities, approved housing bodies, and the Housing Agency will be outside the scope of this higher stamp duty.
Donohoe was asked what measures there are to prevent funds from finding loopholes to purchase more properties.
"We will give the Revenue authority the power that they need to ensure that any efforts to go around it are dealt with," Donohoe said.
"Apartments, due to the fundamental viability issues, will be exempt from these provisions. This is in recognition of the fact that we need continued investment from international capital to ensure supply in core urban and high density areas," O'Brien said. 
"Ensuring that people have access to home ownership in this country is a priority for Government. Building up supply, after a year when construction was forced to close for a significant period of time, is key. Making sure people can access those homes, when they come on stream, is as important," said Donohoe.
The finance minister said that investment funds are needed to meet the country's rental needs, stating that there are significant concerns in government that if the measures applied to apartments it would stall the building of apartment blocks. 
It is understood Green Party ministers raised concerns about the exemption applying to apartments, however they were told that there was real concern that apartments would not get built if curtailments were placed on new developments.
Donohoe says the stamp duty of 10% is to act as a deterrent to investment funds pic.twitter.com/1cxYfGsRce

— Christina Finn (@christinafinn8) May 18, 2021
However, government sources have said it is understandable that there is concern that city centre apartments shouldn't only be for investment funds and renters, with a suggestion that the only way around that is to also ensure that a percentage of apartments are for owner-occupiers.
When put to the minister that these funds are building apartments and renting them at affordable rates, O'Brien said replacement measures to the Rent Pressure Zone rules would be brought in in the autumn. 
He said there was urgency within government to deal with the housing crisis, with Donohoe stating that these measures were worked on urgently over a two-week period.
Separately this evening, a Sinn Fein motion seeking that affordable housing should be delivered for €230,000 in Dublin and cost rental should be set at €700-€900 per month has passed due to government TDs in the chamber not voting for their own counter-motion.
Junior Minister at the Department of Housing Malcolm Noonan had been expected to move a Government countermotion, however he did not do so and did not oppose the Sinn Féin motion.
Health Minister Stephen Donnelly and Transport Minister Eamon Ryan were in the chamber and also did not oppose the motion.
Well that was embarrassing. 3 Govt Ministers in chamber didn't vote for Govt amendment to SF motion on affordable housing. Nor did they vote against the SF motion.

So our proposal to double capital investment to deliver 20,000 homes to meet social & affordable need passed! pic.twitter.com/UFkViA1NYi

— Eoin Ó Broin (@EOBroin) May 18, 2021
Housing crisis
The issue of investment funds outbidding potential homeowners has brought the housing crisis right back to the centre of the national agenda in recent weeks. 
It comes after it was revealed that investment fund Round Hill Capital had bought 135 homes at a new development in Maynooth, Co Kildare. 
The government had pledged action on the issue and The Journal reported last week that the Department of Finance has been working on proposals to deal with the concerns. 
Opposition parties have criticised the government's response, saying that international funds buying up property in Ireland has been "happening for years" and that is has been "encouraged and incentivised" by government policy. 
The proposal to ring-fence homes in a development for owner-occupiers would not just apply to first-time buyers but all those buying a home for residential purposes. 
It will not be retrospective for housing already in development. 
Minister for Finance Paschal Donohoe and Minister for Housing Darragh O'Brien brought legislative proposals to Cabinet on the issue today, with Taoiseach Micheál Martin telling the Dáil that a vote would take place "most likely tomorrow". 
#Open journalism No news is bad news Support The Journal

Your contributions will help us continue to deliver the stories that are important to you

Support us now
The two ministers outlined the proposals at a briefing in government buildings this evening. 
"The Minister for Finance and I have worked closely to provide genuine solutions to the issue of institutional investors crowding buyers out of the market," O'Brien said in a statement this evening.
"We have been very clear that institutional investment has a role to play in supporting new supply, particularly in delivering high density apartments that would otherwise not be built. However they should not be allowed to snap up already completed developments where there is a clear demand and no viability issues," he said. 
"I fully acknowledge the sheer frustration which people have expressed recently. The measures which we have agreed will have immediate and longer term impacts and will help to level the playing field for first-time buyers and owner occupiers," the Housing Minister said. 
Commenting on the 10% stamp duty rate, Minister Donohoe said: "Ensuring that people have access to home ownership in this country is a priority for government. 
"Building up supply, after a year when construction was forced to close for a significant period of time, is key. Making sure people can access those homes, when they come on stream, is as important. 
"This measure, together with the measures being introduced by Minister O'Brien, seek to address these issues and forge a path ahead that will allow more young people in Ireland to own their own home." 
With reporting by Christina Finn and Rónán Duffy