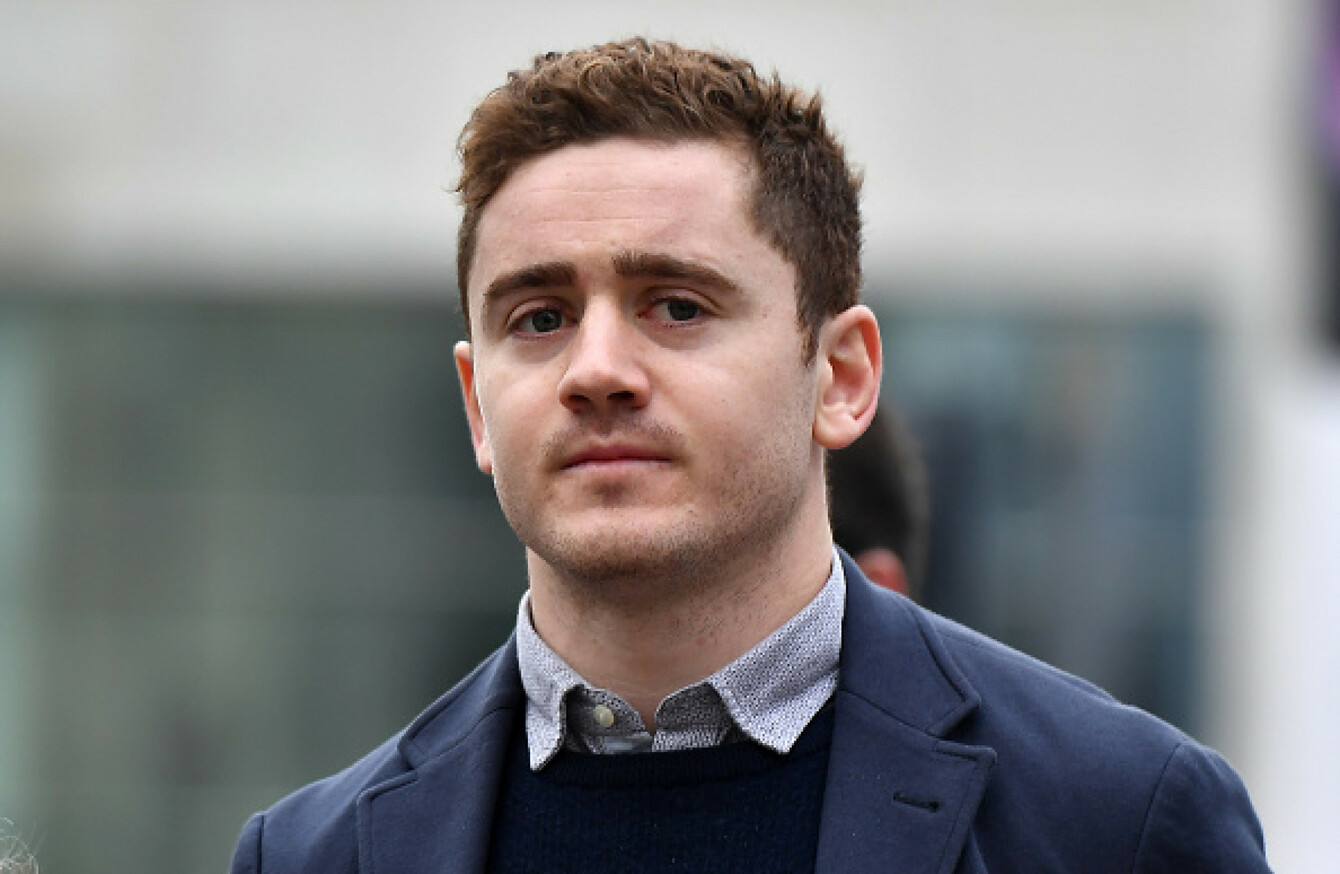 Image: Charles McQuillan
Image: Charles McQuillan
FORMER IRELAND AND Ulster rugby player Paddy Jackson is "without employment… and without an offer of employment" following the high profile trial held in Belfast, a court heard today.
As an application was made at Belfast Crown Court to award Jackson his legal costs following the 'not guilty' verdict at the end of March, the barrister who represented the sportsman at the nine-and-a-half week trial today said his client "has paid an enormous price for the events of that night, despite what we would say was a resounding acquittal".
Brendan Kelly QC also spoke of the "pollution via Twitter" and on other forms of social media both during and in the wake of the trial, adding Jackson's employment as a rugby player was terminated "on the basis of text messages".
During today's application – which was made to Judge Patricia Smyth who presided over the trial – it emerged that Jackson (26), from south Belfast, had paid his legal fees.
He has now applied to the court to have this money refunded by the Public Prosecution Service. It also emerged that "post charge", Jackson's employers "halves his wages".
Following a mammoth trial, Jackson and three co-accused were acquitted of offences arising from an alleged incident in his bedroom in the early hours of 28 June, 2016.
While Jackson was cleared by jury of raping and sexually assaulting a then 19-year old student, his teammate Stuart Olding (25) was also acquitted a rape.
Blane McIlroy (26) was acquitted of exposure, while 25-year old Rory Harrison was cleared of perverting the course of justice and withholding information.
Brendan Kelly QC – who represented Jackson in the trial and again during today's bid to award him his costs – the defence barrister said he was bringing the application under the Costs of Criminal Cases Act, NI.
Pointing out that such an application was rare, given that most defendants here are granted Legal Aid, Kelly said that "in this jurisdiction there is no real concept of central funds", and called for Jackson – the "acquitted applicant" – to have legal costs refunded.
Regarding the costs incurred by Jackson, Kelly said the trial was initially scheduled to last between three to five weeks, but ended up spanning over a period of nine-and-a-half weeks.
Saying some of the delays in the trial were "unavoidable and unique", Kelly spoke of days lost to jury sickness, and days lost due to issues arising with the "unparallelled level of publicity" – none of which he said could be attributed in any way to Jackson.
The barrister also highlighted the delay in time between the complainant going to the PSNI, and the case coming to court.
The QC said:
It is inexcusable in a well-funded, properly run system of justice that a defendant of good character, times four, should wait for 13 months before they find their fate is to prosecute.
All these delays, Kelly said, resulted in "uncontrolled intrusion on his (Jackson's) finances. This has led to him being further out of pocket".
No offers of employment
Revealing Jackson is "without employment" and with no pending offers of employment, Kelly revealed Jackson's parents "greatly assisted" with the "substantial" legal fees from their retirement fund.
Telling the court the application was "not to punish the Crown", Kelly added:
It is made against them because in Northern Ireland there is no place to go, other than the Crown. In other jurisdictions there is, here there isn't.
Crown barrister Toby Hedworth QC, spoke of an "absence of precedents" of such applications.
Telling the court the prosecution against Mr Jackson and his three co-defendants was "warranted", Mr Hedworth spoke of the potential "unseen pressures" that may be considered by prosecutors when making decisions about whether or not cases should proceed if it was ruled the Crown would have to pay the costs of defendants who are not granted Legal Aid, and who are subsequently acquitted.
Hedworth said Jackson "embarked upon a course where he chose to have representation that he paid for privately", added that as his legal fees mounted, Jackson could have followed Olding by applying for Legal Aid, but "his choice was not to do so".
The prosecutor said that while he accepted this was an "unusual area", he told Judge Smyth this was not a case where court costs should be covered by the PPS.
Judge Smyth reserved judgment on the application, telling the court "I cannot give you a date, it will not be soon due to other pressures of work".
The Judge is expected to hear a similar application made on behalf of Stuart Olding, who initially funded his own defence but who was granted Legal Aid half way through the trial.