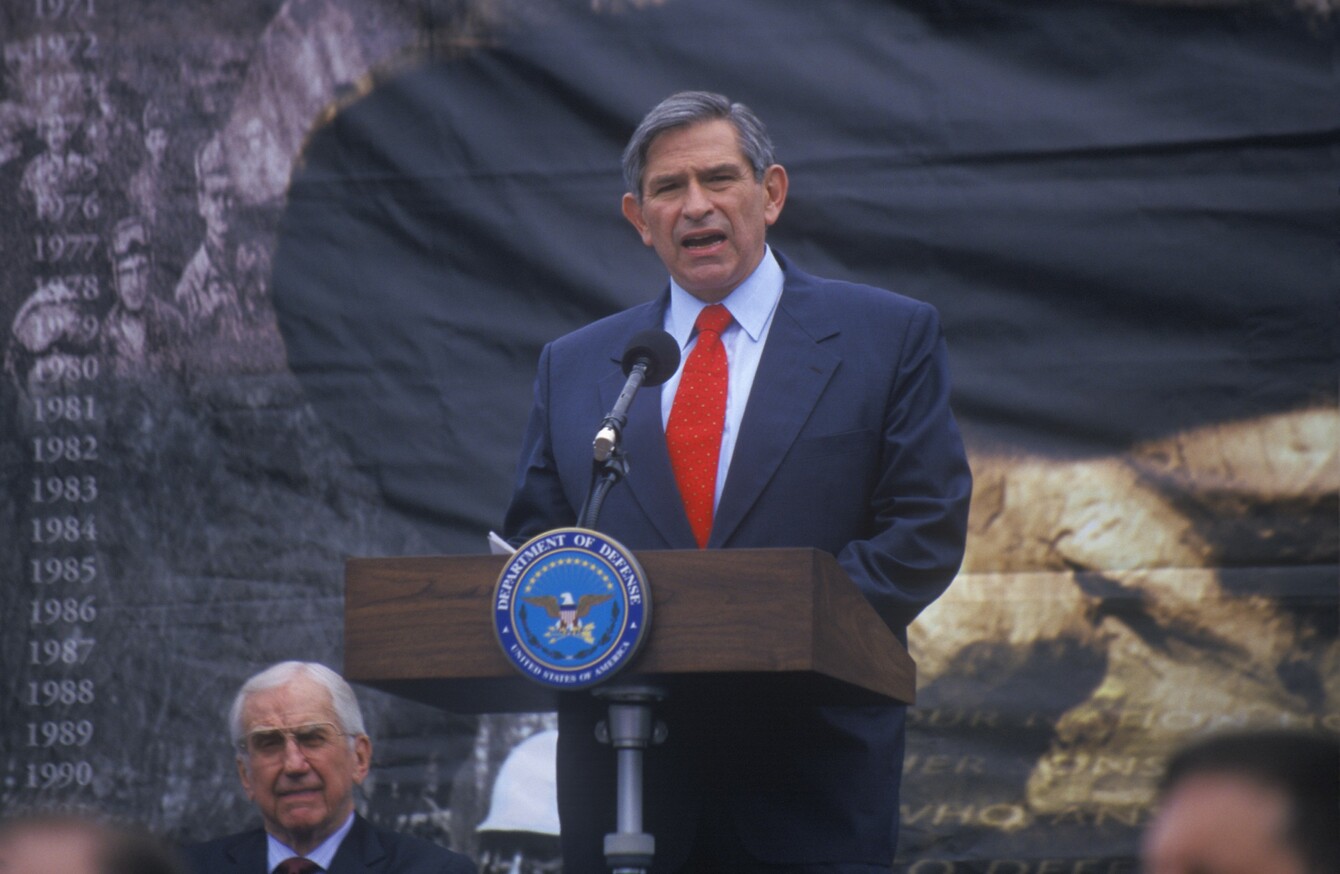 Paul Wolfowitz.
Image: Shutterstock
Paul Wolfowitz.
Image: Shutterstock
Updated 8.19pm
ONE OF THE architects of the 2001 American invasion of Iraq has labelled Donald Trump's foreign policy "risky" and "disturbing"
Neo-con Paul Wolfowitz, the hawkish deputy Secretary of Defence under George W. Bush, has joined a chorus of other Republicans distancing themselves from the current Republican nominee.
Leading neo-conservative Paul Wolfowitz said he would not back Trump for the US president and might vote for Democratic hopeful Hillary Clinton instead, in an interview published today.
Wolfowitz, a top advisor to George W. Bush during his presidency and vociferous champion of the "pre-emptive war" in Iraq, told Der Spiegel magazine that he saw Trump as a security risk.
"I wish there were somebody I could be comfortable voting for," said Wolfowitz, also a former World Bank chief.
I might have to vote for Hillary Clinton, even though I have big reservations about her.
Wolfowitz, 72, criticised Trump for saying he admired Russian President Vladimir Putin and was impressed by the Chinese in economic affairs.
"That is pretty disturbing," Wolfowitz said.
It's important to speak up and say how unacceptable he is.
Immigrants
Trump has also come under fire from Sarah Palin, who has warned there will be "massive disappointment" if the Republican nominee backs down on his plan to deport undocumented immigrants.
The Republican presidential nominee has indicated he will soften his immigration plan, which was a central plank of his primary campaign, as part of a rebranding exercise in the past week.
Instead of sending all 11 million people living illegally in the US, he now says only criminals will go. Last January, Palin's backing of Trump was considered a coup for the divisive property developer.
The former Alaskan governor demonstrated a rare star power as John McCain's running mate in 2008.
Wishy-washy
On Friday she told the Wall Street Journal in her inimical way that any backtracking on mass deportations wouldn't go down too well. She said:
"If Mr Trump were to go down a path of wishy-washy positions, taken on things that the core foundation of his support has so appreciated, and that is respecting our Constitution and respecting law and order in America, then yeah, there would be massive disappointment
Parts of the message we heard in the last week are clearly not consistent with the stringent position and message that supporters have received all along.
The controversial New York businessman made a tough line on immigration central to his win in the Republican primary contests.
He launched that campaign with a controversial attack on Mexican immigrants as "rapists".
Mexico wall
Trump has also often attacked Republican rivals Jeb Bush and Marco Rubio as weak on immigration. His plan to build a wall on the Mexican border – paid for by Mexico – became a chant at his rallies.
Yet this week, in a rebranding occasioned by his new campaign manager he has openly talked about how tough it is to break up families.
At a Fox News town hall on Wednesday, Trump said "the bad ones" who came to the US illegally have to leave, but the federal government could "work with" others with families who have lived here for years.
#Open journalism No news is bad news Support The Journal

Your contributions will help us continue to deliver the stories that are important to you

Support us now
Palin said: "The focus needs to be not on whether an illegal immigrant is a good person or a bad person but how sustainable it is to incentivize illegal immigrants to come over our borders.
What we appreciate about Trump is that he hasn't been a politician, and I would hope the people around him are not influencing him to be a typical politician
Trump has not backed down on the Mexican border wall,  but staunch conservatives like columnist Ann Coulter and radio host Rush Limbaugh have also expressed concerns about his change of stance on deportations.
Abhorrent
While Palin remains a steadfast supporter, Wolfowitz's defection has joined a growing coterie chorus of "neocons" distancing themselves from the current Republican nominee. During the primaries Wolfowitz had advised Bush's brother Jeb, a former Florida governor.
'Dump Trump' calls have continued since the 2012 Republican nominee Mitt Romney trashed the brash real estate mogul's candidacy early this year, leading to a trickle of defections to Clinton's camp.
This month over 70 influential Republicans signed a letter urging the party to stop spending money on Trump's presidential campaign and direct it instead to November's congressional races.
In the letter to Republican National Committee Chairman Reince Priebus, they said Trump's "divisiveness, recklessness, incompetence, and record-breaking unpopularity" risked turning the election into a "Democratic landslide".
Democratic candidate Hillary Clinton dismissed his new policy as a "a desperate effort" while Jeb Bush called Trump's repositioning "abhorrent". Bush said:
I can only say that whatever his views are this morning, they might change this afternoon, and they were different than they were last night, and they'll be different tomorrow.
But his new campaign manager, Kellyanne Conway, insists "nothing has changed in terms of the policies".
Trump is expected to outline his new immigration policy next week, after postponing a speech on immigration this week in Colorado.
With reporting from - © AFP, 2016