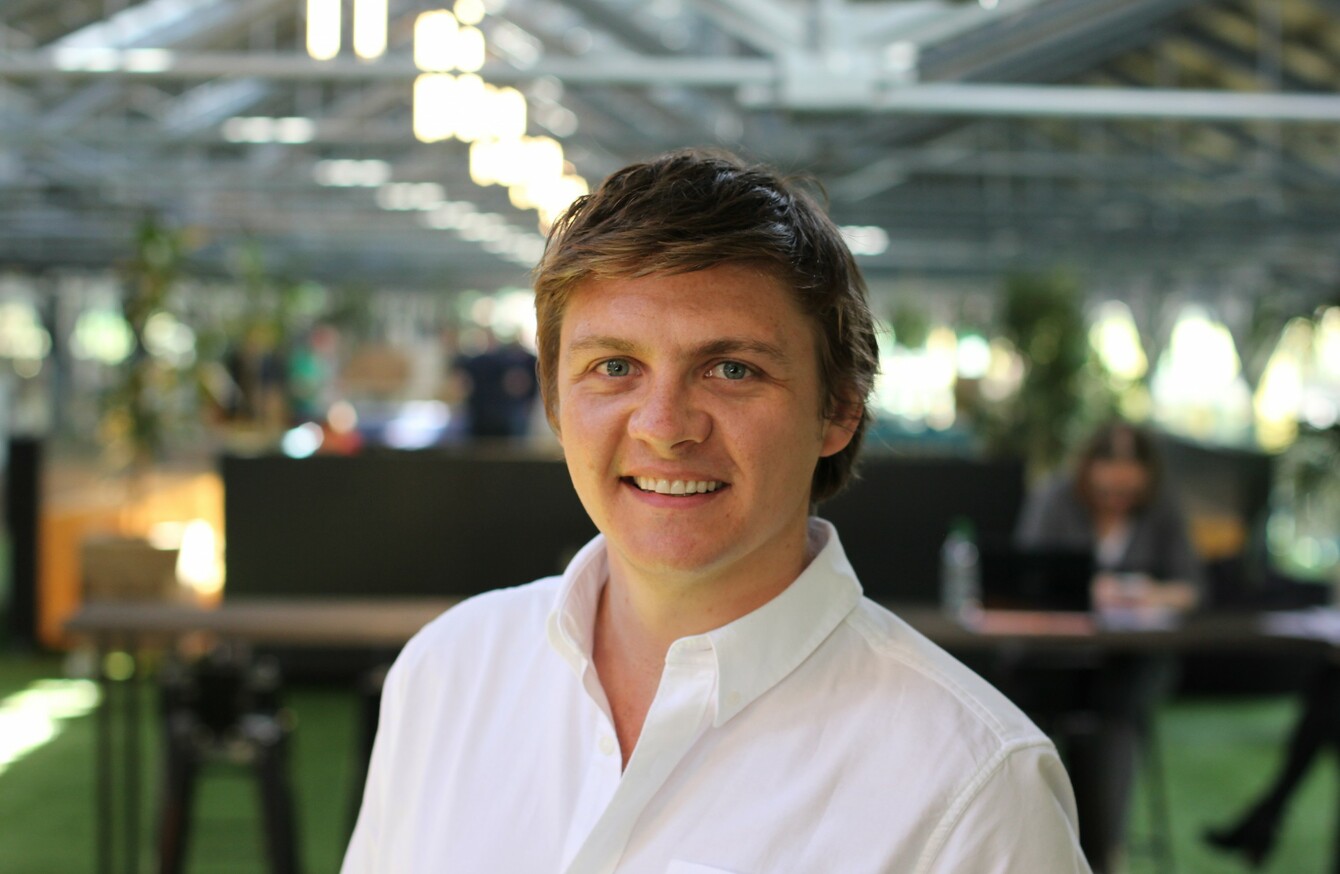 Image: Dogpatch Labs
Image: Dogpatch Labs
AT A TABLE planted in the lush imitation grass of Dogpatch Labs' top floor, Patrick Walsh pulls up a stool.
Fora has a little time with Walsh before the space is flooded with the tech workers who use the nearby desks.
"We don't consider ourselves a serviced office, or even just a co-working space. We really think of ourselves like a startup hub," he says.
While he may now be helping to accelerate the development of Ireland's startup ecosystem by running Dogpatch, Walsh knows the life of the founders he is striving to help.
A few years ago he was involved in a startup based in the Dublin iteration of tech innovation hub Wayra and saw the value of having a collaborative space.
"One of the things that happened at the end, when we were all leaving, is that we wanted to stay together. There was nowhere for us to go," he says. 
"It's hard and it can be lonely  – but also you can have shared challenges and shared opportunities. I really started to understand the power of an entrepreneurial community – that really motivated me to try and build this."
At its base in the historic CHQ building at Dublin's north docks, Dogpatch is home to more than 80 companies and has more than 400 members.
Alongside providing space for tech startups in the heart of Dublin's Silicon Docks, it hosts a vast array of developer meetups for free and gives about 10% of its desks over to Coderdojo. 
In December, the company announced further expansion plans – following its takeover of part of the vaults and Mezzanine in CHQ – to accommodate a further 100 entrepreneurs. 
Eureka moment 
Dogpatch Labs was originally started in 2010 by US venture capital player Polaris. While helping companies, including Instagram, get off the ground from offices in Boston and San Francisco it also expanded into Europe. 
Polaris partner Noel Ruane first brought Dogpatch to Dublin on the other side of the Liffey, setting up down the road from Google on Barrow Street. Polaris would later withdraw from co-working around 2015. Around that time, Walsh stepped in.  
Walsh could rely on plenty of experience in the Dublin startup scene. A qualified accountant, he previously co-founded mobile payment company Paymins and worked in other tech companies such as Hassle and Ding.  
It was on a wander around town one day that Walsh spotted the potential for a large startup hub on the northside of the Liffey.  
"I was walking through the CHQ building and I realised, 'Oh my god, this could be amazing,'" he says.
The building, originally a bonded warehouse, had been earmarked for a Celtic Tiger-era shopping centre before being caught up in the recession. In 2013, former Coca-Cola global CEO Neville Isdell spotted a bargain, bought up the building and began revitalising it.
Dogpatch would become a central part of that revitalisation, as Isdell and Mervyn Greene, CHQ's group managing director, would come to share Walsh's vision of a startup hub at the heart of the site.
"It was all vacant and I had just a little eureka moment," says Walsh.
On the margins, bean bags and chip-board benches are tucked behind potted trees, and glass-walled offices run alongside wooden walkways. It's a far cry from the furniture store it used to be.
Rather that providing a space for strategically invited startups, Dogpatch's CHQ space would go on to open the space up to more companies.
After putting together a pitch, Walsh got a 7am meeting with the duo.
"I was pretty jacked up on coffee if I remember correctly," he says.
"They said, 'We want to ask you three questions. Have you ever done this before?' I said no. 'Has this ever been proven in the Irish market at these price points?' I said no. They said, 'Do you have the money to do all this?' I said no."
A few weeks later, he found himself sitting alone in the shell of a former furniture store, wondering quite how he was going to pull this off.
"We reused everything in the furniture store," he says. Word got around and the startups started to come in.
"I was really fortunate to run into Noel Ruane, who really helped me. Then Ulster Bank came, the Google came, then ESB came, then Pivotal came," he says.
"We renovated the vaults which was a huge secondary phase, then we went upstairs to the Mezzanine, which was a huge third phase. It just kept growing year after year."
Crazy startup mode
Expanding Dogpatch has been no mean feat, but Walsh's excitement for the next five years remains strong.
"The only thing I've realised is, I can't run it the same way. It was crazy startup mode for five years," he says.
"How do I make sure that I'm creating new leaders within Dogpatch? How do I make sure that I'm really a leader that can do this for the next 20 years? One of the things we witness a lot in our community in Ireland is things like founders burning out."
He reckons that one of the reasons startup founders "don't go big" is because they don't make that transition from startup CEO to scale-up CEO – and they don't think about wellness and adjusting their work style.
"Entrepreneurship is hard. It's hard doing it for two years, it's hard doing it for seven years, it's hard doing it for 10 years. It's hard to make sure that you find that balance and the wheels don't fall off somewhere along the line."
The difference between Dogpatch and other co-working spaces is that the team has gone through a lot of entrepreneurial experience, he says. They know what it's like.
"That means that there's a real heart there," he says, tapping his chest.
Dogpatch is now starting to set up more functions to help support its founders.
"There are periods where you need to sprint as a founder; if you've only got 12 months of cash and you don't know if your product is going to work, you have to go so hard," he says.
But if you carry that work style through in the long-term "you will not be successful", he adds.
For Walsh, that means prioritising regular exercise and emotional health – as well as sharing with other founders and delegating more.
"These are all things that can seem that there's not enough time to do them," he says.
Building an ecosystem
The tables and chairs start to fill up as tech workers pour in
"Sometimes Dogpatch feels like a bit of a bus station there's so much going on, but that's the vibrancy and the energy that we want to create," says Walsh.
He believes that Irish entrepreneurs are starting to think bigger, inspired by some of Ireland's recent successes – like Dogpatch alumnus Intercom, recently valued at $1 billion.
"I see other founders who see that and go, 'Well if they can do it we can do it.' There's a new sense of belief, that you can build out amazing companies globally from Dublin," he says.
However, challenges such as housing and a policy environment that's good for big tech but perhaps less favourable for small companies are roadblocks to the kind of environment that Walsh is advocating.
"One of the things we're doing is focusing on how can we create a world class policy environment as well," he says, referring to sweeteners such as incentivising people to join companies through share options and creating more investor relief
Walsh doesn't give specifics about future plans, but there's more physical expansion on the cards, as well as more incubators and accelerators.
"We have not reached our high water mark here. We have much more we'd like to achieve."
Get our Daily Briefing with the morning's most important headlines for innovative Irish businesses.
Written by Zuzia Whelan and posted on Fora.ie