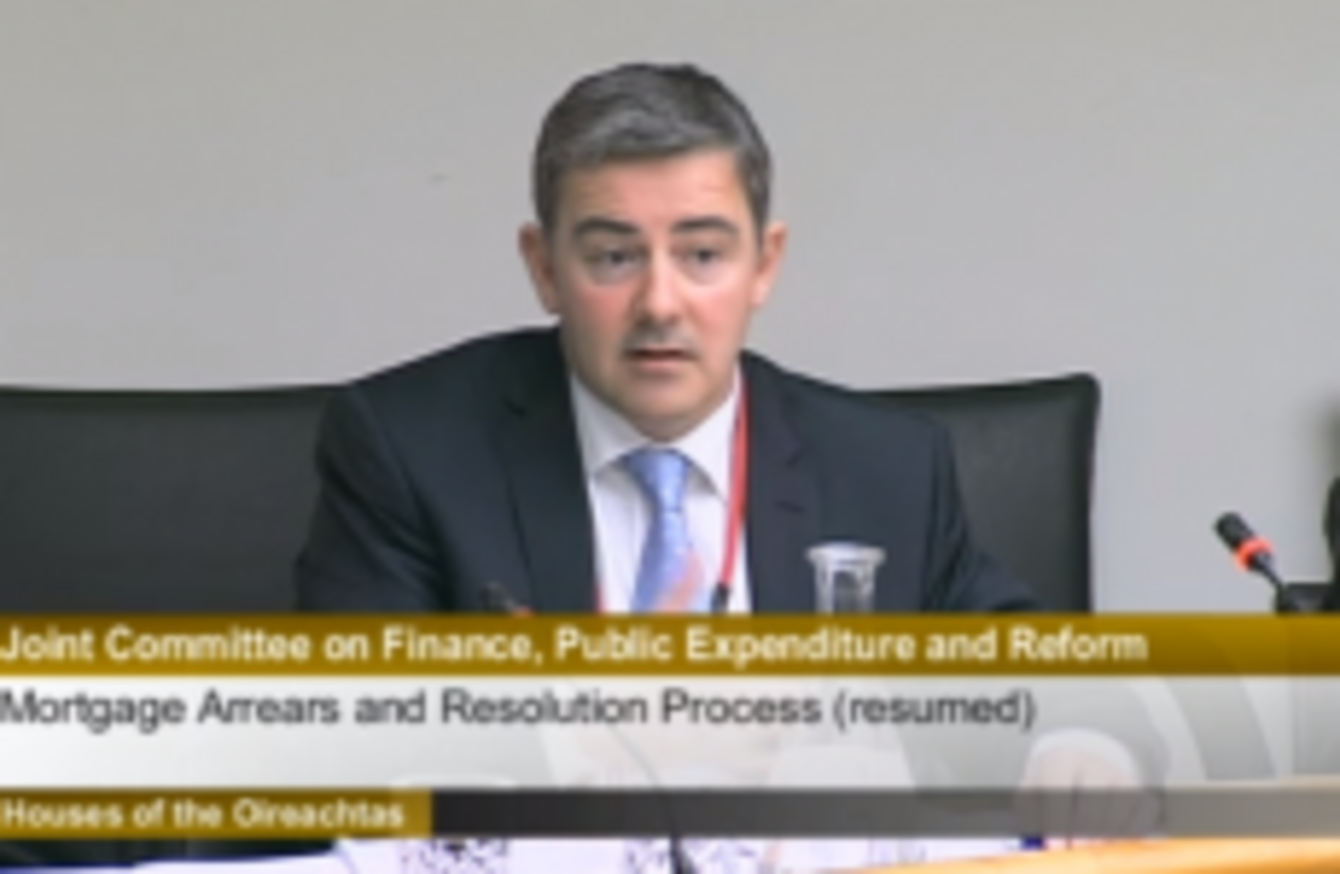 Shane O'Sullivan
Image: Screengrab/Oireachtas TV
Shane O'Sullivan
Image: Screengrab/Oireachtas TV
UP TO ONE in five Permanent TSB customers in mortgage arrears are not engaging in "meaningful" talks with the bank in an attempt to find a solution.
Shane O'Sullivan, the managing director of asset management and non-core units at PTSB, told the Oireachtas finance committee that "about 15 to 20 per cent" of customers were not co-operating with the bank in this regard.
O'Sullivan noted that PTSB has to date offered 7,000 customers split mortgages, the highest of any bank – some 4,000 of these focus on later arrears. There has been take up of approximately 85 per cent.
He said the bank's approach to the resolution process was "focused on affordability and sustainability", but admitted that it had yet to finalise a mortgage-to-rent option for customers.
"The process is fraught, there are a great number of parties involved," O'Sullivan said, adding that properties valued at more than €200,000 in Dublin and more than €180,000 outside of Dublin are excluded under the current framework.
O'Sullivan noted that banks were working "in a collegiate way with the bank federation" to make progress in this area. He added that 100-150 of PTSB's customers would fit such a solution.
In terms of the options currently available to their borrowers in mortgage arrears, O'Sullivan stated that their assisted voluntary sale scheme had the "least take up" at about 15 per cent. He said that the bank would not pursue customers who are unable to pay any shortfall outstanding after the sale if it was not "economically viable".
O'Sullivan stated: "At present that legacy debt is left hanging", noting that the bank have not engaged in debt write-down in this area to date.
Chair of the finance committee Ciaran Lynch said that, as a result, a person in this scenario "for the rest of their life has a debt hanging over them". He noted that the bank is in legal proceedings with 2,302 customers at present.
Repossessions
Fianna Fáil spokesperson on finance Michael McGrath said that the bank had recently "ramped up" the pressure by initiating court proceedings on 2,000 borrowers, in order to meet targets set by the Central Bank. He added that about 10,000 customers were now "heading down the road" to repossession.
O'Sullivan said this figure was inflated as not every court proceeding would lead to evictions.
Jeremy Masding, Group CEO of PTSB, informed the committee that the bank had "comfortably exceeded targets set down by the Central Bank" in terms of mortgage arrears.
Masding said that the group had "proposed long-term solutions to 11,707 customers in arrears greater than 90 days by the end of March".
"We have just ended Quarter 1 of 2014 and during that quarter the bank lent €105 million in mortgages. Twelve months ago, the comparable figure for the first quarter of 2013 was just €14 million. So that's almost an eight fold increase in just 12 months," Masding stated.
He said that PTSB had reduced its borrowings from the European Central Bank from almost €11 billion in 2012 to €6.5 billion as of last week.
Ger Mitchell, Director of mortgage and consumer finance at the bank, said the institution had "adopted a more prudent approach to lending" and now took into account the living expenses and other debt commitments of customers applying for loans.
Mitchell added that PTSB lent €207 million for mortgages last year and over €100 million in the first quarter of 2014.