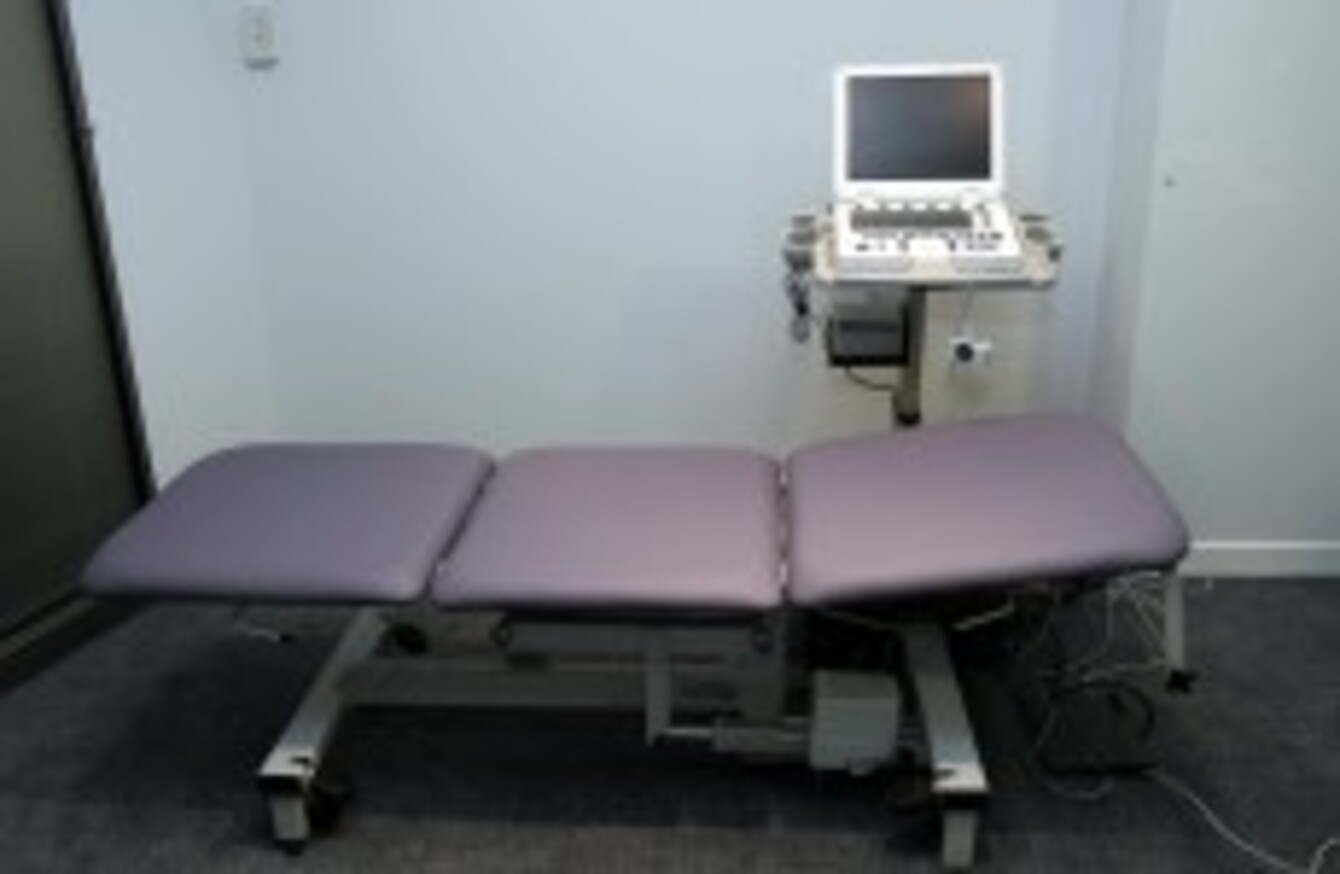 A consultation room at the new Marie Stopes clinic in Belfast
Image: Paul Faith/PA Wire/Press Association Images
A consultation room at the new Marie Stopes clinic in Belfast
Image: Paul Faith/PA Wire/Press Association Images
THE FIRST PRIVATE  sexual and reproductive health centre that provides medical abortions is to open in Belfast. Operated by Marie Stopes International, the clinic will offer medical abortions up to nine weeks gestation, when the life of the pregnant woman is at immediate risk and / or if there is a long term or permanent risk to her physical or mental health.
What does this mean for the Irish Republic's situation? We asked pro-choice campaigner Sinéad Marie Ahern and pro-life campaigner Cora Sherlock to give their viewpoints:
Sinéad Marie Ahern of Choice Ireland says:
It was with great interest that I heard last night that Marie Stopes in Northern Ireland was to begin offering abortions under the criteria laid out under the 1939 Bourne Judgment.
In England in 1938, Dr Alex Bourne performed an abortion on a 14 year old girl who had been raped by a group of soldiers and was extremely distressed. Dr Bourne was prosecuted and was acquitted on the grounds that abortion could be legal if the woman would have become a mental and physical wreck were she to continue the pregnancy. Thus abortion became legal in the North under these very limited circumstances.
In England this law was superseded by the 1967 Abortion Act, which allowed abortion to take place in cases where two doctors agreed that continuing the pregnancy would pose a greater risk to the woman's mental or physical health and Bourne became irrelevant. The '67 act was never extended to Northern Ireland however.
Despite numerous attempts to introduce guidelines however there has been little or no legal clarification around this. This is eerily similar to the situation in the Republic where despite the constitution, two referenda and the Supreme Court providing for abortion where a woman's life is at risk there are no legislative guidelines so essentially women cannot access their rights.
I hope that it will cause legislators here to realise that this is an important issue that affects women's lives
MSI are seeking to give women access in Northern Ireland. Many people have asked me, what does this mean? In practical terms it means that for women both North and South whose health is put in grave danger by continuing a pregnancy, they can now access terminations in the North and do not have to travel to England.
Politically the consequences are less clear but I hope that this will spur the Stormont assemblies – who have thus far tried to push the issue under the carpet – to introduce clear guidelines that allow women to exercise their rights. For the South I hope that it will also cause legislators here to realise that this is an important issue that affects women's lives every day and that legislation is required.
In broader terms however, for many of the 12 women a day who leave Irish shores to access abortion in the UK this development does not change anything and they must continue to make that lonely journey at great financial cost. This is a welcome development but it does not address the wider issue of abortion and that is something we need to talk about.
Programme director Dawn Purvis at the new Marie Stopes centre in Belfast. (Paul Faith/PA Wire/Press Association Images)
Cora Sherlock of the Pro-Life Campaign says:
The announcement by Marie Stopes International is entirely inappropriate given that the 1967 Abortion Act has not been extended to Northern Ireland. It amounts to nothing more than an attempt to define the law in this area. Previous attempts to introduce abortion into Northern Ireland were met with huge opposition, and I expect nothing less on this occasion.
Marie Stopes' plans must not be allowed to influence the debate in the Republic. Ireland is a world leader in the area of maternal health. Can Marie Stopes say the same? Let's not forget that less than 12 months ago, a doctor in London who performed procedures for Marie Stopes was struck off the medical register over a botched abortion. It subsequently came to light that he had been involved in another case where a woman died. These cases should raise serious questions for all those concerned for women's health and welfare.
The Irish people will recognise this move for what it is.
Marie Stopes is in no position to set the law in this area. As an organisation, it disregards the humanity of the unborn child completely. It refuses to recognise the negative effects of abortion on many women. It is trying to impose an abortion service in Northern Ireland where one is neither wanted nor needed.
The comments from Dawn Purvis make no reference to the fact that abortion is never necessary to save the life of a woman. Doctors in Ireland adhere to the internationally-recognised distinction between medical treatment carried out to save the life of the mother where the baby dies as an unwanted consequence, and abortion, where there is no other intention but to end the life of the unborn.
The Irish people will recognise this move for what it is – an attempt to introduce abortion into society without first addressing the negative consequences and serious ethical issues that follow.