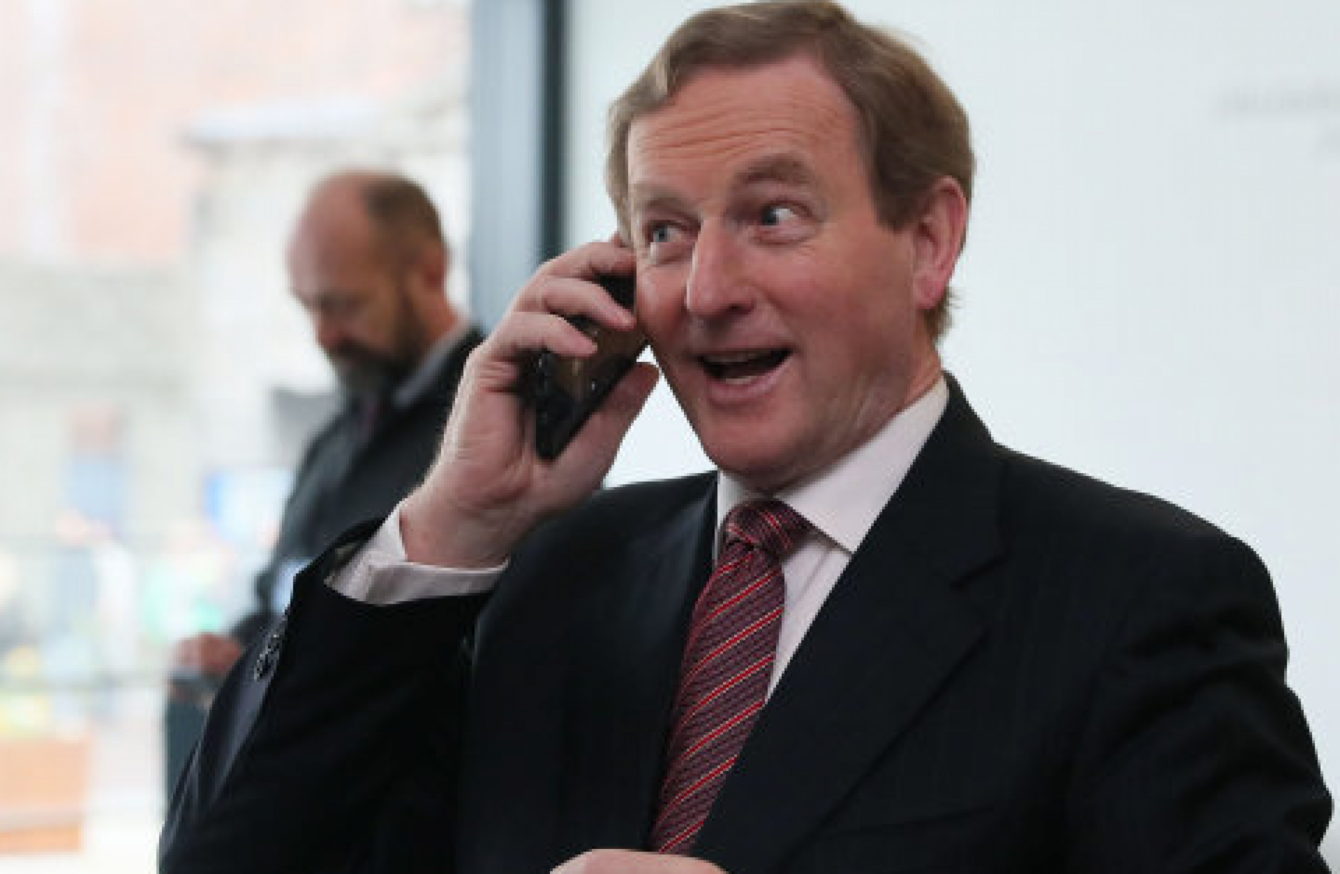 Updated at 8.30pm 
TAOISEACH ENDA KENNY has told this evening's Fine Gael parliamentary party meeting that he will deal with the leadership issue effectively and conclusively when he returns from the US after St Patrick's Day.
The Taoiseach's message to the meeting tonight, which lasted around ten minutes and was greeted with an ovation in the room, will likely be enough to avoid a motion of no confidence in his leadership in the coming weeks.
"It's all calm on the western front," was the response of one TD at Leinster House, asked about Kenny's performance tonight.
The Fine Gael leader has been under increasing pressure to go in the wake of his poor handling of the latest Garda whistleblower revelations last week.
He previously said he wouldn't lead the party into another general election – and there were fears that Fine Gael could have found itself facing into a snap election last week, as the Maurice McCabe revelations left Leinster House reeling.
Likely successors 
Kenny's comments tonight have been welcomed by the two TDs most likely to succeed him as leader – Housing Minister Simon Coveney and Social Protection Minister Leo Varadkar.
Speaking on RTÉ's The Week in Politics at the weekend, Coveney had said he felt Kenny should be given the space to make his decision, but that he should deal with the issue when he returned from Washington.
Varadkar had put out a statement the previous night observing "everyone is waiting to hear from the Taoiseach" and saying the current situation was "distracting and destabilising". In the wake of Coveney's comments, however, he said he agreed with his colleague's timeline for Kenny's departure.
"It's the right approach," Coveney said tonight.
"I think it gives Enda time and space now to put a process in place. That will happen after St Patrick's Day when he comes home from [the Washington trip] and I think he's happy with that. And I think the party should support him on that.
We're in Government at the moment and it's important the party sticks together.
The Taoiseach deserved the respect he got at the meeting, Coveney said.
"I think he showed an authority that will hopefully now deliver a process that will keep the party together and have a transition that's well managed, that will keep the Government together and the party together."
Tonight's development "takes the heat out of" the situation, he added.
There had been speculation that Kenny, who's been Fine Gael leader since 2002, would face a motion of no confidence if he didn't present a formula of words tonight that would keep all factions of the party happy.
"I'm happy anyway," Coveney said.
It's more or less what I was hoping would happen and it did happen.
"Literally no one else spoke," on the issue at the meeting, which was chaired by party chairman Martin Heydon, said the Cork TD.
He's been through dozens of political storms, he's been in politics for 42 years. He's not phased by these things. I think he showed calm and experience tonight and the party responded.
I think he showed authority and experience and I think people respected that.
I think that a lot of people in the party, the vast, vast majority wanted this evening to happen as it did.
You don't want public spats or divisions in the party. We have a lot of things to do in Government. And I think what he outlined tonight satisfied people that they could trust him to manage the process.
Varadkar agreed that Kenny had "settled the matter," adding:
The leadership will be dealt with effectively and conclusively after the St Patrick's Day visits. I think everyone is relieved that we have avoided damaging divisions.
Another TD said that everyone applauded the Taoiseach's comments. "Everybody was nodding so that is an indication that everyone was clearly satisfied."
There was a bit of defiance in that he spoke about not being phased by motions of no confidence but I think he meant that he had been there before – and he left it at that. He satisfied even his most strident of critics.
The official version
Party chairman Heydon said in a statement the Fine Gael party would now proceed in "a united fashion".
The Taoiseach has addressed this issue and he will tell us of his intentions after his trip to the US next month.
He has already said he will not lead Fine Gael into the next General Election. He reiterated that position again tonight. He has told us he will outline his intentions effectively and conclusively shortly after his return from the US.
Fine Gael continues to focus on the important work of this Government with our coalition partners. Our motivation is the people of this country and the issues that matter to them. We continue to focus on implementing the Programme for Government.
"Over 200,000 jobs have been created since 2012," the statement said.  "We are now on course to achieving full employment which is remarkable considering where we were six years ago."
It added:
There are international challenges coming with the United Kingdom leaving the European Union and a potentially changing European frontier. We are concentrating and working night and day on these issues. Fine Gael's work continues.
- With reporting from Daragh Brophy