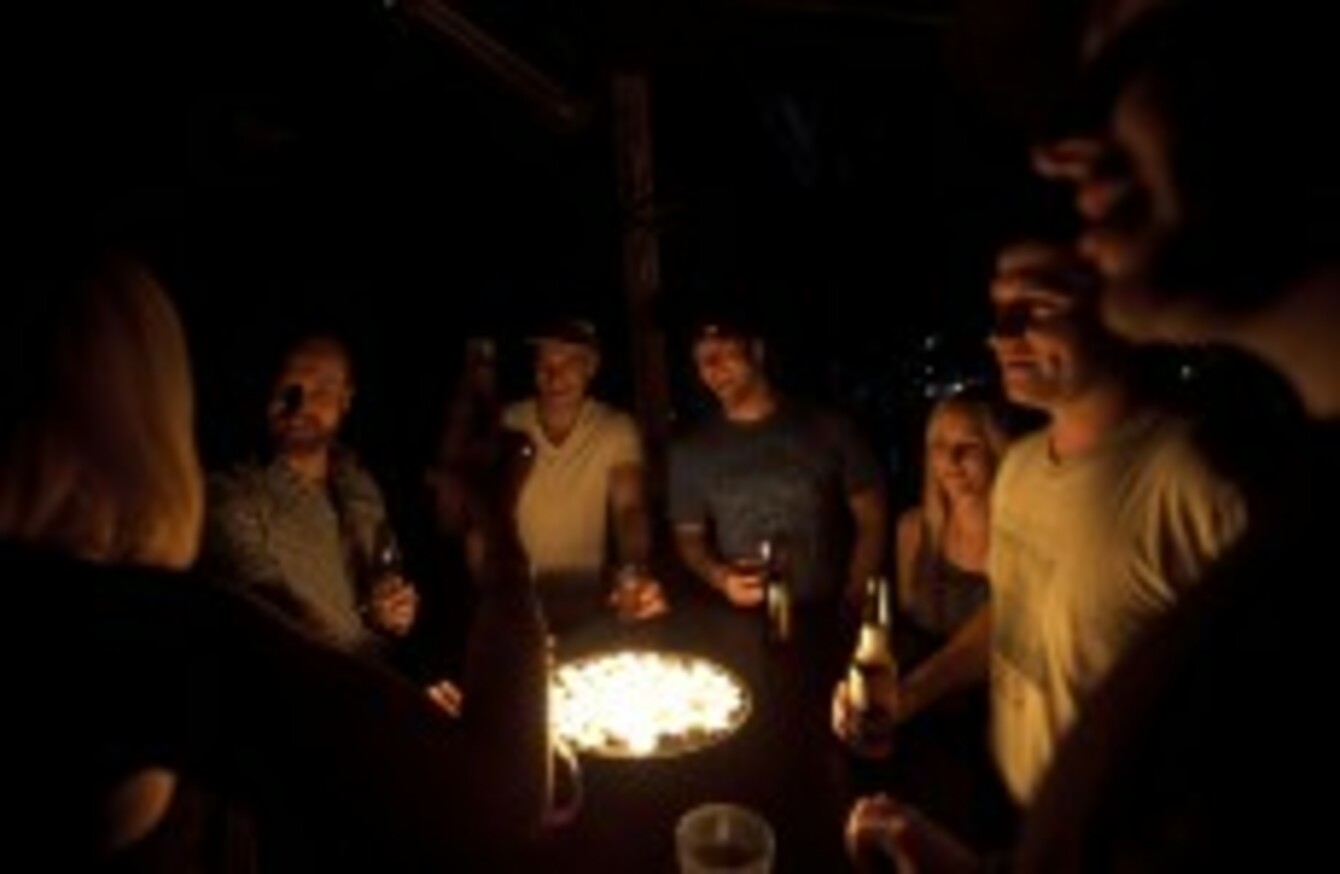 People make the most of the power cut in San Diego last night.
Image: AP Photo/Gregory Bull
People make the most of the power cut in San Diego last night.
Image: AP Photo/Gregory Bull
A MAJOR POWER outage affected a region of almost 6 million people in the south-west of the US and Mexico yesterday, bringing San Diego to a near-standstill and leaving people in the surrounding desert to swelter in late-summer heat.
Two nuclear reactors along the coast went offline after losing electricity, but officials said there was no danger to the public or workers.
Power officials were just beginning to investigate what caused the blackout, which began shortly before 4 pm local time. But it likely could be traced to an employee removing a piece of monitoring equipment at a power substation in southwest Arizona, they said.
San Diego residents enjoy a candlelit conversation outside a bar in the city last night during the power cut (Image: AP Photo/Gregory Bull/PA)
Flights grounded
San Diego Gas & Electric Co. officials said late yesterday that more than a half-million customers have power back in California, Arizona and Mexico. Nearly 180,000 of the homes and businesses with power restored are in Mexico.
San Diego bore the brunt of the problems, and as night fell, much of the nation's eighth-largest city was in darkness, its freeways clogged all outgoing flights grounded at its main airport, Lindbergh Field.
Police stations were forced to use generators to accept emergency calls across the area. But there were no signs of widespread looting or other unrest related to the outage.
The blackout extended east to Yuma, Arizona, where more than 56,000 people temporarily were left in the dark; power was restored there about five hours later.
Power also was back on by 10 p.m. in about a dozen cities in San Diego and Orange counties, officials said. Nine of San Diego Gas & Electric's 115 substations were also back in service.
"We have a ways to go but were starting to see a bit of progress right now," said Mike Niggli, chief operating officer of the utility. Niggli said he expected a "very steady advance" around 2 a.m. through the middle of the afternoon.
Despite the gains, most of the people in the darkened swath were expected to spend the night without power.
#Open journalism No news is bad news Support The Journal

Your contributions will help us continue to deliver the stories that are important to you

Support us now
The US-Mexico border also was cloaked in darkness and police on both sides sent in re-enforcements to prevent looting and other crime in their cities, but none was reported.
Officials have ruled out and wrongdoing, or terrorism.
"Essentially we have two connections from the rest of the world: One of from the north and one is to the east. Both connections are severed," Mike Niggli said shortly after the blackout occurred.
"This was not a deliberate act. The employee was just switching out a piece of equipment that was problematic," said Daniel Froetscher, a vice president at Arizona Public Service Co.
The two reactors at the San Onofre nuclear power plant went offline at 3.38pm as they are programmed to do when there is a disturbance in the power grid, said Charles Coleman, a spokesman from Southern California Edison. He said there was no danger to the public or to workers there.