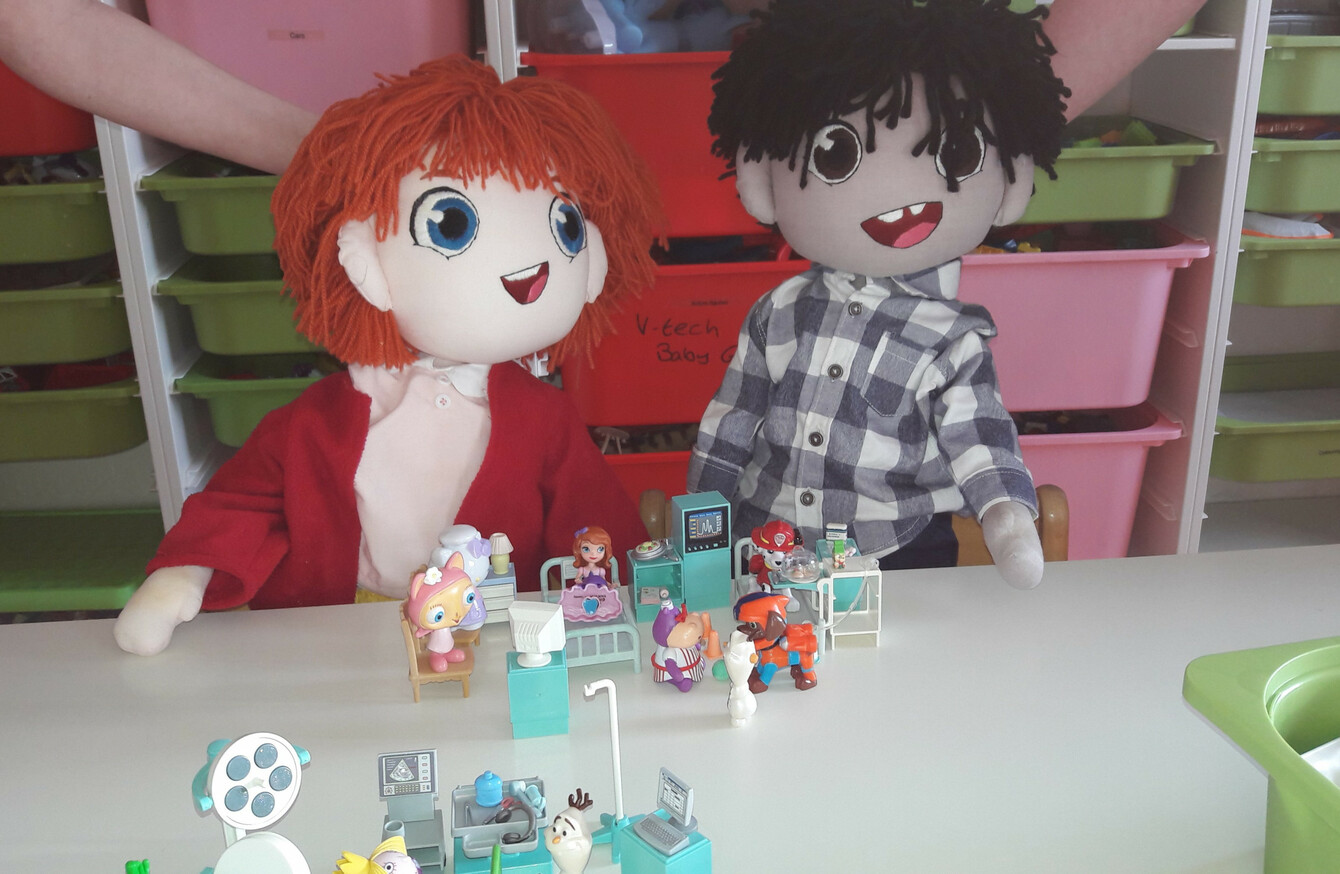 Ben and Tara, Temple Street Children's Hospital's mascots
Image: Temple Street
Ben and Tara, Temple Street Children's Hospital's mascots
Image: Temple Street
"A HOSPITAL is an abnormal environment for a child. Play is vital."
In a public hospital in the northern French city of Valenciennes, medical staff have begun using small electric sports cars to drive children to the operating theatre in a bid to alleviate their fears of surgery.
The playful approach, implemented in December, has wiped out the need for anti-anxiety medication often administered before an operation, according to the hospital.
The new scheme for children aged 18 months to eight years is based on similar programmes from the US and Australia. Here in Ireland, staff in our children's hospitals have already been using toys as a means of easing anxiety and fears for a number of years.
The National Children's Hospital Tallaght, Temple Street Children's Hospital and Our Lady's Children's Hospital Crumlin in Dublin all have teams of designated play specialists who work around the clock to ensure children feel as safe, relaxed and happy as possible during their stay.
The Temple Street Play Department supervises play facilities in its playroom, multi-sensory room (for children with additional needs) and garden. Our Lady's Children's Hospital Crumlin also has a multi-sensory room.
The aim of the department is to assist in the creation of a welcoming, caring and family-centred environment.
Children tend to be most anxious during their hospital stay when a medical or surgical procedure is upon them. While toy cars are not available in Temple Street or Crumlin, the hospital has other playful means of preparing children.
"Out on the wards, we have play specialists who prepare children for any medical or surgical procedure and then follow up with a post-procedural play," Caroline Flynn, senior play specialist at Temple Street told TheJournal.ie. 
"If a child is going to theatre, we prepare them on the day using props such as dolls, iPads, reading them stories, explaining exactly what's going on to them to alleviate any fear to anxiety they may have," she said.
The props are to explain what's happening. You can get apps and that to explain what's going to happen to them. We wouldn't go into detail about the child's operation but we tell them about the work up they need to have, the hats, the gown, stuff like that.
Crumlin's Director of Nursing Rachel Kenna said the hospital's play specialists work closely with the nurses to deliver care to the patients.
"A huge part of their role is about distraction therapy and reducing anxiety throughout a child's hospital stay," Kenna said.
Children who attend Our Lady's Children's Hospital Crumlin for invasive procedures are talked through what is going to happen to them using a doll or teddy bear.
"If we're putting any invasive tubes into them, we have a lot of dolls and teddy bears that we would put the equipment on. It allows them to play with it and touch it because that's part of how children learn and it's important for them to understand what we're doing," she said.
Pre-admission support
Along with the before and after-surgery play care at the hospital, Temple Street and Crumlin also run a Pre-Admission Club children who are going to be admitted to the hospital soon.
#Open journalism No news is bad news Support The Journal

Your contributions will help us continue to deliver the stories that are important to you

Support us now
Ben and Tara, Temple Street's mascots, host the hospital's club along with play specialists who talk to the children about their upcoming hospital stay.
Hospital equipment such as a stethoscope, blood pressure machine, thermometer, and name tag are shown to the children. They also answer questions or concerns about the child's admission and surgery.
Our Lady's Children's Hospital in Crumlin also hosts a Pre-Admission Club for children.
"If their admission is planned, they come in, they meet the play specialists, they go to the ward, and sometimes if they're going for a big surgery they might be taken to the ICU environment to familiarise them with it, in case they wake up there and get a fright," Kenna said.
Explaining the importance of play in a hospital setting, Flynn said: "At the end of the day, a hospital as an abnormal environment for a child. When they come in, play is the only thing that is familiar to them and to have play equipment is vital. The way a child develops is through play.
It really does reduce anxiety and it improves their understanding of what is going to happen to them when they come into hospital.
Kenna added: "Naturally, children will be nervous, but without all of these programmes it would be a lot worse for the child because they would be frightened, they would be even more anxious and that can impact hugely on recovery."
With reporting by AFP.