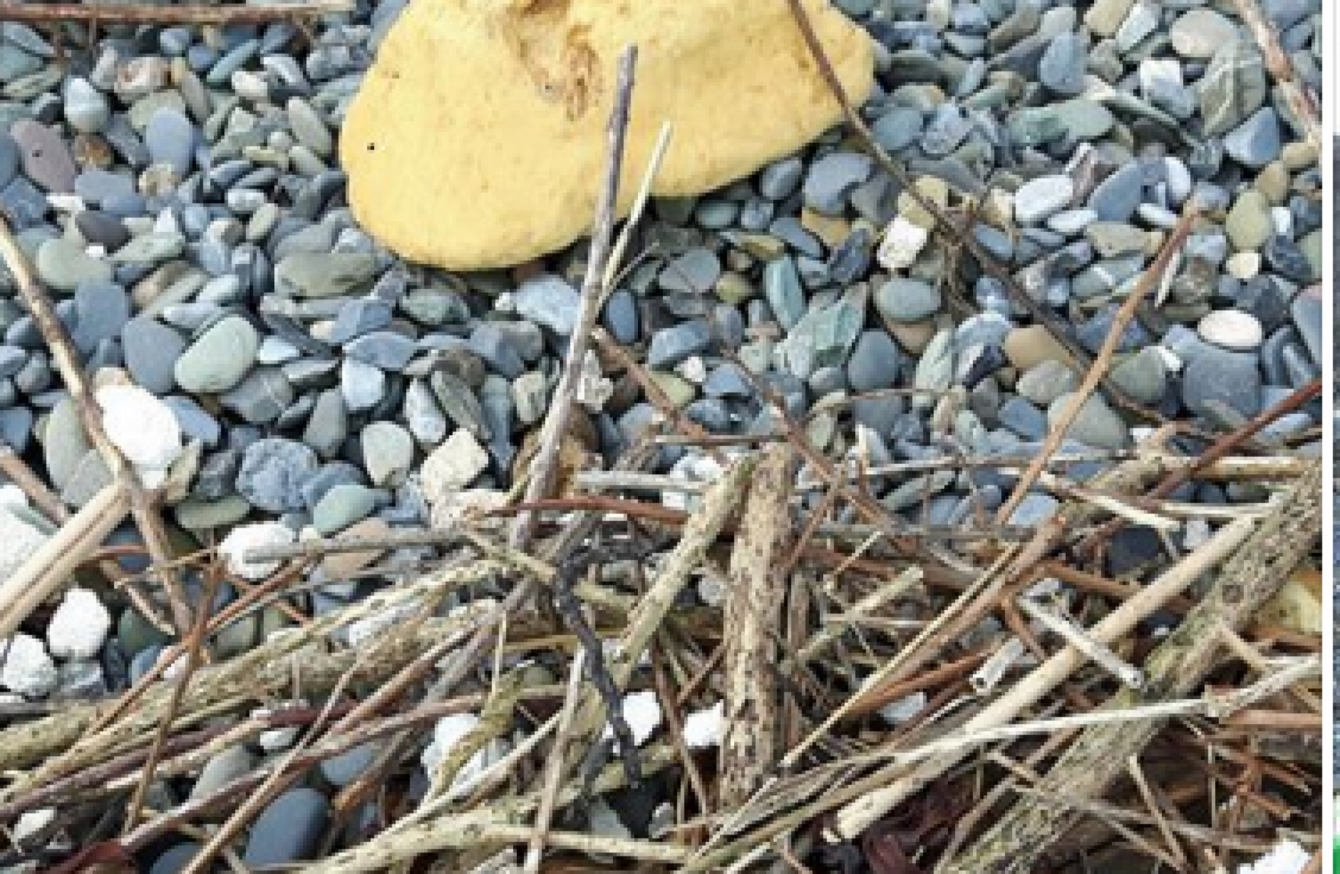 POLYSTYRENE FROM A marina destroyed in Holyhead, Wales, has been washing up in Greystones Co Wicklow.
During Storm Emma, pontoons made from polystyrene were destroyed at the Holyhead marina, the Welsh newspaper the Daily Post reports. Since the extreme weather event, the material has been washing up on beaches in Greystones.
The Daily Post reports that up to 80 boats were smashed in Holyhead in gale-force winds, and that clean-up operations had recovered 30 tonnes of polystyrene so far. But some of that polystyrene has been breaking up and floating as far as Wicklow, where locals have been spotting it on beaches.
Over in Greystones, the local Tidy Towns committee had been removing the polystyrene – which has been breaking into small pieces – from the shoreline, without knowing its source.
Marie McCooey, chairperson of Greystones Tidy Towns, told TheJournal.ie: "Since the storms we've had over the last couple of months we've been out a few times picking along the coast, [we've seen] polystyrene. We have never seen anything like what we're getting on the coast."
She said that getting big lumps of polystyrene is one thing – dealing with it when it has reduced to tiny pellets is another. "You almost need to get out on the beach with a hoover," said McCooey. "A lot of it is broken up into little pieces. It's almost impossible to pick it up. Anything we can pick with a picker or our hands we are taking. It's great when you see a clump."
Polystyrene has been spotted on both the north beach and south beach, said McCooey. The source of the polystyrene was a surprise to her. "This is the first time I've heard anything about it coming out from Holyhead. We had no idea where it was coming from. We were saying to ourselves where on earth is the polystyrene coming from?" They thought the source could have been building sites or boats.
Polystyrene is a synthetic product that is very slow to biodegrade. It is only accepted by some recycling companies in Ireland.
Somewhat ironically, Holyhead is twinned with Greystones, and a local Holyhead group visited the Wicklow town for St Patrick's Day. The leader of the Holyhead Sea Cadets told the Daily Post that they were embarrassed to see the polystyrene there during their trip.
"It's very sad," said McCooey of the debris. "We know that [through] all the images you are seeing on social media that [plastic is] getting into fish, it's getting into birds, it's just being consumed by the marine animals – that is not good or healthy for them. It looks so sad for it to be washed up on beautiful beaches."
The Greystones Tidy Towns will hold a beach clean this weekend involving local Transition Year students.
Greystones Councillor Derek Mitchell told TheJournal.ie that "there are bits of the expanded polystyrene that have blown up along the shore… blown over a very wide area".
"It's not serious but it is there," he said. "I've been shown pictures of it. It's only really on the shoreline or in the rocks against the shore or under the grass. It's not visible in the town. It will need to be tidied up by the council staff or Tidy Towns."
He said he expects more of the polystyrene to come ashore in the coming weeks. The Greystones marina doesn't use polystyrene pontoons like those that broke up in Holyhead.
#Open journalism
No news is bad news
Support The Journal
Your contributions will help us continue to deliver the stories that are important to you
Support us now