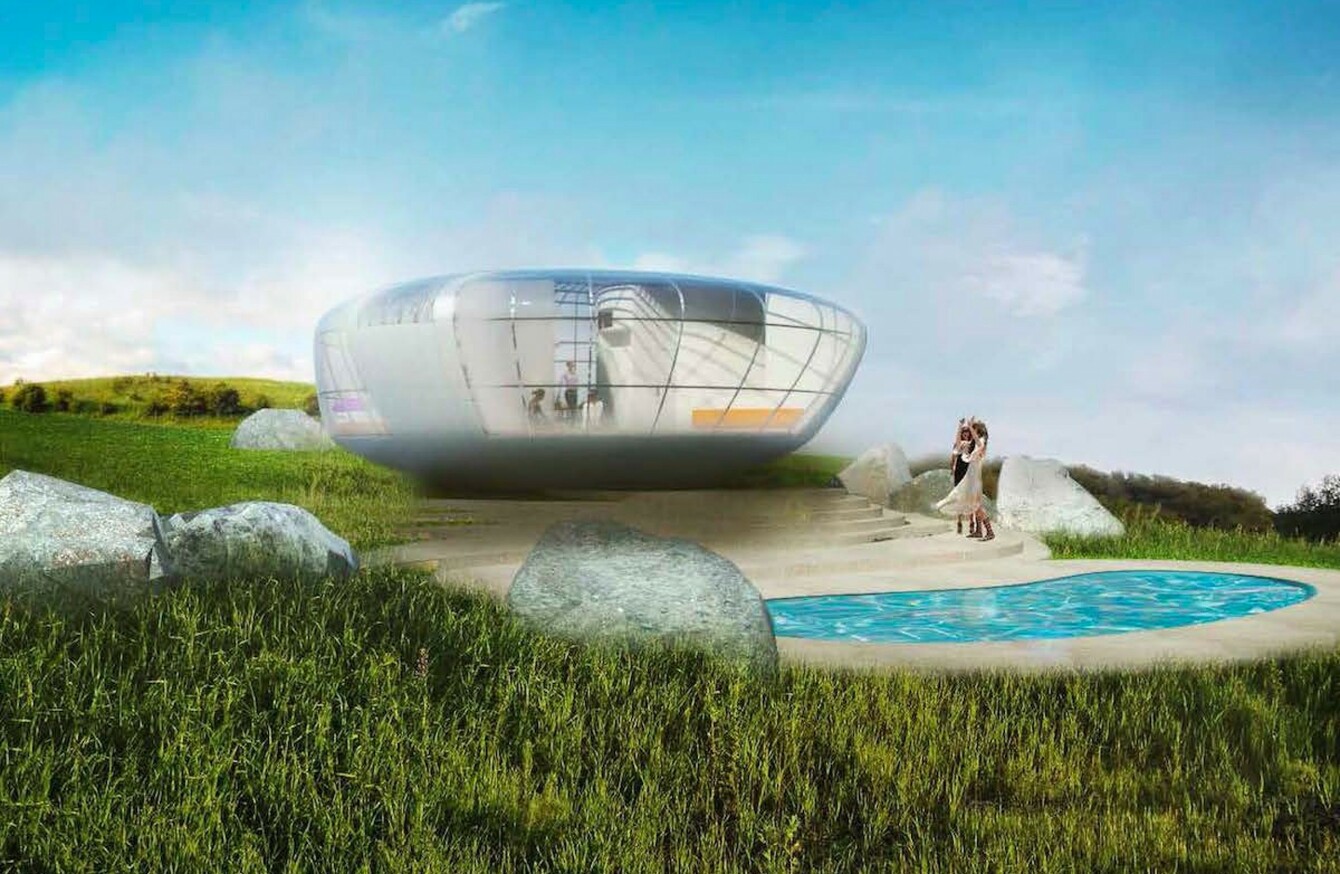 Image: Revolution Precrafted
Image: Revolution Precrafted
PRESENTING: THE PREFABRICATED home that can be built anywhere and customised according to room numbers and colour.
The Nest Pod is a limited edition, saucer-shaped structure just launched by Revolution Precrafted, a property company that specialises in designer prefabs.
The futuristic pop-up was designed by Mexico City-based architect Fernando Romero to support "a new generation of people that can live simultaneously in different parts of the world", as its brochure write-up puts it.
It was developed around a north-south axis, and takes up just 95 square metres of space.
"The structural grid, which radiates from the centre, allows the home to be easily fabricated off-site, shipped, and constructed on location," Romero explains.
This is the living room.
Though the sofa doesn't look that comfortable, the "panoramic windows" could mean spectacular views depending on where you set up your pod home.
Here's the dining area, divided from the living area by a wall compression to create "gently carved interior spaces" that reflect the home's exterior.
For a good night's sleep, you'd need to put up some curtains in the bedroom.
As you can see, the structure's curved theme continues inside, where even the light pours through in an elliptical shape.
The bathroom is a minimalist's dream.
The design includes a pool outside.
One single public area opens to the exterior by its panoramic windows, oriented north and south.
Each dwelling is customisable in room number and colour, allowing each user to create a one-of-a-kind home.
If it looks more like a vehicle, that's not entirely unintentional.
"Manufacturing this house will require the same discipline of the construction of a car, a yacht, or an airplane," Romero says.
While you might have to forget about privacy – if you're lucky enough to get your hands on one - you can at least choose your home's colour.
Not bad, is it?