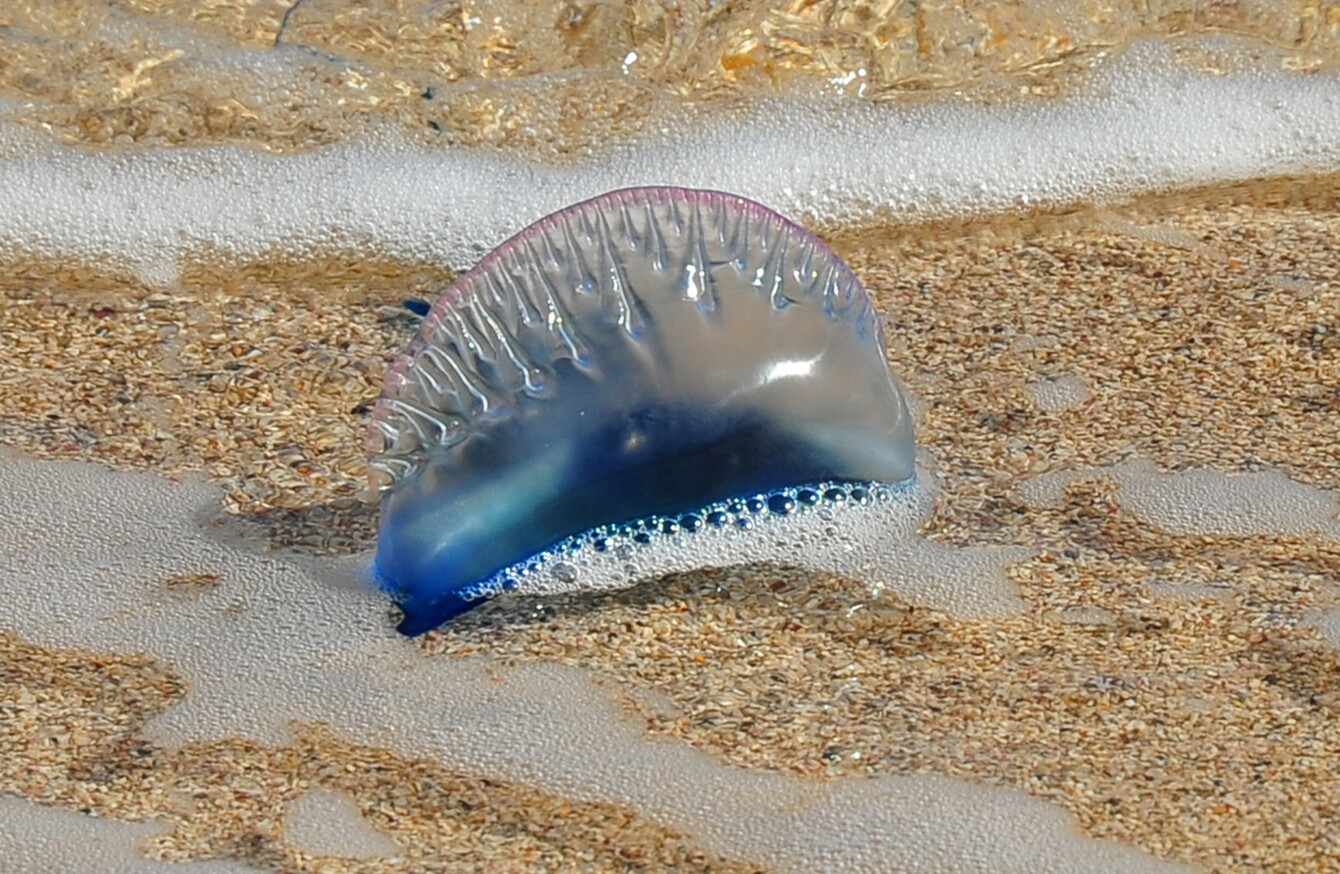 Image: Shutterstock/NFKenyon
Image: Shutterstock/NFKenyon
IRISH COASTS WILL be exposed to a huge number of Portuguese Man-of-Wars this weekend because of tide movement which will expose large areas of the coastline.
According to Irish Water Safety, Ireland is experiencing one of the worst infestations of of the toxin-filled sea creatures in more than a century.
The water safety education and public awareness organisation said that the public would be particularly exposed to the creatures today, because of a new moon and spring tides, "which will mean that we will have larger exposed areas of coastline where we are likely to see these venomous siphonophores".
Irish Water Safety is urging swimmers in the south, west and northwest in particular to exercise caution in the water, as sightings have been made in at least six different counties along the south, west and southwest coast.
Surfers, kite surfers, swimmers, kayakers, divers and walkers need to keep a vigilant eye.
Irish Water Safety has issued this advice, if you should happen to get stung:
Ensure you don't get stung yourself when aiding others
Remove any attached tentacles with a gloved hand, stick or towel
Do not rub the affected area, this may result in further venom release
Rinse the affected area with sea-water (do not use fresh water, vinegar or urine)
Apply a 'dry cold pack' to the area (place a cold pack or ice inside a plastic bag and then wrap this package in a t-shirt or other piece of cloth)
Seek medical attention if there is anything other than minor discomfort (note: the sting can cause anaphylactic shock, if you are feeling unwell go to your local emergency department for treatment)
Report sightings to your local authority.
Origins
The Portuguese Man-of-War isn't a jellyfish, or even one single creature – they are in fact a cluster of organisms containing toxins, which if released, can cause anything from an allergic reaction to death.
The Man-of-War's tentacles are used, according to National Geographic, to capture fish, the toxins are then administered to subdue them, and the fish is then dissolved alive.
Irish Water Safety say that the infestation is due to tropical air and very little wind.
We have experienced tropical maritime air for almost two months now with very little northerly winds, in addition sea water temperatures are approximately 15 degrees Celsius, consequently we have seen one of the largest infestations of the Portuguese Man-of-War land on our western seaboard in over a hundred years.
If you're fascinated by the look of this alien-like creature, take a close but safe look at it through the lens of a retired combat photographer for the US Navy Aaron Anserov, who spent a significant amount of time documenting the mesmerising sea creatures.