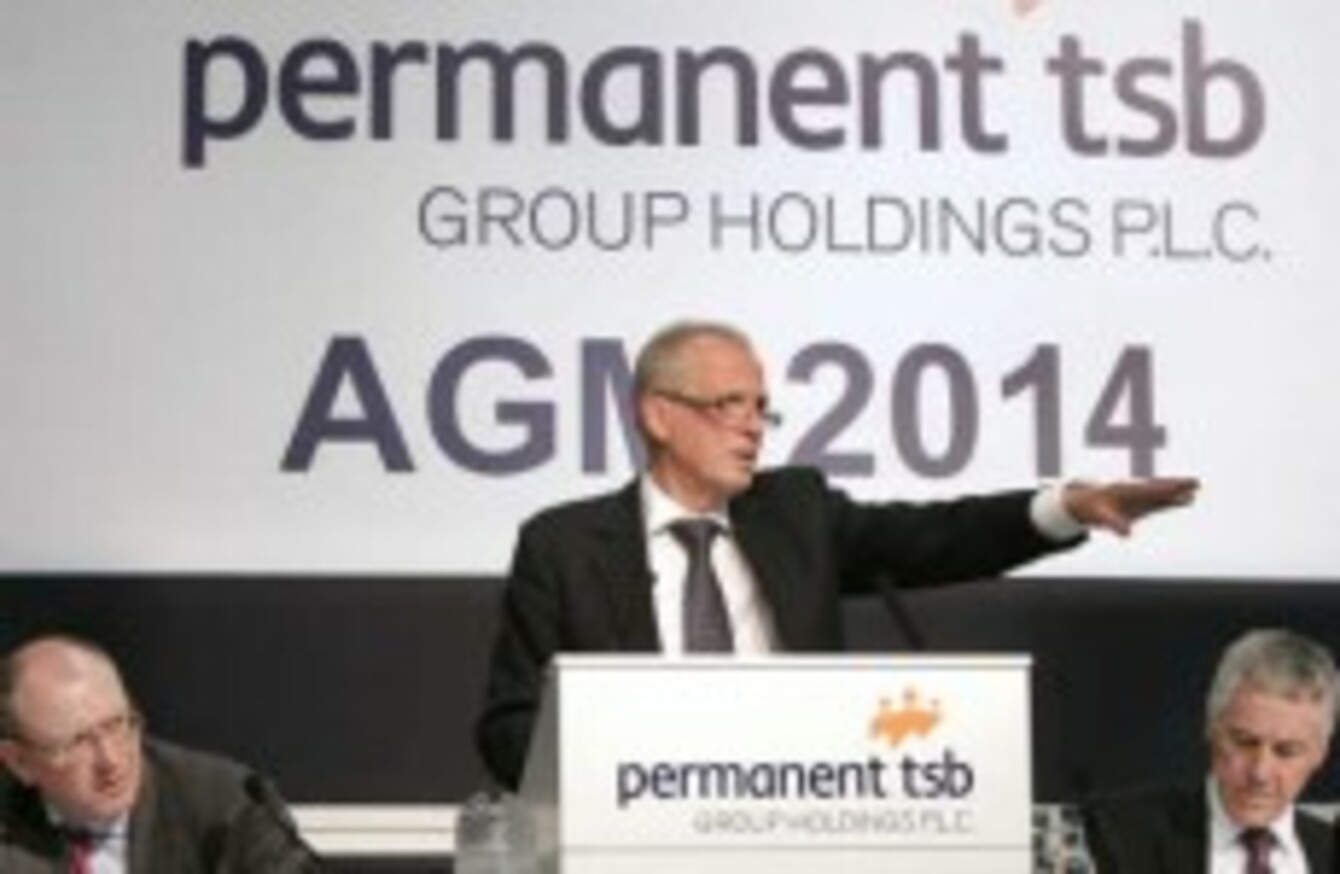 Permanent TSB chairman Alan Cook
Image: Mark Stedman/RollingNews.ie
Permanent TSB chairman Alan Cook
Image: Mark Stedman/RollingNews.ie
Updated 10.30
PERMANENT TSB AND Springboard Mortgages have written to 1,372 mortgage holders to inform them about "serious failures" in the management of their loans.
According to a statement from the firms today, up to 61 homeowners who were impacted by the mistakes in interest rates charged lost their properties.
As many as 22 of those people may have avoided this situation and kept their homes had the failures not occurred.
As part of the redress scheme announced today, those who lost ownership of their home will receive compensation payment of €50,000. If the property was a buy-to-let, the compensation will be reduced to €25,000.
In cases where PTSB's failure was a "key factor", any monies still owed by the customer on the mortgage account will be written off.
An investigation by the Central Bank revealed that other customers may also have "suffered serious consequences as a result of the failures".
These effects included:
having to pay higher mortgage repayments than should have been the case; 
ending up in arrears that may not have occurred;
being engaged in legal proceedings that may not have been necessary.
The events occurred after homeowners lost their contractual right to a tracker rate because of the failures in the management of the accounts.
PTSB chairman Alan Cook and CEO Jeremy Masding have apologised to the customers, saying the failure was "deeply regrettable".
"The failures which occurred have had very serious consequences for impacted customers and we apologise unreservedly on behalf of the Group to them and to all our customers," they said.
We are truly sorry that this has occurred and our absolute focus now is on correcting the position of every impacted customer as speedily as possible.
With a particular focus on those who lost their homes, the executives added:
We acknowledge that the bank's failure may have been a factor in events that ultimately led to some customers losing the property linked to the mortgage. We will do everything in our power to help these customers.
The customers impacted include 1,152 PTSB loan holders and 220 Springboard Mortgage Limited customers.
Back in the black
The bank's admission came as it reported its first half-year profit since 2007. It just snuck into the black with an underlying return of €1 million over the six months to the end of June, although that was before once-off charges of €432 million.
The result was a turnaround from the €171 million loss it recorded for its core business for the same period in 2014.
Just under 75% of the bank remains in taxpayer hands after a share sale in April and about 40% of its mortgage customers are still in arrears.
A redress scheme
Meanwhile, a Mortgage Redress Programme will be established to offer compensation to those affected and customers are being asked to consider their options in respect of tracker interest rates.
For all Springboard customers, an incorrect rate was applied to accounts so redress and compensation will be paid. They have since been moved to the correct rate.
The initial failure was when PTSB failed to inform certain customers fully of the consequences of their decisions to break from a fixed rate or discounted tracker rate early.
Other customers had a contractual right to be offered a tracker rate at the end of any fixed rate period. However due to a failure by permanent tsb that option was not communicated to them at the end of their fixed rate period.
The errors with the accounts occurred between 2006 and 2011.
Additional reporting Peter Bodkin
First published 9.05am