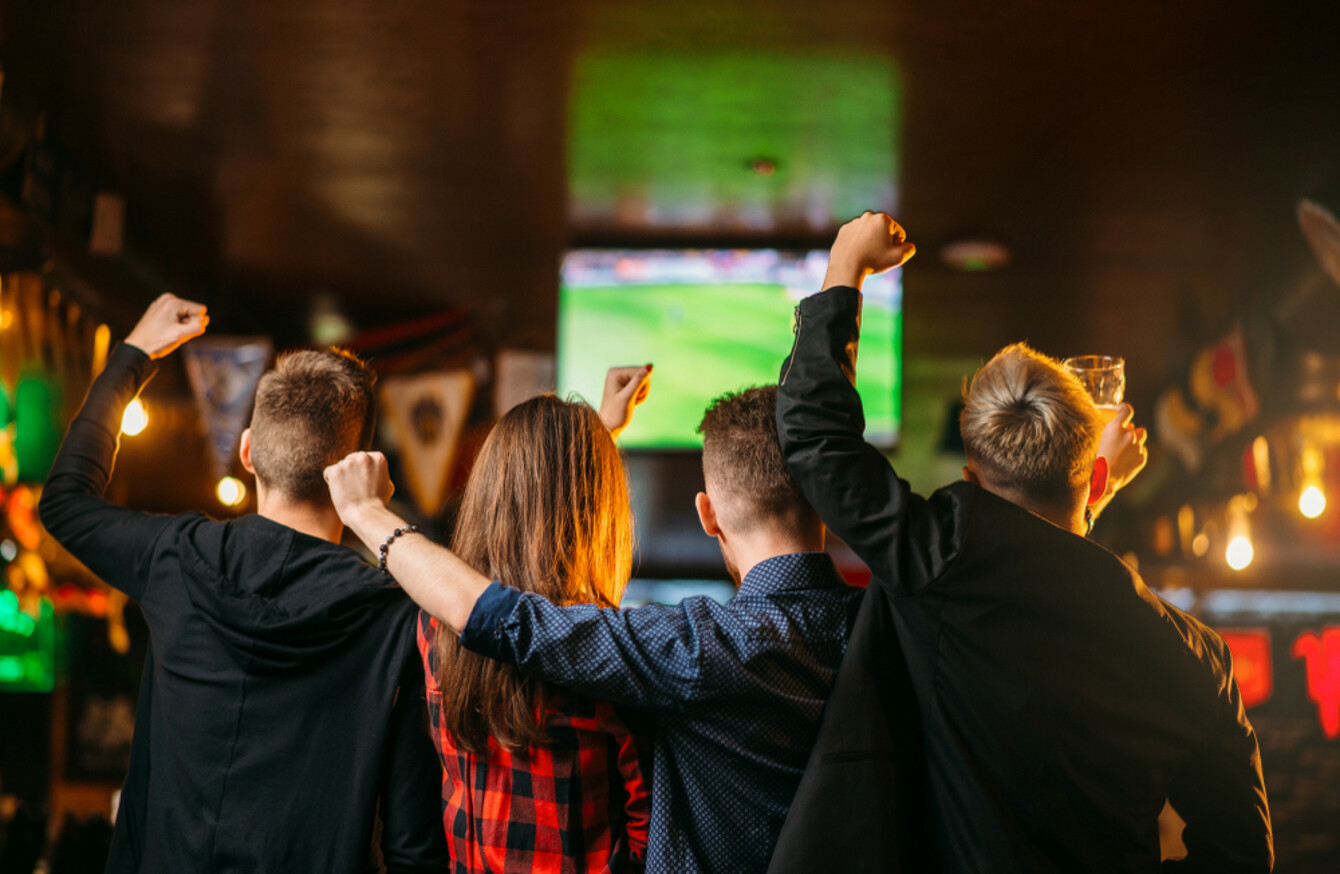 File photo.
Image: Shutterstock/Nomad_Soul
File photo.
Image: Shutterstock/Nomad_Soul
STREAMING SPORTS CHANNELS is becoming the method of choice for the small number of pubs that illegally show sporting events, as publicans may feel "under pressure" to due to high cost of subscription services.
In May, a court in Ennis heard that Sky currently has over 200 active cases against pubs around the country over the unauthorised showing of its sports channels.
Broadcasting paid-for sports channels in pubs isn't like purchasing a package for your home. As a commercial enterprise, pubs are charged far more for Sky with even the smallest pubs paying over €600 to show the sports from these channels a month.
The head of the Vintners Federation of Ireland (VFI), which represents 4,000 members, told TheJournal.ie that, while he doesn't endorse the illegal showing of matches, the high cost of the sports packages may put individuals under pressure to turn to alternative, cheaper providers.
Alongside the cost of paying for these sports packages for pubs increasing in recent times, increases in the cost of insurance has also put pressure on pubs, Padraig Cribben said, adding that while it may be the "wrong" thing to do, ilegal broadcasting is still done by some publicans.
Sky, meanwhile, says that some pubs illegally streaming its events is unfair to other pubs  who pay to do so.
It actively pursues those who show their sports content without paying for it in Ireland and the UK, with its head of commercial piracy last year saying that the aim in tackling the illegal showing of matches was in aid of "protecting our legitimate Sky customers who are unfairly losing business due to this illegal activity".
George Lawson added: "Those licencees who choose to televise content illegally should be aware that they are at high risk of being caught and face substantial penalties."
How is it done?
There are a number of ways that a pub can illegally show a football game that is being broadcast on Sky, BT Sport, Eir Sport etc.
The methods have ranged in popularity in recent years, with a common use of a residential Sky card to show games in pubs now used less and less.
So-called "dodgy boxes" can also be used to show matches from these broadcasters, but it's understood these are also used less and less as they have can have a limited working life.
Streaming is an increasingly effective means to watch sport events, and this method is one that has commonly featured in recent court cases taken by broadcasters against publicans, a legal source said.
Often streams can be free, or can be purchased for a small subscription that is far less than what the licensed broadcasters charge.
Earlier this year, a European-wide investigation led to the dismantling of a large-scale illegal streaming business being run by a crime group in Cyprus.
Europol said these services were "allegedly offered through retailers throughout Europe and sold as a monthly illegal subscription for as little as €20″. The investigation also uncovered methods to relay subscription channels illegally .
So what does Sky do?
It's on public record that when these cases make it to court, Sky cites private investigators it has sent in to check if a pub not subscribed to its service is showing its matches illegally.
It's understood that investigators visit pubs around the country, to see if products are being streamed illegally.
It's fairly straightforward in spotting ones which are illegally showing sports, and this was cited in one case that was brought to court in late 2016.
A solicitor acting on behalf of Sky told the court that live sporting events were transmitted in an encrypted format.
Clubs and pubs licensed by Sky, therefore, would receive a card for unencrypting the signal and broadcasting the events on their premises.
A private detective was sent to a pub on Dublin's north inner city and, on two occasions, said he had witnessed the unlicensed broadcasting of English Premier League matches.
He said that, unlike televisions in Sky licensed premises, the TV in that particular pub did not show the "pint glass" icon at the bottom right of the screen which denotes that the broadcast was legal.
Once that's been established, legal proceedings are usually pursued when no resolution can be found between subscription provider and the pub.
The pubs' perspective
Padraig Cribben, VFI chief executive, told TheJournal.ie that for a pub to provide the full package, it can be an enormous drain on a pub's revenue.
"In real terms, the cost of providing sports channels in a pub – that's the full package of Sky, BT and racing channels – would be at the minimum of around €1,100, for the smallest pub," he said.
That's one of the reasons why some individuals may feel under pressure as to how they provide [the sports packages]. There are a number of alternative providers out there selling packages on the basis that they are legal, and they're not.
The amount that pubs are charged for sports packages to show in their pubs depends on the nature of their licence.
There are six bands of pub licence based on an establishment's turnover the previous year, and dictate how much they pay the government to secure a licence for another year.
Similarly, the amount a pub is charged for Sky and other sports packages is based on which licence band they fall in.
The lowest band is of turnover up to €190,000. Cribben said that 52% of pubs in the country fall within this category.
"The average turnover of these would be around €120,000 to €130,000," he said. "If you have someone paying for the full sports package, that's over €13,000. That's 1/10th. And not just 10% of profit, that's 10% of turnover."
The price of a pint may be high in many places, but Cribben said that you'd need a lot of customers coming in each week to watch the sports to justify the cost.
He cited the current offering from Sky, which has less of a rugby offering than it used to, with a large number of soccer matches, with some GAA games too its main draws for Irish pubgoers.
"But you won't get too many into a pub to watch La Liga (Spanish football)," he said. "It's an extortionate amount to be paying."
Ongoing issue
It's understood that the number of cases ongoing from Sky against pubs around the country has stayed largely constant in recent years, with cases often settled out of court before they get that far.
When it gets to the Circuit Court, and private investigators testify to having witnessed an illegal broadcast, the publican faces difficulty in proving they haven't breached Sky's copyright.
But for pubs around the country that may still be struggling, the cost of broadcasting sports is a huge one.
Cribbin added: "The two single biggest drains on pubs are Sky and insurance. It's a massive drain."