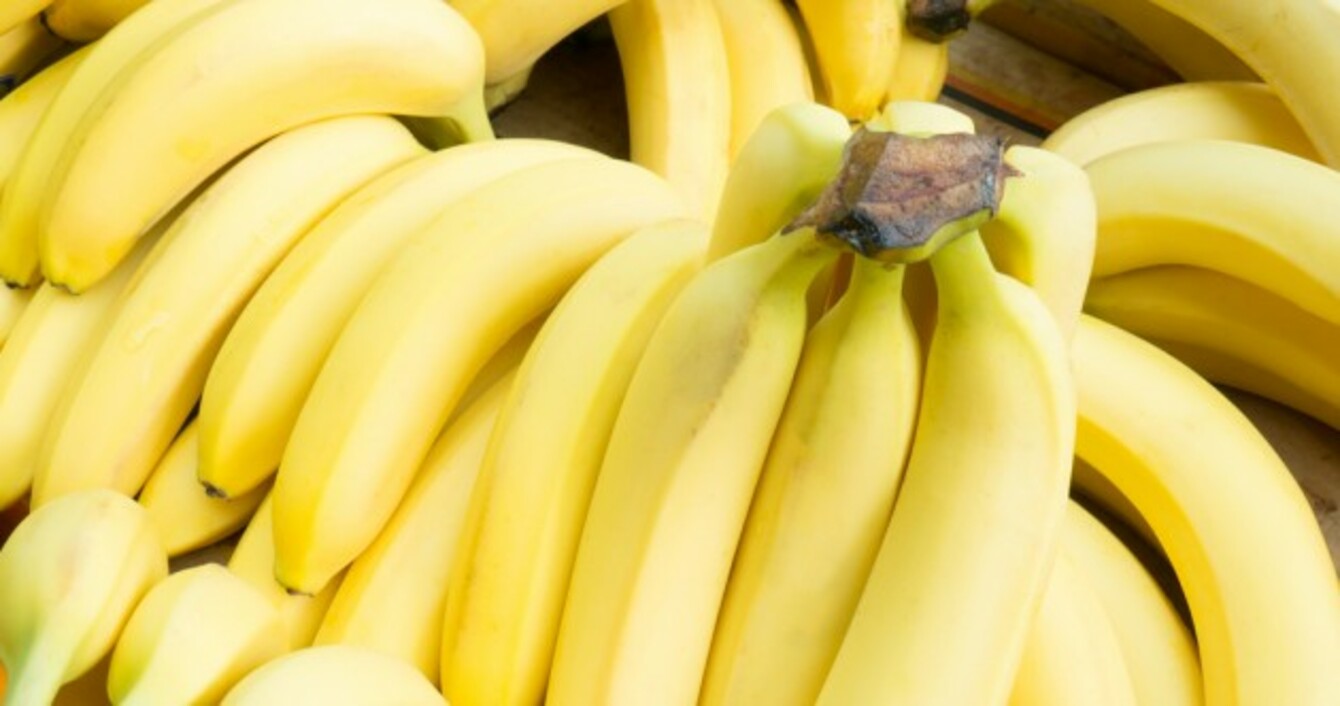 Image: Shutterstock/PS Prometheus
Image: Shutterstock/PS Prometheus
A BANANA, FUNNILY enough, isn't a fruit, it's an herb. It is also one of the most political commodities we put in our shopping baskets every week.
It's a political commodity because of the long history of control of the global banana industry by just a few large companies, and because of the ongoing exploitation of small farmers and workers in the banana industry, even while others in the supply chain make handsome profits.
The Fairtrade system is an attempt to redress this economic and power imbalance between powerful companies on the one hand, and small farmers and workers on the other.
All Fairtrade bananas you eat come from the Dominican Republic
Currently, all of the Fairtrade bananas sold in Ireland come from one country in the Caribbean – the Dominican Republic – which itself has had a long and troubled history and poor record on human rights, especially for migrant workers.
Recent changes in this large migrant labour force from Haiti, the poorest country in the western hemisphere, and which the Dominican Republic shares the island of Hispaniola with, indicate that it is now beginning to see the importance of improving standards in the banana industry, and of the benefits of Fairtrade banana sales.
When hope and history rhyme…
Sometimes historic occasions, like seeing black people in South Africa queuing for days to vote for the first time, or seeing the Berlin Wall coming down, are when, in the words of the poet Seamus Heaney, hope and history rhyme – and the world looks on in a kind of disbelief. These are always occasions that people thought would never happen – and then somehow they do.
It felt like a historic time to be in the Dominican Republic in September, that something significant was happening, though it has not been widely commented on in public. A migrant labour force from Haiti, who for decades had no protection by law in the Dominican Republic, were receiving the paperwork that would begin to secure their rights.
The Dominican Republic shares a land border with Haiti and hundreds of thousands of poor Haitians have crossed the border to work there.
I visited the Dominican Republic as part of a delegation from European Fairtrade organisations, namely the UK, Sweden and Ireland, who buy much or virtually all of their Fairtrade bananas from the country.
We met people like Jean Francois and Ditapieu, two Haitians who have both been working illegally for over 20 years. You could see in their presence how proud they felt to be stepping out of a shadow world and into their own lives. Real people with a name and soon to have their papers! They were both waiting in line to receive their carnet (identity card) which will legally recognise their presence in the Dominican Republic.
It is valid for one year, by which time they need to get a Haitian passport. They are just two of hundreds of thousands to secure regularisation since the process began in June 2014. Dominican Vice Minister for Labour, Winston Santos, informed us about 97% of banana workers on larger plantations have now been registered. This represents a social revolution in the real sense of the phrase.
It challenged my preconceptions to be talking about the problem in a country long criticised for its treatment of migrant workers - at a time when Europe is seeing many people seeking refuge from war, similar to World War Two. Maybe there are things that we could learn from the Dominicans?
The same problems affecting illegal Haitians in the Dominican Republic are estimated to affect more than 20,000 illegal migrants in Ireland and 50,000 illegal Irish migrants in the US. Migration issues literally know no borders and affect countries everywhere.
Fairtrade and the Dominican Republic.
Banelino is a smallholder banana cooperative based in the northwest banana-producing region of the Dominican Republic. About 90% of what they produce is sold as Fairtrade.
The organisation was originally founded by 30 members who acquired their farms through the agrarian land-reform. Under the dictator Trujillo who ruled from the 1930s, arable land was seized and peasants were evicted. However, after Trujillo was overthrown in 1961, an agrarian reform took place where land was redistributed to the 'campesinos'.
Banelino's membership has now grown to almost 300 members, one quarter of whom are women.
The co-op spends a significant proportion of its Fairtrade premium income per year on health programmes: an on-site clinic which offers professional care to over 3,000 patients a year and a small pharmacy where the medicine is sold to people at cost. They also have equipment to carry out blood analyses to test for deficiencies and HIV, vital in an area where people do not get tested as poverty levels are so high.
On average 10,000 farmers, workers and their families are treated each year through their clinics and mobile health-unit services.
As a colleague from the UK said, what struck her most was that if Banelino did not exist, neither would a number of schools or teachers in the two regions of Mao and Montecristi. The 10,000 people who benefit every year from Banelino's health programme do not have any alternative.
Banelino's commitment to empowering not only themselves but others in their community is both inspiring and humbling. It is estimated that nearly $10,000,000 extra in Fairtrade premium was earned through Fairtrade sales in 2014 in the Dominican Republic.
The Fairtrade system requires that at least 80% of the extra money earned through Fairtrade on plantations be spent on community-based or collective projects on behalf of the workers. 20% of the Fairtrade premium can be used as an extra bonus payment.
On a couple of the plantations we visited, this amounted to more than an extra month's salary.
While we were in Dominican Republic, we were able to participate in a round-table discussion with representatives of larger plantations (some of whom employ hundreds of people), along with representatives of trade unions, the local Fairtrade producer organisation, and other NGOs.
The meeting was the first of its type and, though difficult sometimes, it was also an example of how Fairtrade can bring people together in a common cause for both shared and individual benefits.
It was brilliant to sit with and see the groups of Haitian and Dominican workers trying to figure out together the best way to spend their Fairtrade premium money; the willingness of the trade unions and employers to sit together for the common benefit of their banana industry; the ability of the local Fairtrade organisation, the CLAC, to bring everyone together for round table discussions; and the humour, and slagging from some of the business people running the banana plantations.
The trip will stay with me for a long time to come. Mostly I'll remember the long lines of Haitians collecting their registration papers, the generosity of all the Dominicans who hosted us, engaged, discussed, and disagreed with us. Workers who spoke openly about the problems they face and their various hopes for a better opportunity for everyone in the Dominican banana industry.
Where do we go from here?
We can help them by buying their Fairtrade bananas, by continuing to support dialogue and inclusion in the banana sector there, and by recognising the progress they are making.
On the cusp of celebrating 20 years of Fairtrade in Ireland in 2016, I'd also encourage Irish retailers to do a lot more, and to help create some historic moments here in Ireland for banana farmers and workers.
Peter Gaynor is Executive Director of Fairtrade Ireland and Chair of Fairtrade International's Workers' Rights Advisory Committee.