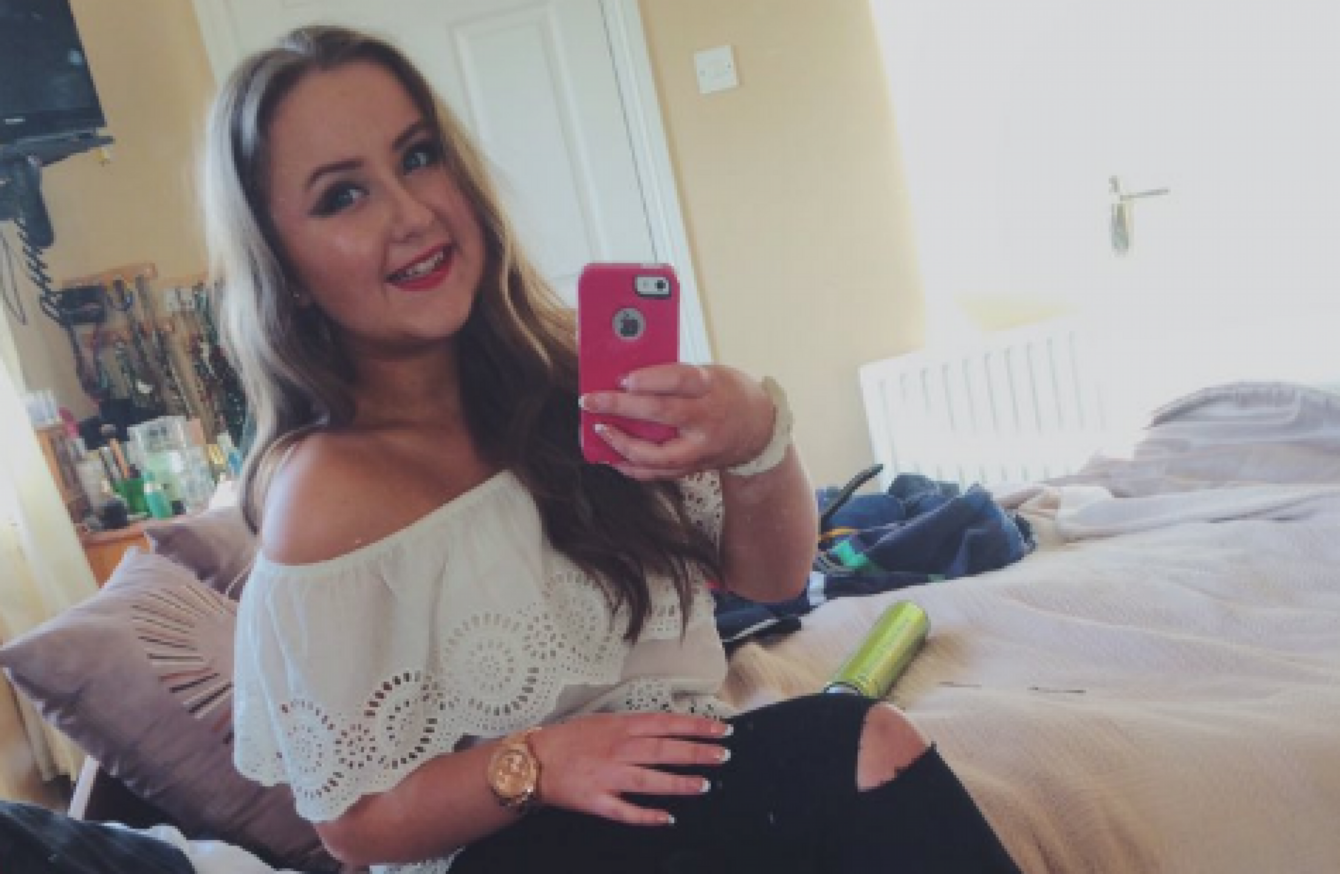 DEAR JUVENILE IDIOPATHIC Arthritis,
My name is Niamh, I'm 17 years old and I'm from Tipperary in Ireland. Little did I know that 14 years go, you were hiding in my body waiting to destroy me. I'm writing this letter not to praise you, but to make people aware of what you can do and the suffering that you cause to people.
Not only your victims, but the families of your victims, the friends of your victims and the boyfriends and girlfriends of your victims.
Little did I know then that one swollen knee would soon turn into lots of swollen joints and sometimes all of them at once. Little did I know when I was told it was just growing pains or I must have fallen over that you would fight back even stronger.
Little did I know that you would make me use a wheelchair, which is my worst nightmare, and little did I know that you were slowly going to take over my life, one day at a time.
I was just gone three when you entered my life. You made my knee swell up to the size of a balloon, so much that I couldn't walk for weeks. You gave me a rash, a temperature and wouldn't let me out of bed.
You made my family worry and made me cry. After weeks of tests and hospitals you were given a name: Juvenile Idiopathic Arthritis, and I was your next victim. You made my mum and dad cry, but not me because I was too young to understand that you were not just another obstacle I would meet, you were going to be here for the rest of my life.
When I was seven, you came back with a bang and not just in my sore knee, no you entered my other knee too – as if one knee wasn't enough for you to take as your own.
'You wouldn't let me walk'
You made me miss out on being a child sometimes, you wouldn't let me on trampolines or bouncy castles, you wouldn't let me run as fast as my friends, you wouldn't let me write in school or play with my friends. You wouldn't let me walk, so I ended up on crutches and in my wheelchair for months, you wouldn't let me go outside and play because I was too tired from being awake all night in pain.
You wouldn't let me have a normal childhood. You made me visit Crumlin hospital more than I visited my own nan.
When I was 12, I went into secondary school. Woohoo, a new start! But boy was I wrong. You came back again and you hit me harder than ever before. All my upper joints suffered. For my first year I didn't tell my new friends or teachers about you because I thought the less I spoke or thought about you, you would go away.
But like any strong bully, you fought back stronger than ever. I kept my mouth closed because I didn't want to seem weird. You took my normal life from me.
I went through my junior cert year on injections, more tablets than I can count, blood tests and physio and counselling every week, and crying myself asleep every night because I didn't think I could go to school anymore. All of this failed so I was left with no choice but to go to Crumlin hospital every week for drug infusions.
'You took my happiness'
They made me sick, fatigued and made my bloods a mess, but it slowly started to ease my pain. I got through my Junior Cert thanks to medications, teachers and positive thinking. I didn't let you get in my way.
JIA, you make me fall asleep in school because of painful, sleepless nights, you make me feel stupid for crying in front of everyone at school with the pain you make me feel. You make me embarrassed to tell teachers why I really don't have my homework done or why I can't pay attention in class, so I lie and say "I'm fine!".
You make me feel weak because of the anaemia I got from all the medications I have been taking since I was three, you make me take medications that make me vomit, gain weight and lose my hair. But I will not let you take anything else from me. I will be doing my Leaving Cert in 2017 and you better not stop me!
You took my independence, my education, my mobility, my sleep and my happiness, so why can't you take the pain from my life?
But you won't make me stop you from taking over my life anymore, you won't make me feel bad for not being able to pick up something off the floor, get out of bed, go out with my friends and most of all you won't beat me.
You have given me the chance to meet other children like me with thanks to ICAN – The Irish Children's Arthritis Network. My friends, family and everyone affected by you hates you.
But I want to thank you for making me aware that there are people younger than what I am, going through the same thing and we will not sit in silence anymore, so I take 16 tablets a day and two injections a week to keep you at bay, you will not take my dreams away anymore.
Yours with love,
Niamh
Niamh Costello is a juvenile arthritis sufferer and 6th year student at Coláiste Dún Iascaigh in Cahir Co Tipperary. She will sit her Leaving Certificate next summer.