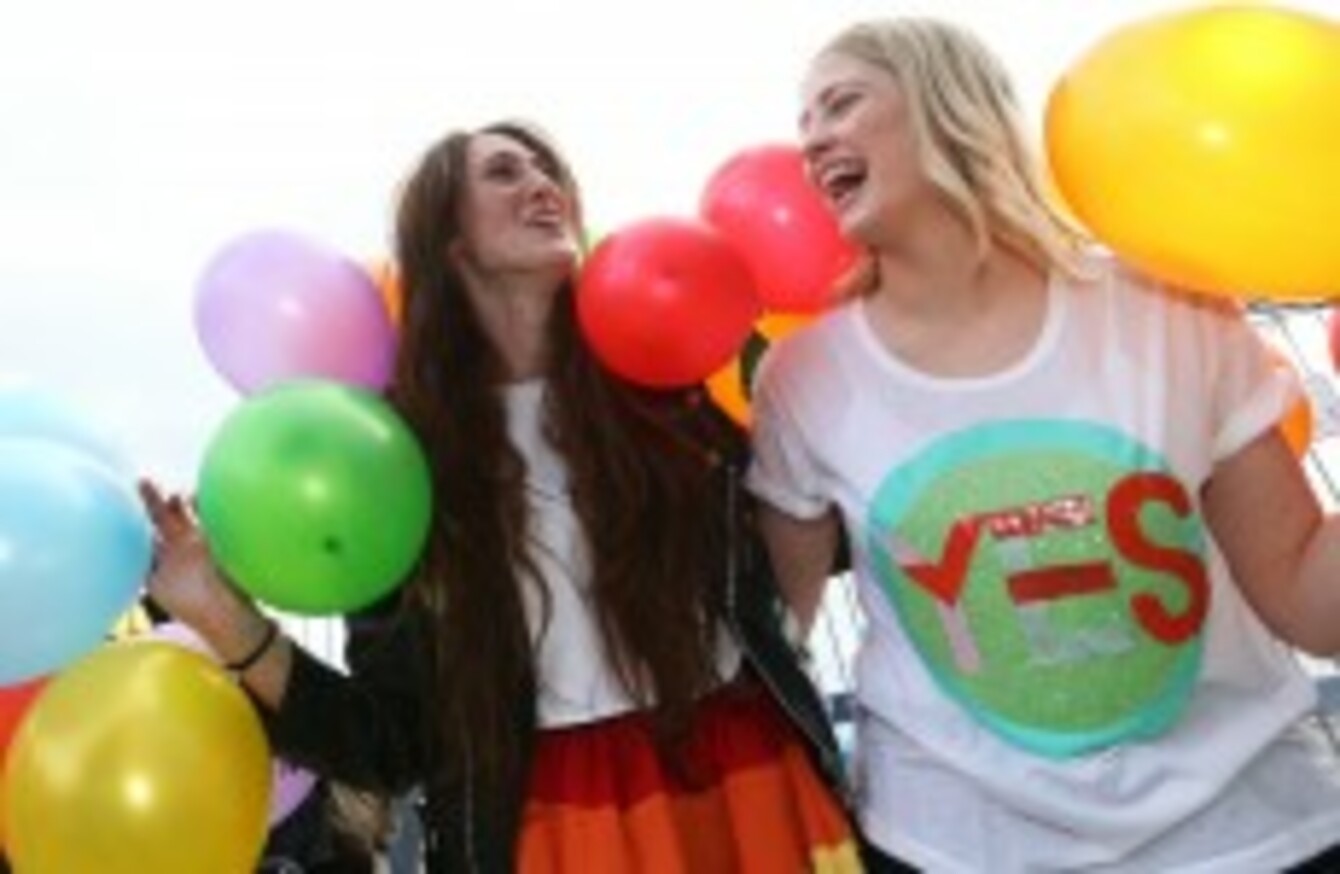 Hannah Little and Leanne Keogh living in London but originally from Dublin join Yes voters who came on the Boat from England to Ireland.
Image: Sam Boal/Photocall Ireland
Hannah Little and Leanne Keogh living in London but originally from Dublin join Yes voters who came on the Boat from England to Ireland.
Image: Sam Boal/Photocall Ireland
THE NATION ONCE described as a 'priest-ridden backwater' has made history by becoming the first country in the world to adopt same-sex marriage by popular vote. In a sometimes bizarre but never less than riveting referendum campaign that extended from Pantigate to Pingate, the love that dare not speak its name resounded in every town and village in Ireland. Notwithstanding claims on both side of the debate that freedom of speech was suppressed, the arguments for and against marriage equality were thoroughly and exhaustively aired and debated, and the people rendered their verdict.
In one sense, very little has changed. Seventeen short words will be added to the Constitution, and life post-referendum will no doubt carry on very much as before, as it has in all of the other countries that have adopted same-sex marriage since 2001.
In another sense, everything has changed, and not only for Ireland's LGBT community, for this victory is about much more than the vindication of the human rights claims of a newly empowered but still much discriminated against minority.
A victory for democracy 
Passage of the referendum is, first of all, a victory for popular democracy. Ever since Socrates was put to death for allegedly corrupting the youth of ancient Athens, many of the world's greatest thinkers and most insightful social commentators have maintained that direct democracy is the worst possible form of government.
In the immediate aftermath of the French Revolution Edmund Burke expressed the then orthodox view of democracy when he described it as 'uncontrolled' popular power which would lead to the oppression of minorities. Later, in the nineteenth century, Alexis de Tocqueville warned of the 'tyranny of the majority', a phrase taken up by the English liberal philosopher John Stuart Mill in his classic essay On Liberty and cited by subsequent generations of liberal thinkers who pointed to the example of homosexuality as a limit case of public tolerance.
The outcome of Ireland's same-sex marriage referendum suggests otherwise. An initiative of the Irish Constitutional Convention, the referendum was first proposed by 66 ordinary citizens randomly selected and broadly representative of Irish society. Having listened to personal testimonies and evidence presented by advocacy groups on both sides of the question, and following careful deliberation with the political representatives present, they voted overwhelmingly to recommend a constitutional provision for same-sex marriage.
An unambiguous victory for equality
The referendum itself was subsequently discussed and debated at length at dinner tables and workplaces and public forums across the nation. In the process, a whole new generation of young people were inspired to participate in the political process for the very first time, and they led the way in advocating for this much-needed democratic social change.
The outcome of the referendum is also an unambiguous victory for equality. In voting to open the institution of marriage to same-sex couples, the people of Ireland not only affirmed the equal rights of their LGBT brothers and sisters. They also expressed their desire to live in a more inclusive Ireland that treats all its citizens with equal dignity and respect regardless of the gender of the person they happen to love. Critics of same-sex marriage argued that it was not discriminatory to treat gay relationships differently, but the people decisively rejected this view, affirming the proposition that the love of gay people is no different from that of their heterosexual peers, and thus no less deserving of respect and legal recognition.
Like some great beacon, news of the vote is already spreading around the globe, inspiring hope in the hearts of those fighting for equality in countries where LGBT rights are routinely violated. Some are already suggesting that if it could happen in 'conservative Catholic' Ireland, it could happen anywhere. In Ireland, a new generation of young LGBT people have discovered that they needn't settle for second class citizenship, and are more determined than ever to carry on the struggle for full social equality. Far from marking an endpoint, as many commentators have suggested, passage of the marriage referendum is only a beginning.
Finally, and perhaps most importantly, this referendum will be remembered as a victory for love. The victory is a very personal one for all those LGBT people who wish to celebrate their love by means of civil marriage. Beyond that, however, it is also a victory for love in a much more public and political sense of the word. While the referendum debate was at times predictably polarising and divisive, it also served as a catalyst for profound social change by prompting us to think beyond our narrow self-interests and helping us to overcome some of our deepest fears.
#Open journalism No news is bad news Support The Journal

Your contributions will help us continue to deliver the stories that are important to you

Support us now
A veritable army of lovers
This was apparent in the heart-warming stories of devoutly religious parents embracing gay children in spite of their faith-based reservations. It was evident in the inspiring coming out narratives broadcast to a nation, from politicians to a leading journalist to ordinary citizens who found the courage and strength to at last be true to themselves. It was manifest in the deeply moving solidarity shown by straight people who stood by their gay brothers and sisters in a time of need. And it was tangible in an inspiring Yes Equality campaign that saw thousands of volunteers, a veritable army of lovers, take to the streets tirelessly night after night to engage in honest dialogue with their fellow citizens.
The wonderful Alice Walker once observed that there is a moment in any kind of struggle when one feels in full bloom, vivid and alive. At this moment fear may turn into courage, sorrow into joy, and funerals into celebrations. Because whatever the consequences, people standing side by side have expressed who they really are, and that ultimately they believe in the love of the world and each other enough to be that love. Those who gave their all for a 'yes' vote have seen their faith in the Irish people vindicated and rewarded, and all those who cherish democracy, equality and love will celebrate the result.
Dr Laurence Davis is College Lecturer in Government at University College Cork.