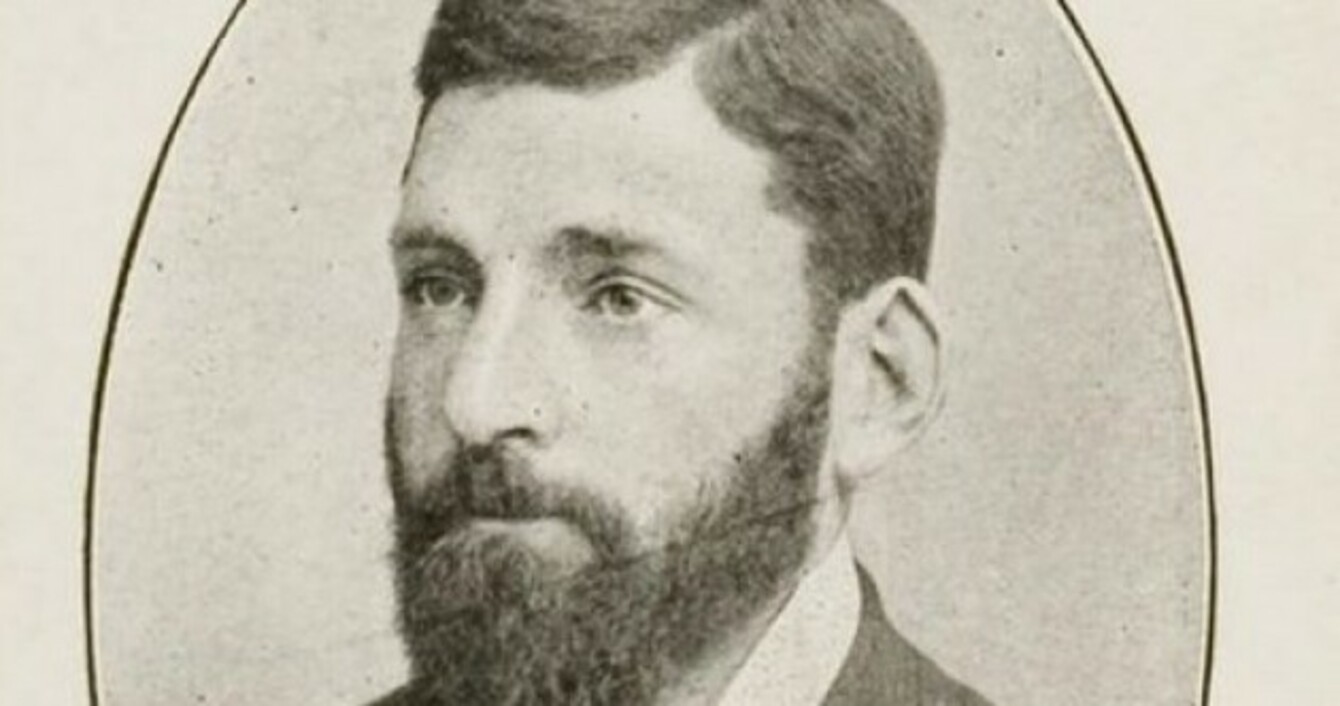 THE RECENT DECISION to grant a state funeral with military honours to Thomas Kent, after his remains were disinterred from Cork Prison and DNA tested, has brought him to national attention in the packed build up to 2016.
Unknown to most, including many who travel through the train station named in his honour in County Cork, Kent is among the least recognisable of the men executed in 1916.
Somewhat of an anomaly, he was executed in Cork following an event that occurred after the Easter Rising had been suppressed. But who was Thomas Kent?
Born on 29 August 1865 in Bawnard House, Castlelyons, County Cork, Kent was the fourth of seven sons and two daughters of large farmers David and Mary Kent.
Having spent five years in Boston from the age of 19, Kent returned to Cork around 1890 and joined his brothers in nationalist land agitation. After the death of Charles Stewart Parnell in 1891, having earlier served a two month prison sentence, he withdrew from nationalist politics for over twenty years.
In 1914, the Kent brothers who had remained in Ireland – Thomas, David, Richard and William – were among the first to join the Irish Volunteers in Cork. Their company in Castlelyons was said to be the first teetotal unit in Ireland and the Kent brothers became well known in the county as prominent and active Volunteers.
A raid on the family home in January 1916 landed Thomas another two months in prison for illegal possession of arms.
The entirety of Cork's Easter Rising action was centered on Bawnard House and the Kents. By the time the rebellion had been put down, no shots had been fired in anger in Cork.
As part of a national sweep of prominent 'Sinn Feiners', a small group of Royal Irish Constabulary under Head Constable William Rowe set out from Fermoy for Bawnard House to arrest three of its primary targets: Thomas, Richard and David Kent, who had spent Easter week 'on the run' but returned home after the Dublin surrender.
Also in the house was William Kent, who was believed by the police not to share his brothers' extremism, and their octogenarian mother. The police called the Kent brothers outside but were instead fired on from the house. Head Constable Rowe was shot in the head; it was reported that 'the top of his head was blown off and brain matter lying around him'.
After a number of hours – the details vary depending on the source – the standoff between the police and the Kents had ended. Rowe was dead. Richard Kent had been shot and killed trying to run away. David Kent was also shot and seriously wounded; he was arrested along with Thomas and William.
Thomas and William Kent were tried by field general courts-martial for 'wilful murder' in Cork on 4 May 1916. Their case was, in some ways, emblematic of the somewhat unpredictable course of the 1916 executions. Thomas was sentenced to death but William was acquitted. By the time David Kent was fit to stand for trial in Dublin in June, public opinion made another execution unthinkable.
The sentence against Thomas Kent was confirmed by General Sir John Maxwell and carried out by firing squad on 9 May in Cork Detention Barracks. Kent died clutching a set of rosary beads.
The execution of Thomas Kent had its own effect in Cork. Liam Lynch, die-hard republican and anti-Treaty leader during the Civil War, for instance, had been a Redmondite nationalist 'until the day the British attacked the Kents at Bawnard and he saw Thomas Kent being brought in bleeding through the town of Fermoy'.
Strictly speaking, it was Irish policemen rather than 'the British' who had come to Bawnard House that evening, but that hardly mattered: Cork had its 1916 martyrs.
As the state funeral takes place, Thomas Kent will, for the moment, take centre-stage in the 1916 commemorative narrative.
Brian Hughes is an Irish Research Council Postdoctoral Fellow in the Department of History, Trinity College Dublin. He has a PHD in Modern Irish History from Trinity College. His primary research interest is the impact of the Irish Revolution on individuals and communities and specifically the use of intimidation and coercion by the IRA between 1917 and 1922.
The state funeral will take place in Kent's hometown of Castlelyons at St Nicholas' Church from 1.45 pm today. RTE will be televising the ceremony (which will be attended by the President, Taoiseach and Tánaiste) live from 1.30pm. The ceremony itself will be celebrated by Bishop of Cloyne William Crean.