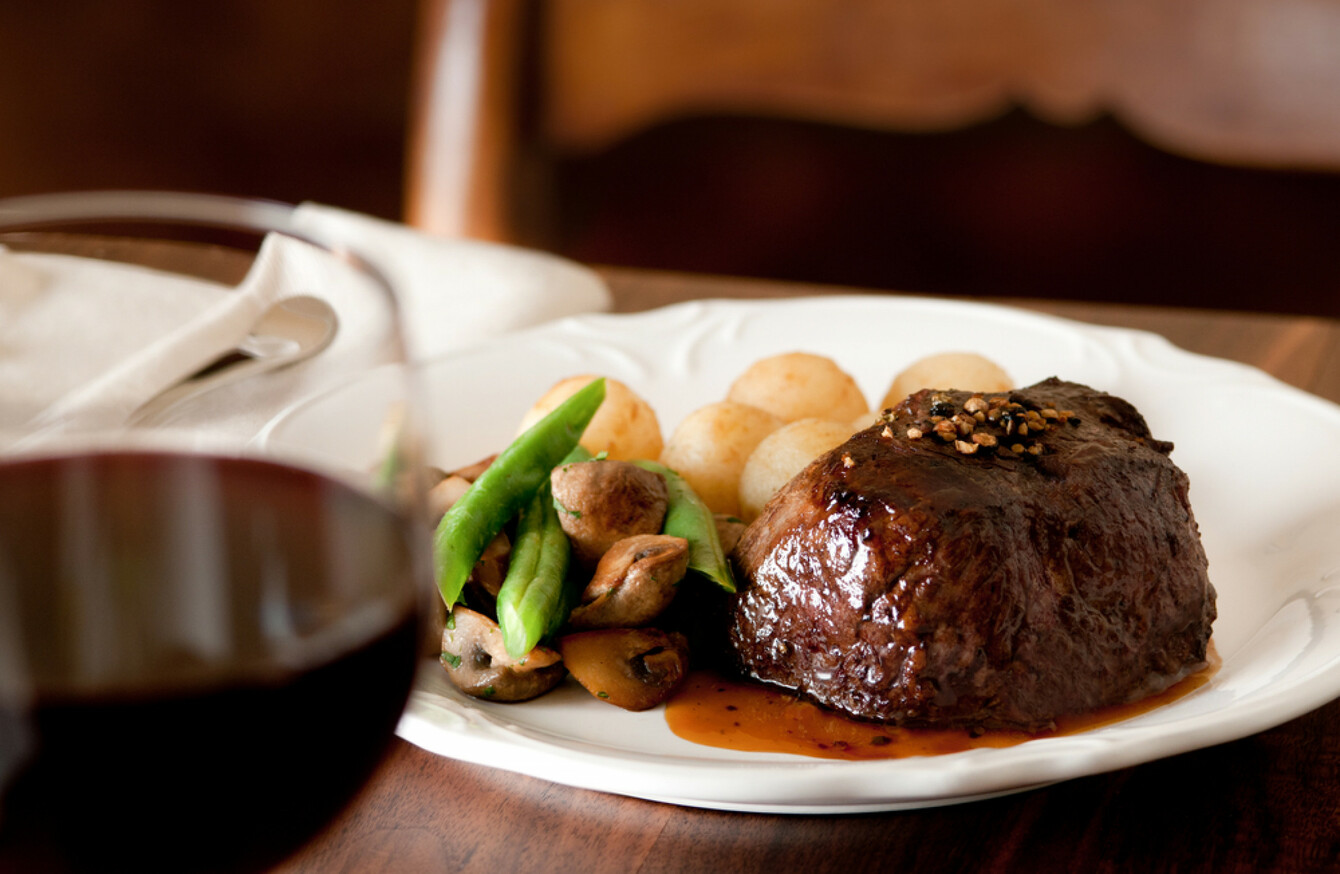 Image: Shutterstock/cobraphotography
Image: Shutterstock/cobraphotography
EVERY HOME COOK has their own kitchen hacks, cheats and traditions, and we want to know yours.
Each week as part of our Kitchen Secrets series, we ask our readers to share their cooking tips and go-to-dishes. From the secret to quick-and-easy dinners, to the best way to scramble an egg, we set a new question every seven days.
This week, we're talking about the essential skills in putting together great meals.
What's your favourite romantic meal to make for two?
For next week, we're asking: Do you have a go-to homemade salad dressing – and what's in it? Comment below (or email food@thejournal.ie) and you could see your response in the magazine!
Chips and champagne, you can't go wrong:
My favourite has to be a baked Camembert, with crusty bread, grapes, chutney, sliced apple or pear, whole pecans or walnuts and some tangy fruit preserve if you're super fancy. Follow with chocolate of some sort, a baked, runny soufflé or peanut chocolate sauce over ice cream. 
Alternatively… splash out on some champagne, buy really good chips and make some pink sauce to dip. Follow with chocolate!
- Donna O'Shaughnessy 
Steak night, with fried onions for extra deliciousness
When it's just the two of us, and we want something really special, we go for steak dinner! Preferably a good cut of well matured steak. Once it's cooked to your liking (we do four to five minutes for medium), remove it from the pan to rest. Fry sliced onions the same pain, make some gravy and add it in too. Serve with homemade chunky chips. Beautiful on a winter's day in front of a fire with a lovely bottle of red.
- Olly Keegan
This impressive veggie pasta is my go-to
For a veggie date night, I make a heart-warming tortellini with red pesto. Drain a tin of kidney beans, and either cook them on the stove with water, or cook them in the microwave for 5 minutes. Drain again once cooked and then leave on the side.
While they're cooking, add the oil to the pan, and add three cloves of diced garlic, some chili flakes and oregano. Melt some butter, add two sliced portobello mushroom, cook for 30 seconds and add a good glug of soy sauce. Let the mushrooms cook for a few minutes on a high heat. Add the beans and a tablespoon of mustard, cook for 2 -3 minutes and scoop in some red pesto. Wilt in some spinach. Plate up the fresh tortellini or ravioli (cooked to your liking), and top with the mushroom sauce. I serve mine with garlic bread and red wine.
- Paul McNamara 
Try an intensely creamy red pepper sauce over quick-poached fish
Poached monkfish (or any firm, white mild fish) with a creamy red pepper sauce is easy, tasty and a bit special. Sweat a diced red pepper in a tablespoon butter, remove from pan and set aside. Pour 250ml cream in pan and reduce until there's about 3 tablespoons left. Whisk in another 120g butter, bit by bit, then pepper back in, thinning with water if necessary. In a second pot, bring some salted water to the boil, add monkfish (cut into 1cm pieces) and simmer for 4 – 5 mins. Drain fish and serve with the creamy sauce. 
Perfect for Valentine's Day, with mashed potato and steamed greens and lemon tart to finish off.
- Fiona Staunton
An Asian steak sharing platter is perfect for two
My favourite dinner for two is a sharing dish, a seared sirloin platter with an Asian dipping sauce. Rub a large sirloin generously with oil, then sear in a pan on all sides – 12 minutes for medium rare or longer if preferred. Remove meat from pan and rest for up to 15 minutes. 
Prepare the accompaniments: 1/2 cucumber cut into matchsticks, a handful of lamb's lettuce and any other small leaves, plus some toasted sesame seeds. For the dipping sauce, mix four tablespoons of soy sauce, the juice of one lime, a large pinch of chilli flakes and a pinch of caster sugar. 
To assemble, take your sharpest knife and carve the steak into very thin slices, fanned out onto a serving platter. Scatter over the cucumber, the leaves and cress, followed by toasted sesame seeds. Serve with your dipping sauce and cooked sticky rice.
 - Jennifer Dillon
Pan-seared prawns for a surf and turf dinner
To turn steak night into surf and turf night, add pan-seared prawns! While resting the meat, heat a separate pan, add some butter, and toss in the prawns .Fry for about one minute, just until they turn pink, then squeeze in the juice from half a lemon (this will evaporate) and season well.
- Angela Nolan 
Super-fancy scallops served with Prosecco
Is this a normal night in or a *special* night? If the former, then I'd make something simple like a pasta dish with a creamy mushroom and parsley sauce, with a good red or white wine.
For a really special occasion, I'd start with scallops and prawns, cooked in sesame oil and topped with coriander; and for the main course, Irish lamb, served pink & accompanied with sautéed rosemary new potatoes, baby carrots and asparagus (the latter would be for me only as my wife isn't a fan!). Prosecco to start and a red wine like Sangiovese or Tempranillo for the main. Delicious!
- Ross Boxshall
It's all about the side dishes
I love going all out with my side dishes if I'm serving up great meat for the main: crispy hasselback potatoes, steamed green beans and a quick homemade pepper sauce (sautéed shallot and garlic, a dash of wine and cream, a teaspoon of wholegrain mustard, all simmered and reduced until thick, and seasoned with salt and plenty of black pepper).
- Donna Connolly