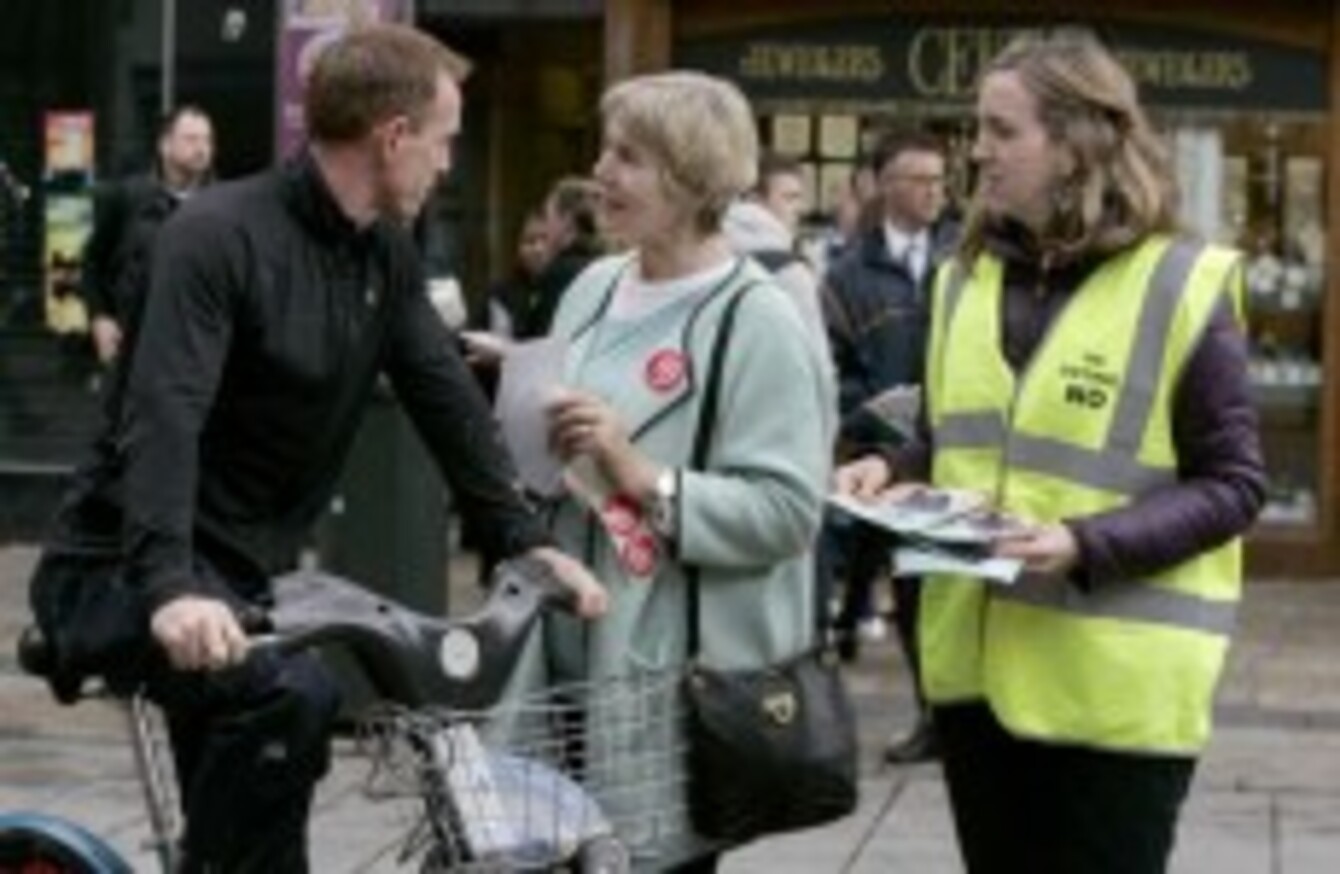 THE COUNTDOWN IS on with just three sleeps left until it's time to cast your vote on two referendums.
The same sex marriage referendum and the presidential age referendum will take place this Friday.
Last week we asked if you had any questions ahead of the referendums for the chairman of the Referendum Commission Mr Justice Kevin Cross.
The role of the Commissioner is to explain the subject matter of referendum proposals, promote public awareness and encourage people to vote. The Commissioner must remain impartial while carrying out these duties.
Unsurprisingly all of the questions were about the same-sex marriage referendum (sorry presidential age referendum). You wanted to know what will happen to civil partnerships, the impact on surrogacy and about fathers rights among other issues.
Here are the answers to some of the questions you had for the Commissioner:
Q. What are the exact differences between civil partnership and marriage?
A. The main difference between civil partnership and marriage is that marriage is recognised in the Constitution and civil partnership is not. A married couple are a family in the Constitutional sense and certain rights derive from being a family. In practice, there are very few legal differences between married couples and civil partners but married couples have Constitutional and legal protection while civil partners have legal protection only. Constitutional protection can be removed only by the people.
Q. What exactly will a Yes vote give to same sex couples that they do not have already?
A. Constitutional recognition as a family if they marry
Q. Some people suggest adding civil partnership, and changing it to mirror marriage, to the constitution will make others equal. Does it create a constitutional contradiction if there are two matching scenarios but of a different name?
A. We are not being asked to do that in this referendum so the Referendum Commission has not examined it.
Q. If there is equality for all does that mean heterosexual couples can opt for civil partnership instead of marriage if they wish?
A. The government has said that it does not intend to allow for new civil partnerships if the referendum is passed. Existing civil partners will retain their current rights or they may choose to marry if they wish.
Q. Will the contract of marriage remain the same before the courts or could prenuptial agreements come in? Will same sex couples be allowed pre nups?
A. There is no specific legislation dealing with prenuptial agreements at present. Such legislation could be introduced whether or not the referendum is passed.
Q. At present heterosexual couples who want to marry, have a long list of categories of people they cannot marry, while a same sex couple have a much shorter list to comply with for civil partnership. Will the ssc have the same rules applied to their union as to the union of men and women? Or will the rules for men and women be relaxed?
A. The government has said that its intention is to introduce legislation proving that the same prohibited degrees of relationships will apply to same sex marriages as to opposite sex marriages.
Q. In relation to what the no side have been saying that if the marriage referendum passes and same sex couples will have a right to procreate: is there a constitutional definition of what procreation is/isn't and if there isn't, has there been any cases that define what procreation is e.g.) is it through sex, adoption, surrogacy etc?
A. The courts have held that married couples have the right to beget children. However, this does not necessarily mean that the State must facilitate a couple who cannot have children to do so. For example, it has never been decided that the Constitution confers an entitlement on opposite sex couples to fertility services, assisted human reproductions services or surrogacy.
Q. What are the current laws relating to surrogacy and how will these be affected by a "yes" vote?
A. There are no current laws on surrogacy. The government has said that it intends to introduce legislation to regulate surrogacy.  This is expected to happen whether or not the referendum is passed.
Q. Will the same-sex marriage referendum prevent adopted or surrogate children from tracing their genetic heritage? At what age do children become entitled to this information? Presumably records are kept of the genetic heritage of all children?
A. The law on access to such information by adopted children is complex as both the child and the parent (s) have rights. However, it is unrelated to the referendum. There is no law on access to such information in the case of children born through surrogacy.
The law on assisted human reproduction – the Child and Family Relationships Act 2015 does provide for records to be kept and for the children to get access to information about the donor. This law is not yet in effect.
Q.  Should the amendment be rejected, but the CaFR Bill pass what will be the legal relationship between the Civil Partner of a biological parent (with custody) and the child/children in the event of the death/incapacity of the biological parent/civil partner? Will the remaining civil partner have guardianship or the means to acquire it?
A. The Child and Family Relationships Act 2015 has been passed. It provides for civil partners to apply for guardianship in certain circumstances. The decision will be made in the best interests of the child. This will be the law whether or not the referendum is passed.
Q. There are also some issues where divorce doesn't bring an end to possible applications by a woman for maintenance from her divorced husband, even when he remarries. How will ssc's be affected by this? 
A. A man can apply for maintenance from his divorced wife in exactly the same way – the law is gender neutral in this respect. The same laws will apply to married same sex couples as to married opposite sex couples so divorced spouses in same sex marriages will have the same rights as divorced spouses to apply for maintenance.
Q. At present men are jailed for non- payment of maintenance under 'contempt of court' while few or no women are jailed for breaking family law court orders in relation to access among other orders. How will the law be applied to gay couples?
A. I don't agree that family law is enforced in the manner you describe. I expect that the law will be enforced impartially in all cases.
Q. Is there any danger of the RefCom being brought through the courts and challenged in a similar way to the Children's Referendum? Do they feel they have been impartial throughout this campaign?
A. The Referendum Commission was not challenged in the case of the Children Referendum. The government was challenged. The Referendum Commission is legally obliged to be impartial and I believe we have been.
If you have any more questions for the commissioner have your say in the comments section below. Cross will be addressing concerns people may have on the practicalities of voting this week.