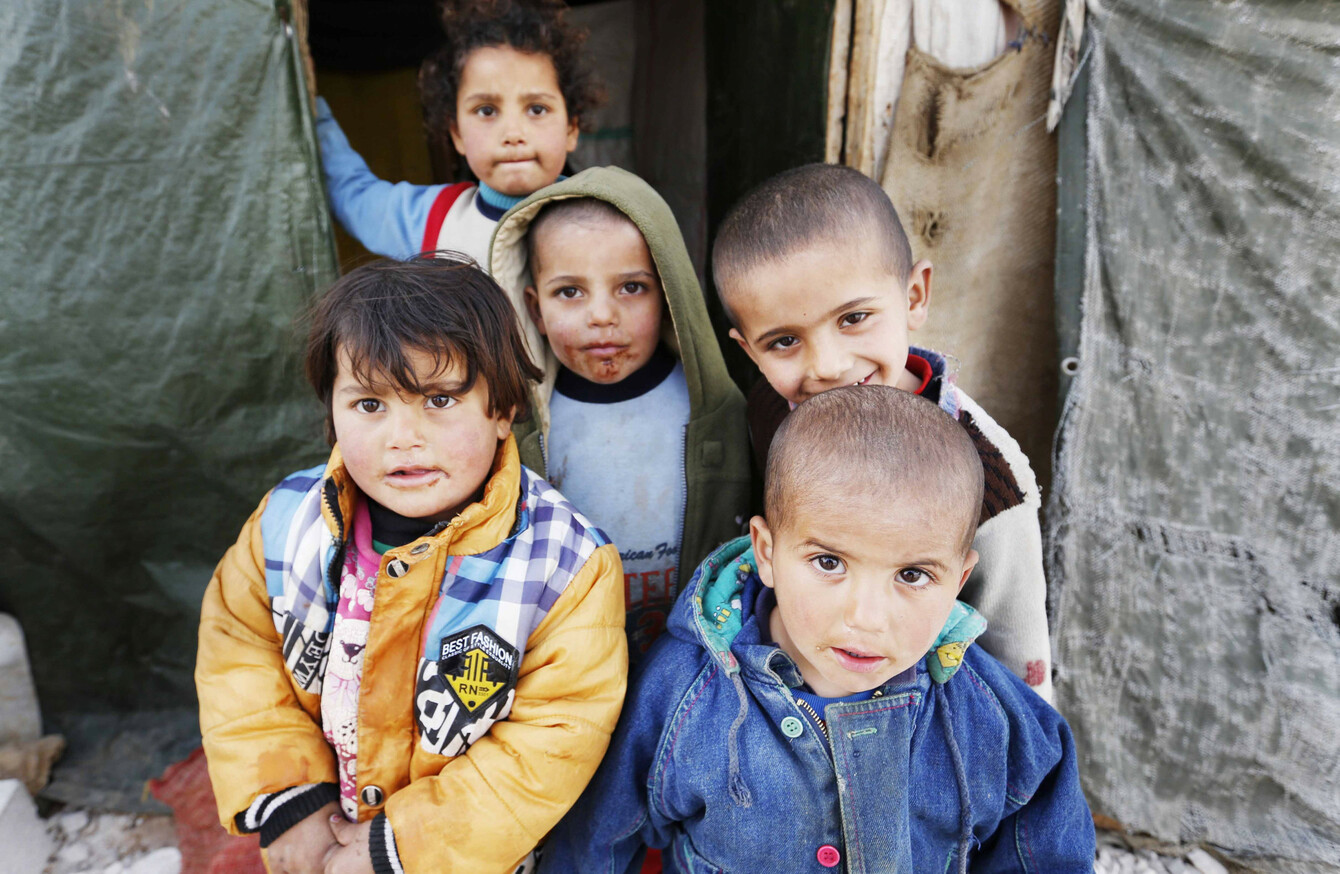 Settlement camps on the Syrian-Lebanese border
Image: Sasko Lazarov via Rolling News
Settlement camps on the Syrian-Lebanese border
Image: Sasko Lazarov via Rolling News
A NEW BILL to enable more refugee families to be reunited with each other in Ireland is set to be proposed in the Seanad today.
The Bill aims to amend the International Protection Act 2015, which came into effect on 31 December 2016.
The Act has an impact on the lives of refugees and people seeking protection because it allows the State to separate children aged 18 and over from their parents and grandparents.
It also changed Ireland's old family reunification policy by narrowing the definition of family and by removing the category of dependents which existed under the Irish Refugee Act 1996.
Efforts to reunite families
Members of the Civil Engagement Group, Oxfam Ireland, Nasc and the Irish Refugee Council have worked on developing legislation which would allow for the wider range of family members – grandparents, parents, brothers, sisters, children, grandchildren - to apply for family reunification.
Senators Colette Kelleher, Frances Black, Alice-Mary Higgins, Lynn Ruane, Grace O'Sullivan and John Dolan are proposing the Bill today.
Kelleher told TheJournal.ie that they want to go back to the old definition, outlined in the 1996 Act.
The old definition
The 1996 Act stated:
A refugee in relation to whom a declaration is in force may apply to the Minister for permission to be granted to a member of his or her family to reside in the State.
A "member of the family" was defined as one of the following; the refugee's spouse, a child under the age of 18, and – if the refugee was under the age of 18 – the refugee's parents.
The Act allowed for refugees to request reunification for "dependant members of the family", meaning:
Any grandparent, parent, brother, sister, child, grandchild, ward or guardian of the refugee who is dependent on the refugee or is suffering from a mental or physical disability to such extent that it is not reasonable for him or her to maintain herself fully.
Kelleher told TheJournal.ie:
"The International Protection Act came into law recently and there was an overall view that it was a rushed and hurried piece of legislation. One of the things that the Act did was narrow the definition of family.
The family in the previous legislation was a broad definition, more in tune with we'd understand in terms of an extended family.
"If somebody gets into this country and manages to get refugee status and they want to bring a member of their family there, the definition is really, really restrictive."
Under the Irish Refugee Protection Programme, the government promised to welcome 4,000 refugees to Ireland by the end of 2017.
As of last May, a total of 1,259 refugees arrived to Ireland under the programme.
"There are 4,000 people we've made a commitment to, to come into our country on humanitarian grounds and we're falling well short of the target," Kelleher said.
"The amended legislation would mean we are must better placed to meet our obligations."