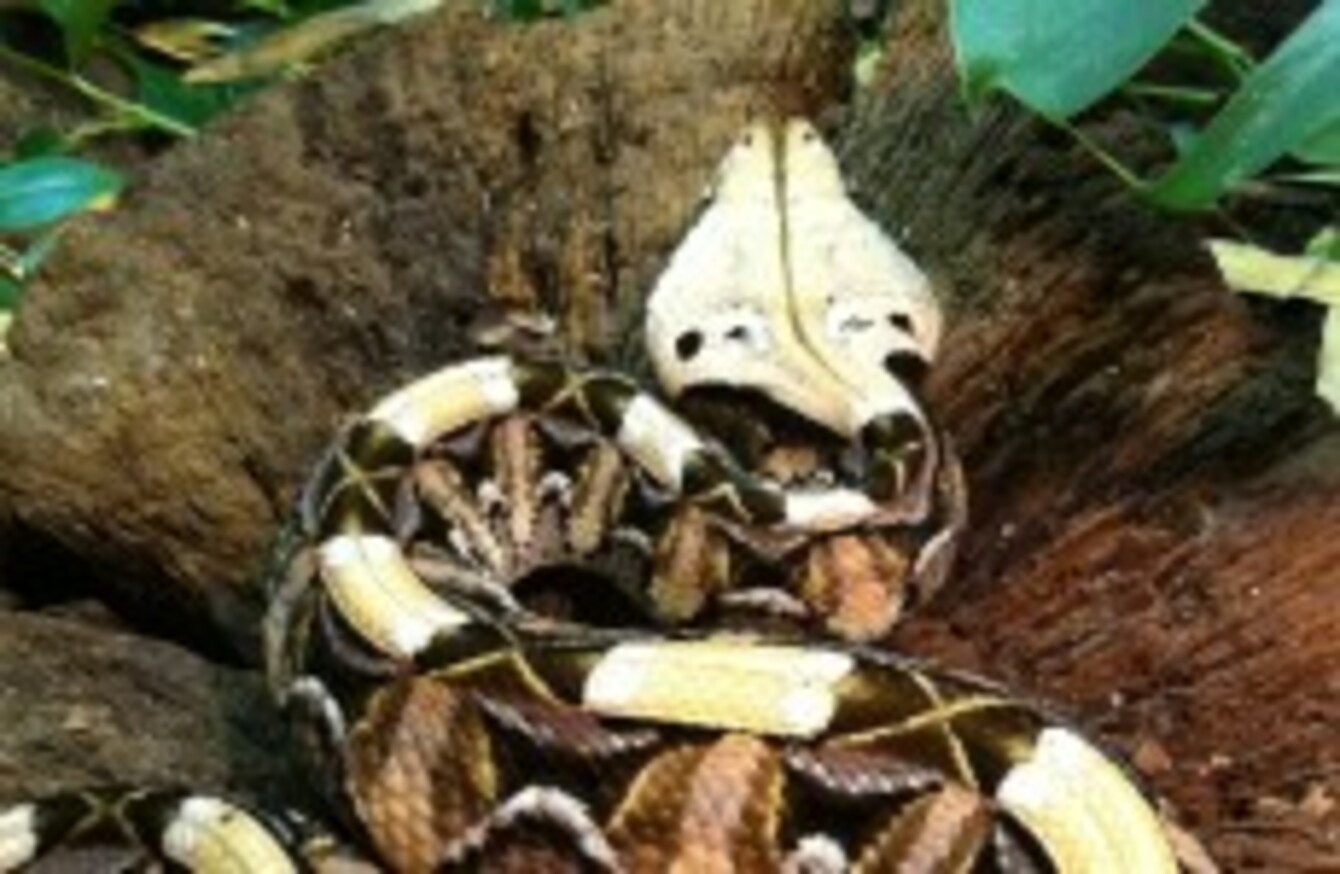 Adam the gaboon
Image: Reptile Village Conservation Zoo
Adam the gaboon
Image: Reptile Village Conservation Zoo
THE OWNER OF a reptile village has said that legislation is needed in Ireland to prevent a tragedy after two young boys were apparently strangled by a snake in Canada.
An African rock Python is believed to have escaped from a pet shop and killed the two boys as they slept.
Now Ireland's only reptile zoo is appealing for legislation to be put in place in Ireland "in order to prevent a similar tragedy happening here".
Reptile zoo
The Reptile Village Conservation Zoo is based in Gowran, Kilkenny,  and owner and zoo director James Hennessy said it has been there for the past eight years. It is licensed similarly to Dublin Zoo and Fota Wildlife Park.
Hennessy said:
For many years we have been campaigning for this legislation to be brought in, to ensure that reptiles are being kept responsibly in Ireland. At the moment, there are no laws to prevent you from having any kind of reptile as a pet, including large constricting snakes, venomous snakes, snapping turtles, crocs and alligators.
They receive dozens of calls and emails every week from people trying to re-home their reptiles in the zoo, but currently they are almost at full capacity and cannot take in any more reptiles.
In less than a year they have been offered more than 100 animals,  including large pythons, monitor lizards, snapping turtles, and tortoises. In 2011 they received a number of venomous snakes from members of the public.
"Because there is no legislation in the country, everyone seems to turn to us," said Hennessy. Some of the animals are big and aggressive, and some are incredibly dangerous, including rattlesnakes, vipers and small crocodiles.
"It's horrific," he said. "We are a private zoo that has to deal with everyone else's cast offs because the government doesn't have legislation".
Rare
Hennessy said that although incidents such as the Canadian deaths are rare, "we must remember that snakes are wild animals, they are not domesticated, and therefore should not be kept as pets".
"From our point of view, the main reason for our existence is to try and conserve them in the wild," said Hennessy. He said that it can be easier to do conservation work with other animals as they have a popular image, but it is harder to do this with reptiles.
Hennessy said that during the Celtic tiger, people were getting reptiles as "status symbols".
What happens a lot is people don't have the genuine interest. People who get into it thinking it's something they want to get into and they're not really fully sure or don't have information.
They are looking for a tiered licensing system similar to the UK's system, where people would have to undergo an inspection before being given a licence to own a reptile or wild animal.
"If you want to own a dog you have to have a licence, but if you want to own a crocodile you don't," pointed out Hennessy.
He said that if people are thinking of owning a reptile or similar animal, to do a lot of research and ensure they buy it from a specialist. "You can never have enough information," he said.
The reptile village has contacted the Departments of Environment and Agriculture about the issue of legislation, but say they have not received a satisfactory result.
"If this isn't a wake up call I don't know what is," Hennessy concluded.