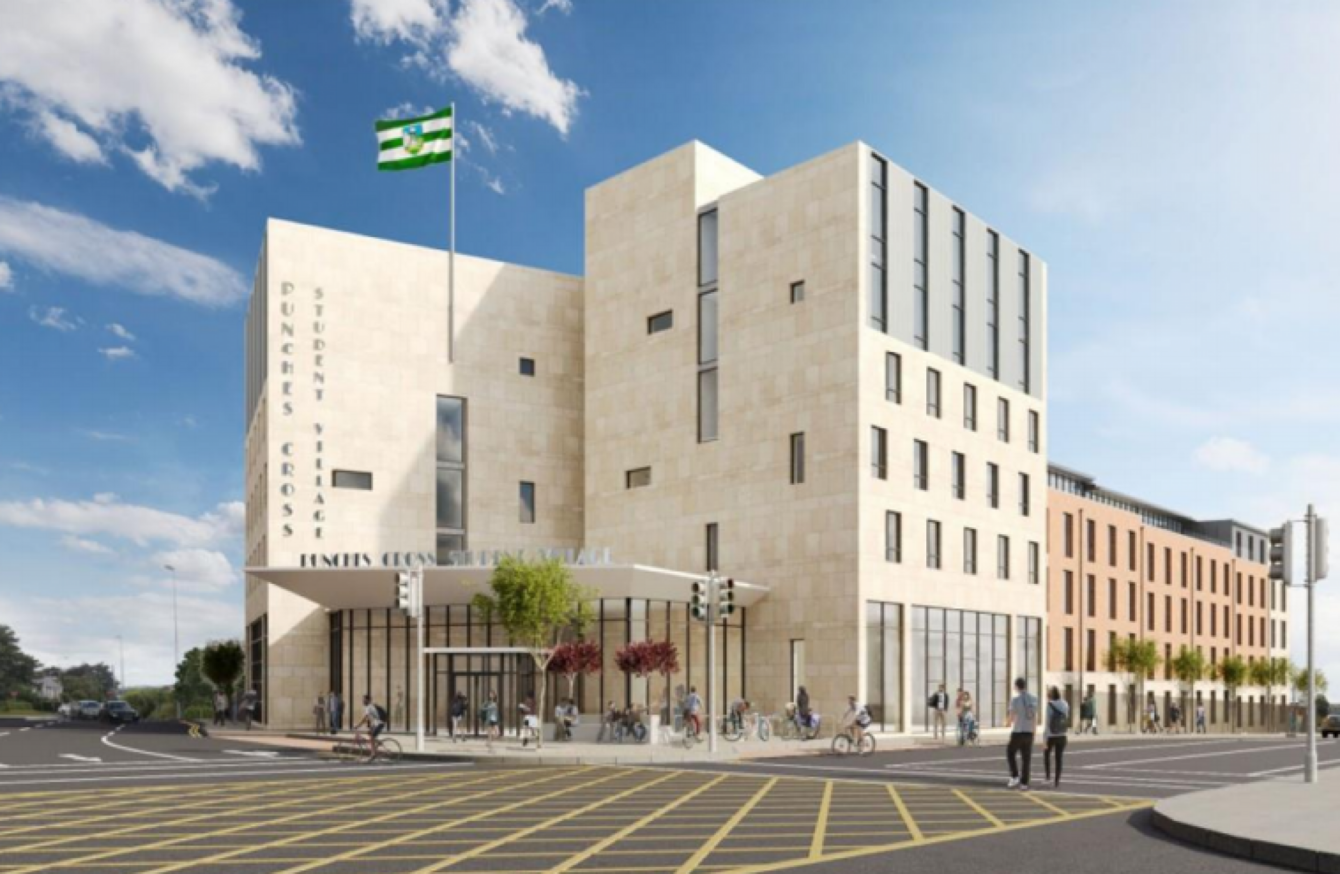 CGI view of the new student accommodation.
Image: punchescrossstudentvillage.com
CGI view of the new student accommodation.
Image: punchescrossstudentvillage.com
MORE THAN 140 residents in Limerick are objecting to the development of a student accommodation, which would accommodate 300 students, from going ahead. 
Cloncaragh Investments Ltd. lodged an application directly to An Bord Pleanála last month under the Strategic Housing Development framework – meaning it can bypass the local authority and go straight to An Bord Pleanála. 
It proposed student accommodation with 326 bedspaces and 30 build-to-rent bedspaces at Punches Cross in Limerick.
In a submission to An Bord Pleanála, however, solicitor Michelle Hayes representing local residents, raised environmental concerns as the development would sit atop a former quarry, as well as outlining local fears around overcrowding and anti-social behaviour. 
More than 140 residents have signed the petition, which she said was the first of several she received in relation to the proposed development.
"Issues of most concern to local residents, include traffic congestion, parking difficulties, negative impact on the residential character and amenity of the area, anti-social behaviour, noise disturbance… [and fears] residents will be outnumbered, overshadowed and overlooked."
The location of the development over a former quarry site, which was also once used as a filling station, was of concern as well as the proximity of the development to the Lower River Shannon special area of conservation. 
It has remained vacant for around eight years, having been previously granted permission for a mixed retail/office development, 
The buildings will reach between five and seven stories in height which residents claim "is completely excessive, visually intrusive, will cause overshadowing and overlooking of adjacent residential properties". 
University of Limerick is the biggest third-level institute in the county but a spokesperson for the college said it was a private development and not affiliated with the university. 
A spokesperson for Limerick City and County Council said they could not comment on the matter as it was going through the fast-track process under the Strategic Housing Development framework at An Bord Pleanála. 
TheJournal.ie contacted the developer for comment but did not receive a response at the time of publication.