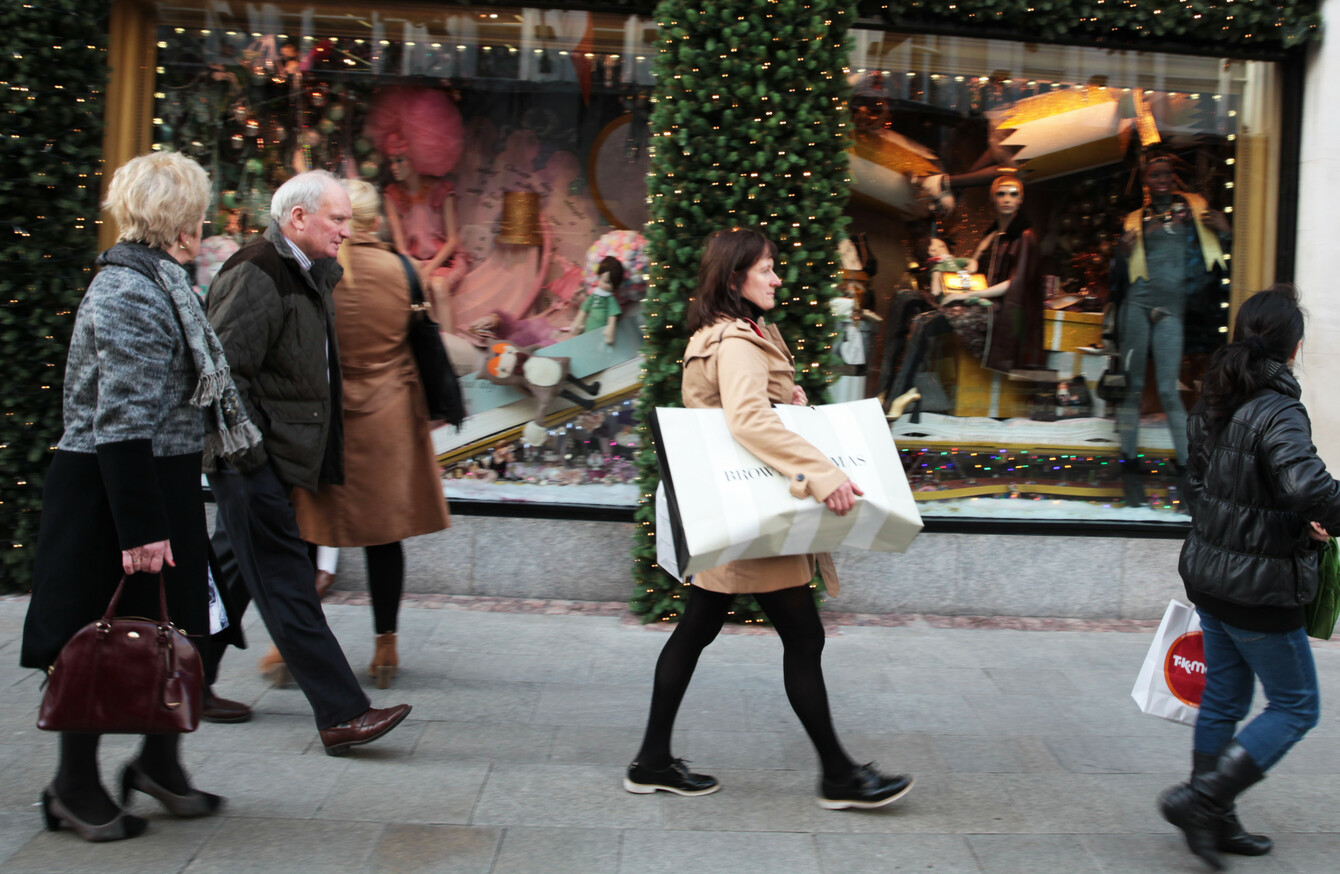 Image: Leah Farrell/Rollingnews.ie
Image: Leah Farrell/Rollingnews.ie
RETAILERS ARE WISHING for just one thing this Christmas – staff, and lots of them.
With the country's jobless rate falling to a post-crash low of 5.4% in September, 2018′s seasonal recruitment drive is proving to be tougher than previous years, according to industry groups.
Data produced for Fora by job-hunting website Indeed indicates a significant increase in the number of temporary-staff vacancies in the run up to this year's sales bonanza, which has already kicked off for some retailers.
The number of Christmas jobs advertised on Indeed by 13 October is 11% higher than the same period last year. Most of these roles are advertised for retail positions.
Indeed economist Pawel Adrjan said temporary job postings have "soared earlier and faster than in 2017″.
"Demand for seasonal employment is increasing against a backdrop of high employment, which makes it harder for businesses to find employees for temporary roles," he said.
Adrjan added that the boost can be attributed to other seasonal events in the retail calendar like Black Friday, the discounting blitz that takes place after the American holiday of Thanksgiving at the end of November.
"Following the actions of companies like Amazon, which announced wage increases in the UK and US this month, it remains to be seen whether other employers in the logistics and retail sectors follow suit to attract more jobseekers to Christmas roles."
The spike has been registered by other jobs websites as well, with Jobs.ie reporting a "significant" increase in advertisements for seasonal Christmas roles this year.
The website's general manager, Christopher Paye, said there is increased demand for a variety of positions, including shop assistants, visual merchandisers, stockists, makeup artists, face painters and Santa's elves.
Lobby group Retail Excellence confirmed that its members are struggling to secure temporary staff to cover the period this year.
"As the unemployment rate drops, there's obviously a bit of a squeeze in terms of talent available versus talent required," CEO David Fitzsimons told Fora.
He said members of the organisation have tried to entice Christmas staff by offering small benefits like tax-free gift cards worth up to €500, he said.
They have also organised roadshows to attract and recruit workers – largely from the student population – to fill seasonal vacancies.
When asked whether retailers should further increase wages to attract more staff, Fitzsimons said: "There is wage inflation generally in the market and a lot is made of the minimum wage.
"More important than monetary compensation is the whole brand and experience and the willingness for the individual to work for one brand or another.
"Aldi and Lidl have great success capturing talent (for full-time roles). They have significant education programmes … They have a very clear career path for people. More important than money is the culture."
Increased labour costs
Ibec group Retail Ireland has also confirmed that its members are reporting difficulties around sourcing seasonal staff.
"Like the broader labour market, there are challenges within the seasonal hires," the group's director, Thomas Burke, said.
He added that many retailers have launched recruitment drives earlier in the year, with some even rolling out their Christmas campaigns during the summer.
Others have outsourced the process to recruiters because they are struggling to handle hiring in-house.
Retail work – particularly for Christmas staff – is often associated with unsociable hours and is not seen as particularly 'glamorous'.
When asked whether Retail Ireland members have tried to change this perception, Burke said: "For some people, the type of work may not be suitable.
"That's the nature of the retail business. It's always on. It is challenging and fast paced. That doesn't suit everyone. The hours can be anti-social.
"But most people can tell you, in the main, it's very enjoyably work. The challenge is to find people best suited to those roles."
Sign up to our newsletter to receive a regular digest of Fora's top articles delivered to your inbox.
Written by Conor McMahon and posted on Fora.ie