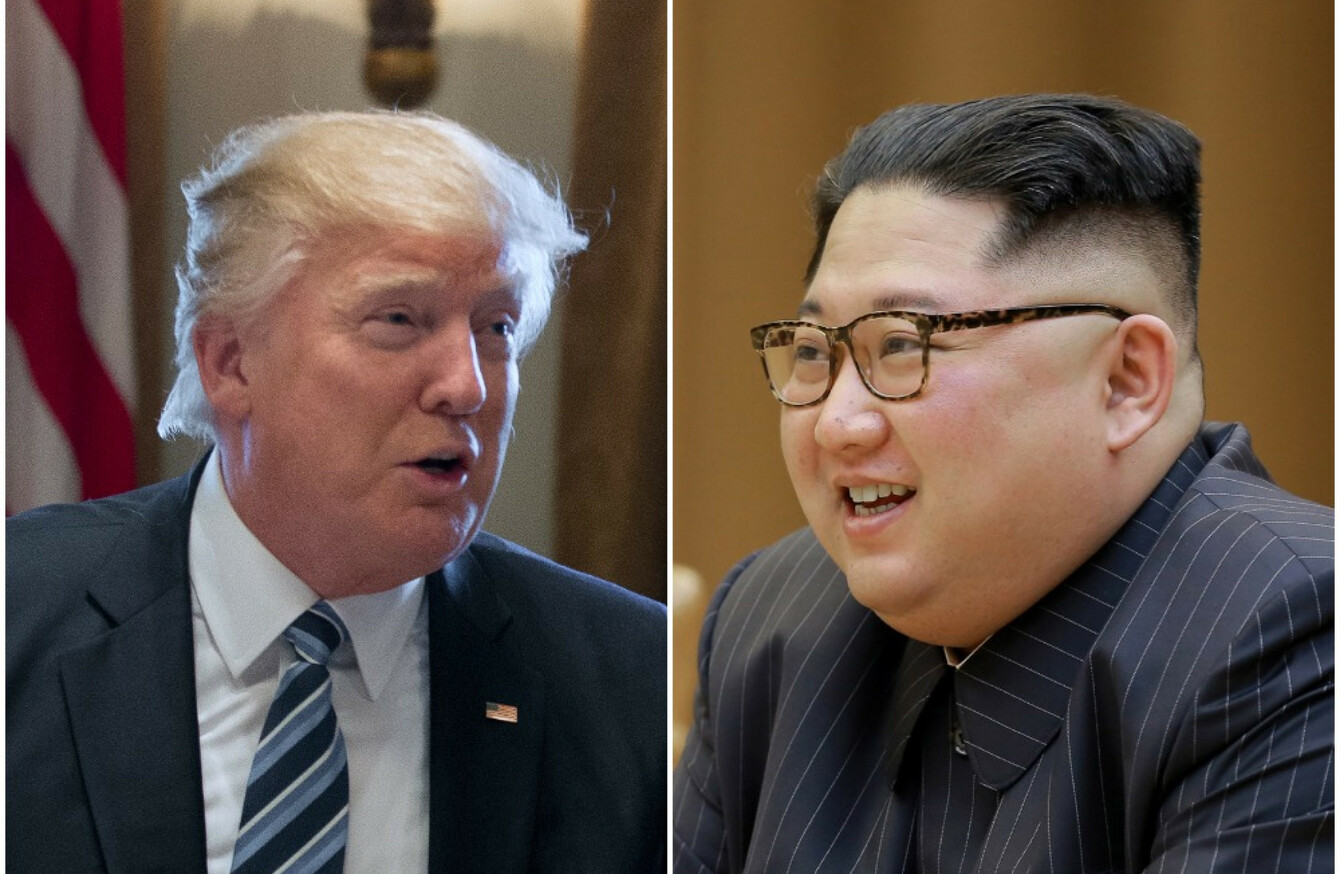 Image: PA Images
Image: PA Images
Updated 3.16pm
THE UNITED STATES has promised that it would work to rebuild North Korea's sanctions-crippled economy if Kim Jong-Un's regime agrees to surrender its nuclear arsenal.
Secretary of State Mike Pompeo's vow came as senior US officials expressed growing optimism ahead of the landmark 12 June summit between Kim and President Donald Trump.
Pompeo, who held talks Pyongyang's young leader over the weekend, even said "we have a pretty good understanding between our two countries about what the shared objectives are".
In response, North Korea said it is "taking technical measures" to dismantle its nuclear test site.
"A ceremony for dismantling the nuclear test ground is now scheduled between May 23 and 25, depending on weather condition," the official KCNA news agency said, citing a foreign ministry press release.
The test tunnels would be blown up, blocking their entries, the statement said.
All observation facilities and research institutes would be removed along with guards and researchers, it said, detailing the process of closing the site.
Reporters from China, Russia, the United States, Britain and South Korea would be allowed to "conduct on-the-spot coverage in order to show in a transparent manner the dismantlement of the northern nuclear test ground", the foreign ministry statement said.
The limit on foreign journalists was due to the "small space of the test ground" which it said was "located in the uninhabited deep mountain area".
'Bold action'
Pompeo was speaking after talks with his South Korean opposite number Foreign Minister Kang Kyung-wha to coordinate Washington and Seoul's preparations for the historic encounter.
Many observers have warned Kim's regime will try to drive a wedge between the allies as the summit approaches, playing Seoul's fear of war against Washington's nuclear concerns.
But both Kang and Pompeo insisted that they agreed on the need for the "total, permanent and verifiable" denuclearisation of the divided peninsula.
Trump and South Korea's President Moon Jae-in are due to meet on 22 May at the White House for the next round of planning.
Pompeo said the United States would remain on board to help develop the North's economy, which has been devastated by its own mismanagement and crippling international sanctions.
"If North Korea takes bold action to quickly denuclearise, the United States is prepared to work with North Korea to achieve prosperity on par with our South Korean friends," he said.
Since an ad hoc 1953 armistice put an end to active hostilities between the North and the South, South Korea has emerged from devastation to become a leading world economy.
'Good conversations'
But the North has remained one of the world's most isolated states and its outdated economy has been further battered by a UN-backed "maximum pressure" campaign of sanctions.
Over the past year Kim and Trump have added a personal touch to a half-century of international enmity, swapping insults and both openly threatening devastating direct military action.
Kim's regime also carried out missile tests that convinced US intelligence officials, including Pompeo in his former role as CIA chief, that North Korea could threaten US cities.
But South Korea's President Moon reached out to the North, reopening direct talks, and when Kim invited Trump to a summit to discuss disarmament the mood changed.
Pompeo flew to Pyongyang for talks and to recover three released American detainees, and now a summit date has been set for June 12 in Singapore.
"We had good conversations, conversations that involve deep complex problems, challenges, strategic decisions that chairman Kim has before him," Pompeo said.
The pair, he said, talked "about how it is he wishes to proceed and if he's prepared, in exchange for the assurances that we're ready to provide him, if he is prepared to fully denuclearize.
"We'll require a robust verification program, one that we would undertake with partners around the world which would achieve that outcome," he warned.
But he added: "I'm confident that we have a shared understanding of the outcome that the leaders want, certainly President Trump and chairman Kim, but I think President Moon as well."
South Korea's Kang shared in Pompeo's optimism and was at pains to insist that there is no daylight between how Washington and Seoul are approaching the talks.
"We agreed that the summit would be a historic opportunity for resolving the North Korean nuclear issue, and securing enduring peace on the Korean peninsula," she said.
"We reaffirmed that our goal is to achieve the complete, verifiable and irreversible denuclearisation on the Korean Peninsula," she added, promising "air-tight" coordination.
Carrot and stick
Pompeo's promise of an economic carrot to match the stick of "maximum pressure" may reassure observers who are concerned that Seoul and Washington's objectives are not exactly aligned.
"There's a danger here of the peace track moving more quickly than the denuclearisation track," warned Abraham Denmark, an Asia expert and former senior US defense official.
"If that happens, it could give North Korea an opportunity to try to drive a wedge between Seoul and Washington," said Denmark, now at the Wilson Center think tank in the US capital.
Former secretary of state Condoleezza Rice offered three recommendations to Trump: allow experts to make the deal, don't negotiate away the "equities" of others including Japan and South Korea, and "don't be anxious to remove American troops from the equation."
"If we can hold to those three principles, this might work," Rice said at Stanford's Hoover Institution.
In North Korea's bombastic rhetoric, "denuclearisation" has, for years, been a byword for US troop withdrawals from South Korea – an idea that Kang appeared to reject.
After her talks with Pompeo, she took pains to "emphasise again that the US military presence in Korea is a matter for the ROK-US alliance first and foremost".
Hardliners in the North are believed to see a nuclear weapon as a guarantee against outside efforts to topple the regime, but Trump insists he will not tolerate their growing arsenal.