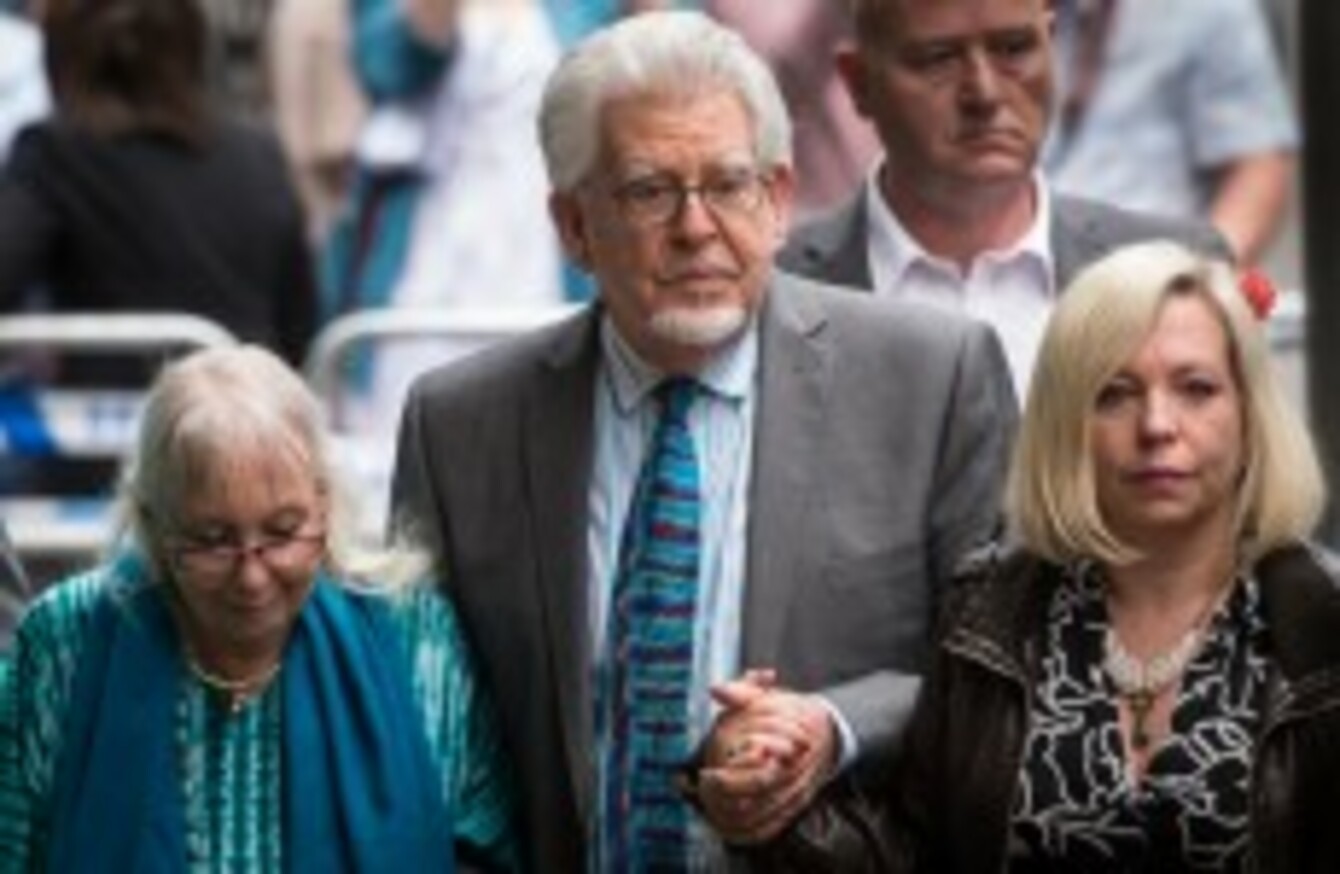 Rolf Harris outside court yesterday
Image: PA Wire/Press Association Images
Rolf Harris outside court yesterday
Image: PA Wire/Press Association Images
MORE PEOPLE WHO say they were abused by Rolf Harris have come forward after the entertainer was found guilty of indecent assault yesterday.
The National Society for the Protection of Children in the UK said that it had received 28 calls to its helpline in connection with Harris. Of these, 13 people said they had been abused by him.
Harris is due to be sentenced on Friday after he was found guilty of all 12 counts of indecent assault against four girls between the years 1968 and 1986.
The complainants ranged in age from seven or eight to 19, and in all but one of the cases, the victims were under 16.
The court heard that one of the victims wrote to Queen Elizabeth to warn her about Harris's predatory behaviour as he painted the monarch's portrait, The Independent reports.
"He ruined my life. You need to know what kind of man you've let near the Queen," the woman wrote to royal staff in 2005. The note was handed to Scotland Yard's royal protection unit which filed it but did not investigate.
The 84-year-old entertainer was warned by Judge Nigel Sweeney that it was "inevitable" that he would face a jail term.
In his native Australia, Prime Minister Tony Abbott said he was "gutted and dismayed" by Harris's conviction.
Speaking outside Southwark Crown Court yesterday, police praised the women who had come forward about Harris.
"Rolf Harris has habitually denied any wrongdoing forcing his victims to recount their ordeal in public," said Detective Chief Inspector Michael Orchard of the London Metropolitan Police.
"He committed many offences in plain sight of people as he thought his celebrity status placed him above the law".
He thanked the victims for their bravery. "I hope today's guilty verdict will give them closure and help them to begin to move on with their lives".
He confirmed that Scotland Yard has received a number of new allegations and these are now being considered.