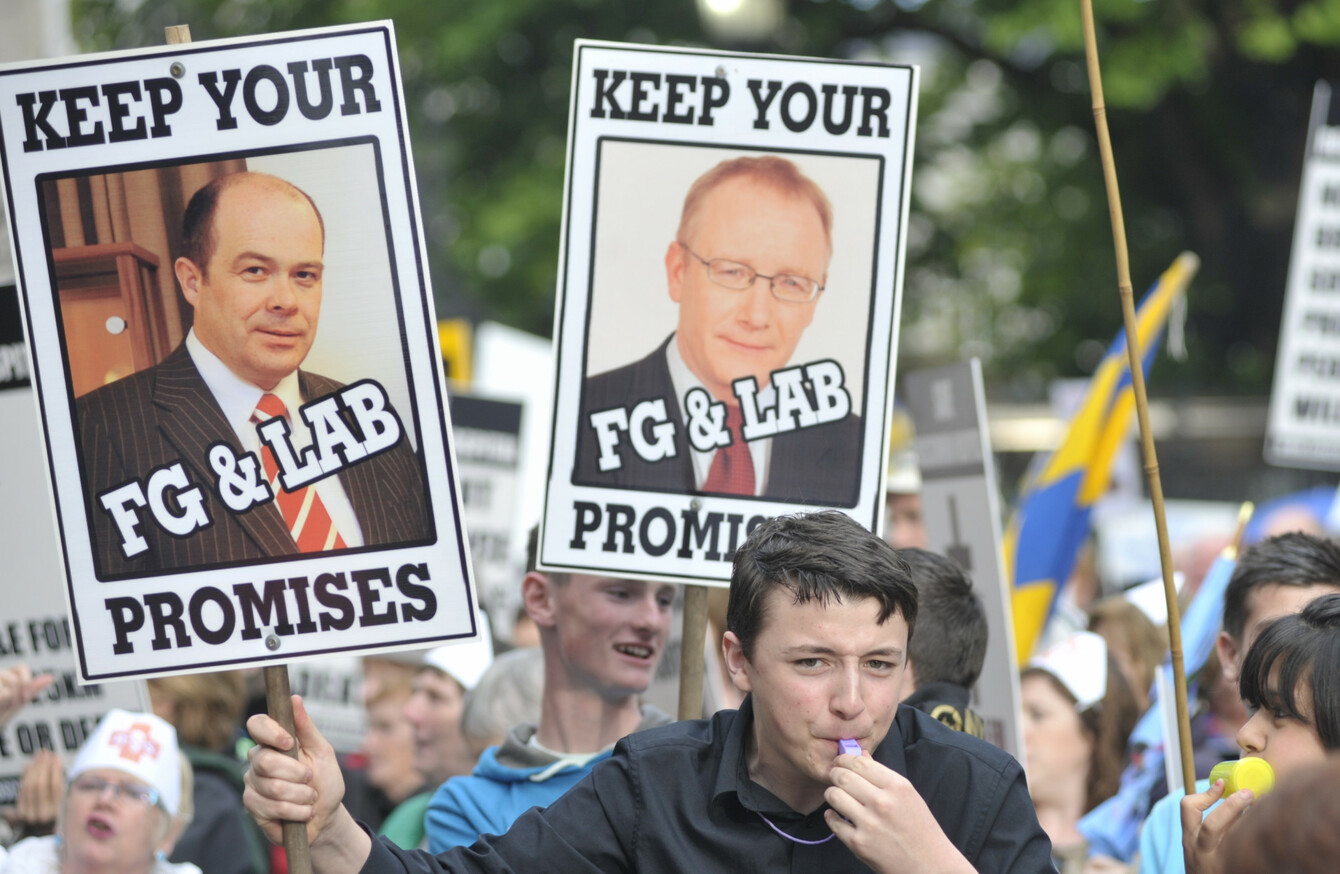 Protesters rally against the downgrading of Roscommon Hospital in 2011.
Image: Sasko Lazarov/Photocall Ireland
Protesters rally against the downgrading of Roscommon Hospital in 2011.
Image: Sasko Lazarov/Photocall Ireland
THE HEAD OF the Health Service Executive (HSE) has defended the downgrading of Roscommon Regional Hospital.
The downgrading of the hospital and the closure of the emergency department polarised the community back in 2011.
Roscommon TD and now Minister for Communications, Denis Naughten, voted against the government on a motion to downgrade the county hospital. His position on the issue later resulted in him leaving the Fine Gael party.
However, local Senator Frank Feighan voted in favour of the motion.
Emotions ran high on the issue, with the then-taoiseach Enda Kenny being heckled by hospital action protesters after he arrived to canvass with Feighan in a by-election.
Speaking at the MacGill Summer School yesterday about the downgrading, HSE chief Tony O'Brien said "the sky has not fallen, despite the prophesies of many at the time".
Before it was downgraded, O'Brien said the acute hospital was providing a range of complex surgery and trauma care in circumstances where the clinicians in the hospital themselves questioned the safety implications.
"As I am sure most of you remember, we ceased providing that type of complex care [surgery and trauma] and changed the role of the hospital to a more appropriate and thus safer service. This was undertaken while balancing a number of interrelated considerations including clinical risk, the economic impact on the local area and the maintenance of appropriate jobs for the hospital staff.
"Today, Roscommon Hospital flourishes," he claimed.
His statement caused TDs such as Feighan and Fianna Fáil's Eugene Murphy to weigh in on the issue on Twitter last night.
Murphy stated that he totally disagrees with O'Brien' claim. Meanwhile, Feighan said Roscommon Hospital is a shining example of a modern success story.
O'Brien claimed some were involved in the campaign merely to gain publicity.
"In the background was a vitriolic campaign by some local people. Polarised views arose resulting in much heated debate and protest, some politicians were ostracised, others used the controversy to raise their profile," he said.