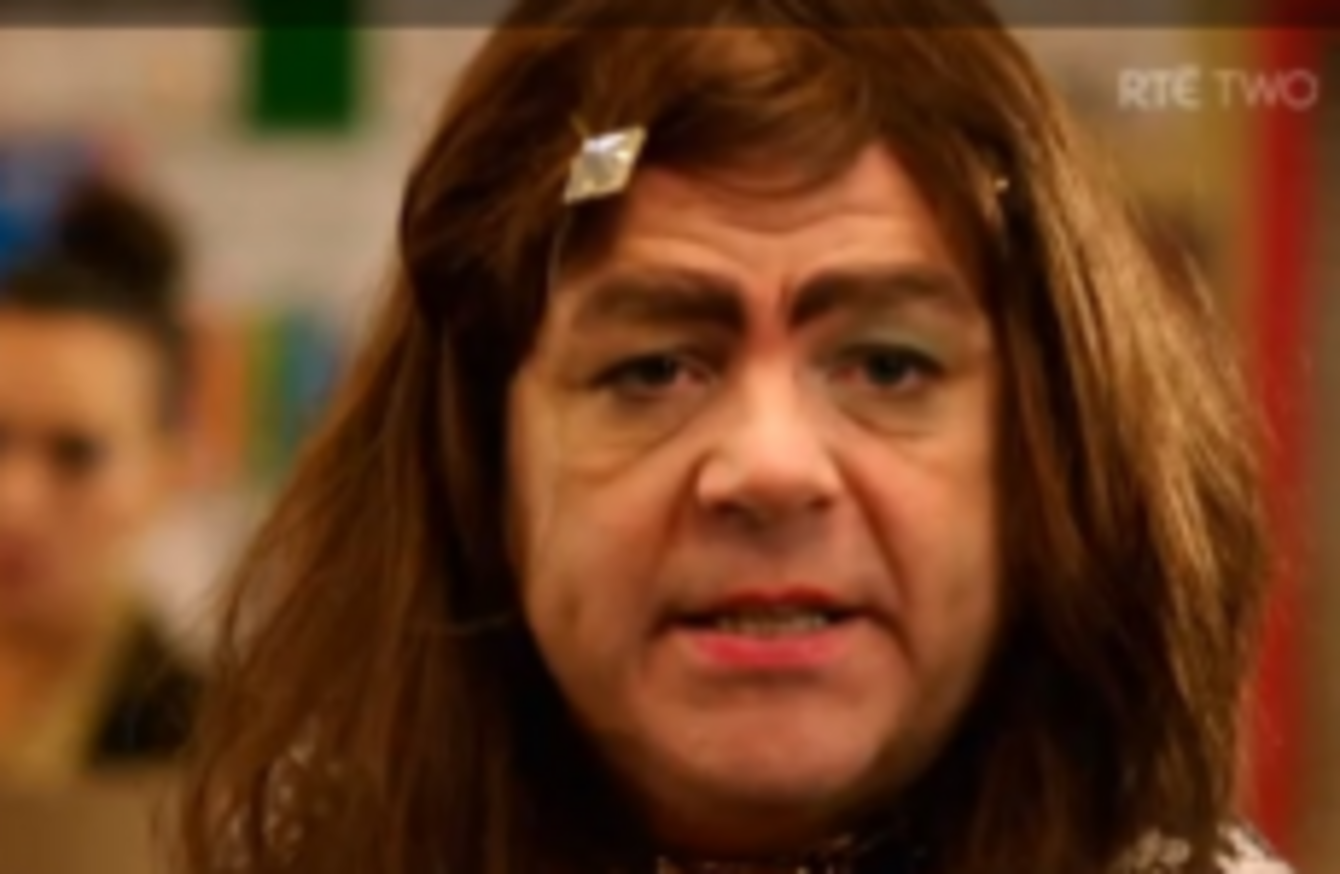 Transgender character, Nuala Mooney, played by Aprés Match's Gary Cooke.
Image: Screengrab/RTE
Transgender character, Nuala Mooney, played by Aprés Match's Gary Cooke.
Image: Screengrab/RTE
RTÉ'S NEW SITCOM which aired last night has received 24 complaints in relation to the portrayal of a transgender woman character in the programme called Nuala.
The new comedy, 'The Centre', has been criticised by the Transgender Equality Network Ireland (TENI) who said the character of the assistant manager Nuala Mooney, a transgender woman who is played by Aprés Match's Gary Cooke is "mocked on every occasion she appears on screen".
In a statement on their website today,TENI Chief Executive Broden Giambrone said:
The Centre is a throwback to the dark ages of television and RTÉ should do better.

Nuala is the stock character of a 'man in a dress' played for cheap laughs.

Her appearance and identity are fair game to the other characters on the show and their comments and quips re-enforce every stereotype that exists for trans people in this country
A statement from Bill Malone, Channel Controller for RTE Two to TheJournal.ie this evening, confirmed that 24 complaints on the issue had been made.
The statement said:
The Centre is a comedy full of exaggerated characters. Nualla is a Transgendered character accepted unreservedly by her co-workers and those who use 'The Centre', and while comical, is actually a positive LGBT character.

The attacks on Nualla come from one source – the repulsive Amanda Menton, who represents all that is wrong with society.

In effect, the exaggerated cartoon character of Amanda Menton is an equal opportunities offender – she insults ALL, she is sexist, ageist, fattest, elitist, bigoted etc. LGBT characters should not be treated differently.
The statement went on to say that the new comedy is supported by the Broadcasting Authority of Ireland (BAI) and features emerging Irish writing and acting talent and " is exceptionally rare to have such a female led comedy cast".
Giambrone said that "at no point is the audience laughing with Nuala, they are laughing at her," adding that the new sitcom "masquerades as edgy by poking fun at minority groups".
He added, "unfortunately, we see the very real effects of how this type of 'humour' contributes to the marginalisation of the trans community".
Additional reporting Aoife Barry